Westfield Financial Inc. (NASDAQ:WFD) is the bank holding company for Westfield Bank. The main office of the bank is in Westfield, Massachusetts with 10 other offices located in Hampden County, Massachusetts. It has been in business since 1853 and offers loans, lines of credit, cash management services, internet banking and an ATM network to its customers. The price of the stock is now near its low for the year and offers a great buying opportunity. See the graph below taken from Interactive Brokers.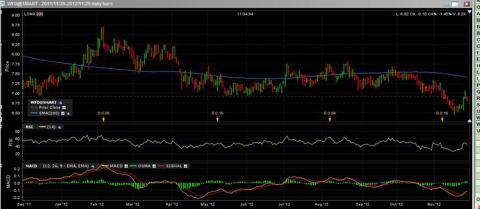 7 Reasons to buy WFD now:
Michael J. Janosco Jr., the Chief Investment Officer, purchased 30,000 shares at an average price of $6.64 per share on 11/21/2012.
Book value per share as of 9/30/2012 was $8.37. Book value is over 15% higher than the share price as of 11/28/2012.
Allowance for loan losses is $8.2 million which represents 282% of non-performing loans as of 9/30/2012. Non-performing loans represent less than .4% of total assets.
Board of Directors authorized a stock repurchase of 1,278,560 shares on 8/28/2012. They are buying back stock when the price is low.
Company rewards it stockholders - it is paying a regular quarterly dividend of $0.06 per share and recently paid an additional special $0.10 dividend in November.
Deposits and loans are growing at the bank.
Tier 1 capital stands at 16.76% as of 9/30/2012.
There you have it. Seven strong reasons to buy WFD now. Perhaps you are asking why the price of the stock is so low. There are few reasons that people are cautious about buying this stock now.
5 Reasons for Caution:
The P/E of WFD is 28. This is about 2 times as high as other regional banks.
Year over year EPS growth is -7.2%. (S&P)
All the major rating agencies are rating the company hold. There is not a buy in the bunch.
Rate of income growth over the past 5 years has been negative.

S&P has a neutral fundamental outlook for thrifts and mortgage finance sub-industry for the next 12 months.
The facts convince me that there is a great deal of value in this stock that is not displayed in the stock price. The low price to book and the CIO buying a huge quantity of shares on the open market indicate investors are not valuing this stock correctly. This bank has sound financials with more than adequate reserves for losses. I believe the directors have authorized the share buyback to help avoid a buyout from another bank. While earnings are low, S&P is predicting a 5% increase in earnings next year. This stock should be selling for $8.00 per share rather than the current $6.80. This stock could easily earn a 15% return over the next 6 months to a year.
Disclosure: I am long WFD. I wrote this article myself, and it expresses my own opinions. I am not receiving compensation for it (other than from Seeking Alpha). I have no business relationship with any company whose stock is mentioned in this article.