OCZ Technology (NASDAQ:OCZ) recently made a few announcements (which should be of little surprise as we covered most of them here) and the stock price has surprisingly risen. Let's take a deeper inspection at what was said, the positive developments (The Good), and what dangers are lurking (The Bad and the Ugly).
Consumer High End
OCZ recently has been trying to spin an angle that it can compete in the consumer market by refocusing on the high end. In an interview with Reuters Mr. Schmitt said:
"I cannot think we can compete on price," he said. "The flash guys - the Microns, the Intels, the Samsungs really are the guys that will take that market," he said. "They can have it as far as I am concerned, as there is no profit to be made there for us," said Schmitt
SSD market is a commodity price driven market and OCZ has been pushed out of the low end. As time passes the NAND manufactures will complete development or improve upon SSD Controller chips, thus diminishing any cost advantage OCZ might enjoy on that front. NAND manufactures will always have a cost advantage as they can produce the very NAND they need at cost. NAND is the largest component expense in a SSD.
No barriers to entry exist to stop the larger companies from attacking the 'high end' market that OCZ seeks to find refuge in. This plan sounds good on paper and it very well might work to some extent but in the long run it is a losing battle. Compared to OCZ, Micron (NASDAQ:MU), Intel (NASDAQ:INTC) and Samsung have virtually infinite resources of capital to deploy in an SSD battle compared to OCZs depleted war chest. Frankly OCZ has no choice but to retreat into the high end for now, cut back, buy time, and try to evolve into an enterprise focused company much like Fusion-io (NYSE:FIO). Long term the consumer segment is a losing battle fought against giants but for now Vector is just what OCZ needs.
OCZ Vector - The Good
The delayed Vector has shipped and allows OCZ to compete in the high end SSD market. Vector is meeting with very good reviews and competes well. According to Hardocp:
The Vector is OCZs new flagship SSD, and we tested it against other flagship offerings. Overall the performance of the OCZ Vector was exemplary in our testing. The steady state performance in our trace based testing led the field by a large margin, and we intentionally placed it among the toughest competition from each type of controller that we have tested.

The OCZ Vector latency results were superb, with the lowest recorded write latency and superb maximum latency performance. We stress steady state performance, especially at low queue depths. The OCZ Vector did well in this testing, placing among the best in class in steady 4K read and write testing. We would like to see better steady state performance with the mixed read/write testing, but this firmware is destined to improve with time as all firmwares do. OCZ certainly has a great platform to build on, with the Barefoot 3 offering all of the SSD-specific features needed.
(click to enlarge) - OCZ's Vector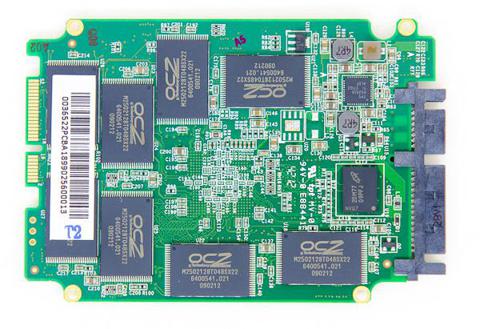 Click to enlarge
(Toms Hardware seems to think that the Vector needs some improvements in its power consumption.
Because SSDs are so fast, they sit idle most of the time. In almost our almost 30-minute virus scan, the SSD is only busy for 281 seconds. As a result, idle power consumption is the most important figure to consider in a desktop environment.

We've already seen Samsung's architecture fare particularly well in idle power measurements, despite its beefy triple-core ARM-based controller. In comparison, the Vector doesn't do quite as well, suggesting it might not be as suitable in a mobile environment. Even though it delivers performance that comes close to Samsung's 512 GB 840 Pro, OCZ's Vector requires 2.6x as much power at idle.

Again, even as the Vector serves up performance that approaches Samsung's flagship, it requires ~28% more power under load to do so.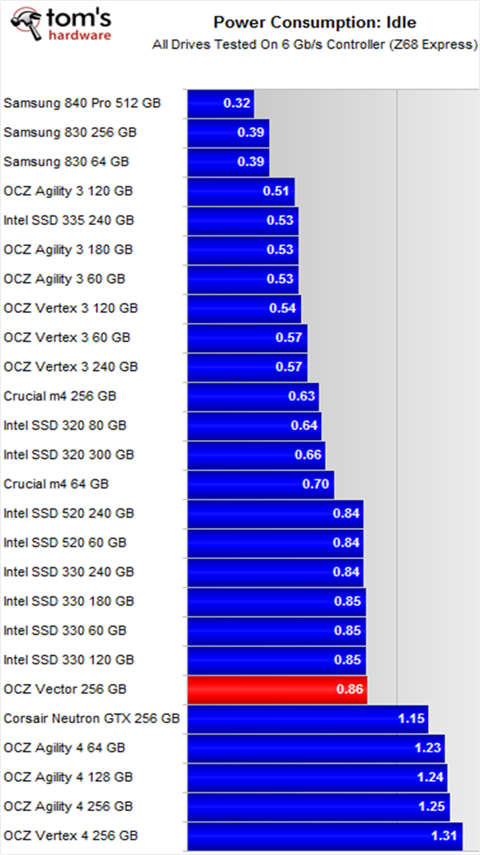 Click to enlarge
For a consumer drive the power draw may not be much of an issue. Compared to a traditional hard drive the SSD is using considerably less power. Additional improvements to speed and power consumption will most likely occur with future firmware updates. Overall Vector looks like a winner.
Licensing
While the company is quiet on the subject of licensing, they would be foolish not to try to tap this additional source of revenue. OCZ could easily license out the Barefoot 3 SSD controller chip that is used in Vector to various other companies much like LSI Corporation (NYSE:LSI) does with its Sandforce line of SSD controller chips.
The Ugly
We skipped the bad and went straight to the ugly on this one. While Vector is a nice move the company has some huge problems brewing.
Q2 Earnings are delayed due to accounting issues and losses are estimated to be very high. The company will have to report Q2 earnings come mid December at the latest or it will be outside of the grace period the SEC has granted it. Thus the stock will be delisted if they do not regain compliance by stating earnings (or lack of). OCZ stated:
The company later said it expected a "significant" loss in its second quarter due to issues in its customer incentive programs, and also delayed filing the results.

Schmitt said a third-party review of OCZ's investigation into customer incentive programs at the heart of the expected loss had taken longer than expected, so it was unclear when the company would report its second-quarter results.

"I wish I knew the answer to that question," Schmitt said, adding that the review may end by next week
Taking longer than expected to figure out past earnings and accounting issues does not bode well for the Q2 and Q3 numbers. Accounting issues will bleed over into Q3 earnings as well.
Conclusion
Vector is a positive move for the company and will allow them to compete in the high end. Long term the company must exit consumer and move to enterprise in order to survive. Q2 and Q3 numbers are going to be rough... very rough. Expect massive losses on earnings and quite a decrease in revenues going forward since the company has axed its low end. Vector will increase gross margins going forward but Q2 gross margins will be negative according to the company. Additional financing will be required according to the CEO. Most likely they will try to get Wells Fargo to extend its terms on the credit line but at what terms? Shareholder dilution via a secondary offering is a definite possibility once the company regains NASDAQ compliance by filing its delayed earnings. Given the company's low cash position (covered in detail here) we can peg known cash reserves at 41 Million.
Given the poor earnings outlook for Q2 and Q3 a speculator might take on a short position in OCZ given the irrational exuberance and rise in the stock seen in the last few days. On the flip side OCZ is a very speculative stock and it can go either way hardcore. Only gambler types should touch OCZ until past earnings are released and all the problems are aired out.
Disclosure: I am long OCZ, MU. I wrote this article myself, and it expresses my own opinions. I am not receiving compensation for it (other than from Seeking Alpha). I have no business relationship with any company whose stock is mentioned in this article.
Additional disclosure: I own some OCZ Leaps.