There are a lot of different strategies out there for investing your money. I happen to like simply putting my money where I believe, without a doubt, that it is going to grow. After taking a look at The 3M Company (MMM) I do not see any significant growth prospects over the next one to two years. I based my analysis on the company's recent earnings reports, available through MSN Money, and how the stock has performed over the past 12 months and past 6 to 8 years.
In terms of overall financial fitness, 3M has a pretty good handle on itself. Good debt control, assets growing faster than debt, and ratios that beat the industry average. All of these are very important and not surprising for a company that has been around for as long as 3M has. I encourage the reader to do his or her own research when it comes to checking out the balance sheet of any company and comparing it to the industry. But, for the purpose of this article a full balance sheet analysis is unnecessary.
What I was interested in was the income statements from the company over the last 3 or 4 quarters, also available through MSN Money. 3M has experienced slowing revenue growth and in fact has had a decline in revenues over the past three quarters when compared to one year ago. This means that the company increased its income purely by increasing its profit margin. This margin of 15.5% is well within the norm for the company which has not managed a margin higher than 16.65% in the past five years. No company can sustain earnings growth without having both increasing revenues and stable to increasing profit margins. I am concerned that 3M may not be able to further increase its margins, causing earnings growth to slow.
Adding to my concern is the apparent decreasing efficiency of the company, when measured by comparing asset growth to income growth. 3M's assets have grown consistently over the past three years and have grown more rapidly than its income. The return on assets, or ROA, of the company is decreasing at a time when increasing efficiency could be the key to earnings growth. From taking just a quick look at its past few income statements I believe that 3M is headed for a continued slowdown over the next one to two years.
Looking at 3M's stock growth over the past year versus the industry average and S&P 500 it seems that investors have taken note of its slowing sales. Up less than the S&P and significantly less than the industrial conglomerates industry it seems that the company's increasing income alone has not helped the stock to outperform its competitors. (Source: Fidelity)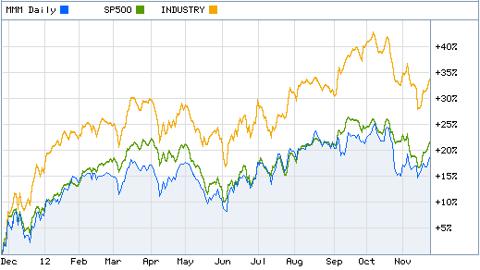 Looking even further back, 6 to 8 years, the stock price behaved in a similar manner. Slow, volatile growth dominated the stock from 2004 through late 2007 even as revenue and earnings increased by about 30% each. 3M has been struggling to keep investors interested and slowing sales will certainly not help that. (Source: Fidelity)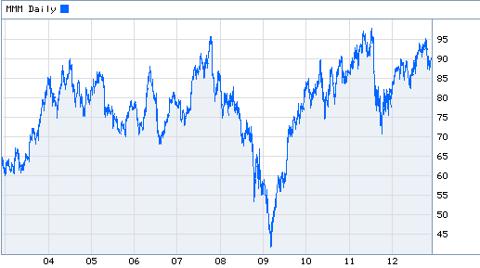 If the company's declining revenues turn into slowing earnings growth, as I believe they will, then 3M will continue to produce a sub-par return on investment. The only significant reason to buy the stock currently is for its dividend. However, even its dividend leaves me feeling rather lukewarm. A current yield of 2.61 is pretty standard amongst many stocks and underperforms plenty of others, such as GE (NYSE:GE), with a yield of 3.26 and Johnson & Johnson (NYSE:JNJ) with a yield of 3.55.
Overall, if you are looking to invest in a company with strong growth prospects over the next year or two I would suggest looking elsewhere. That being said, 3M will still serve the longer term investor well. A slowdown in the near future may provide an ideal buy-in point for a value investor. 3M will continue to be a large an innovative company for many years even if it goes through periods of slow growth. So, your personal stance on 3M needs to be based on your investment timeline and also how heavily you choose to manage your own portfolio.
If you manage your investments regularly I would recommend selling 3M stock. If you have owned the stock since before July of 2012 it can be sold for a gain at its current price. There are many other companies out there that are poised to grow over the next year to two years that will help your portfolio outperform the markets. 3M may be worth a second look in the future but for 2013 I would recommend investing elsewhere.
Disclosure: I am long MMM but plan to sell at least a portion of my holdings in the next one to two weeks. I wrote this article myself, and it expresses my own opinions. I am not receiving compensation for it. I have no business relationship with any company whose stock is mentioned in this article.