Intel Corporation (NASDAQ:INTC) presently could be worth looking into as a quality value play on one of the best "Old Tech" companies. Shares of Intel are worth looking into because of the underlying fundamentals of the company and the technical state of shares of Intel. Shares of Intel have fallen nearly 19% YTD to $19.89, and have fallen nearly 32% since Intel's closing high on May 2nd of $29.18.
Company Description
Below is a quote of the description of the operations of Intel: "Intel Corporation is one of the world's largest semiconductor chipmaker. The Company develops advanced integrated digital technology products, primarily integrated circuits, for industries such as computing and communications. It also develops platforms, which it defines as integrated suites of digital computing technologies that are designed, and configured to work together to provide an optimized user computing solution compared to components that are used separately. Intel designs and manufactures computing and communications components, such as microprocessors, chipsets, motherboards, and wireless and wired connectivity products, as well as platforms that incorporate these components. The Company sells its products primarily to original equipment manufacturers, original design manufacturers, PC and network communications products users, and other manufacturers of industrial and communications equipment." [Zacks.com Company Description]
Intel Fundamentals
I keep hearing that "Old Tech" is sharply declining and will be losing market share to "New Tech" companies like Apple (NASDAQ:AAPL), Google (NASDAQ:GOOG), and others that focus on the ever-increasing shift to mobile based computing. Therefore, companies like Intel, Microsoft (NASDAQ:MSFT), Hewlett-Packard (NYSE:HPQ), and Dell (NASDAQ:DELL) are all grouped together and thrown into the Old Tech wastebasket, which I believe is wrong in the case of Intel because of the strength in the underlying fundamentals of the company. Right below, I have summarized some important common financial ratios and information that I will use to estimate a fair value for shares of Intel, as well to compare Intel to the semiconductor industry as a whole. Below, there are three tables, the three tables are from Intel's Trefis Page; the first page shows the individual divisions of Intel and the percent of the stock price they are estimated to account for. The second is the projected total revenue of Intel broken down by division. The third table is the projected total cash flow of each division of Intel.
Current Price: $19.89
Trailing 12 Months EPS: $2.29
Current PE Ratio: 8.68
Expected Earnings Growth: 9.42%
PEG Ratio: 0.92
Dividend Yield: 4.53%
Divisions
Below is a chart that breaks down Intel by its separate divisions and comes up with an estimate of what all its businesses are worth. By far, notebook processors are the largest business Intel has, and I believe is partly responsible for the recent drop of the share price of Intel. Analysts are worried that Intel, which is by far the dominate market share leader in notebook processors, is in a declining category, which is true because of the shift to mobile. However, Intel has made progress to try to soften the declining notebook processor business by producing chips for Ultrabooks, which are a combination of laptop and tablet in one. In addition, Intel has been aggressively researching new chips for smart phones and other mobile devices like tablets.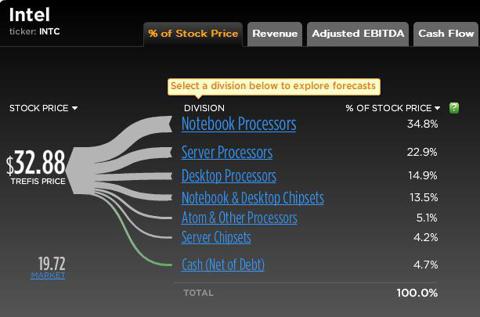 Revenue
The chart below shows the total revenue of Intel for the 4 years and a projection of the revenues by division in the future. As you can see from the beginning of the chart, revenues from the major divisions of Intel took a hit during the great recession, but have bounced back and are again increasing. It is also worth noting that during the great recession, the smaller high growth divisions of Intel had growing revenues or flat growth, when the rest of Intel's divisions had contracting revenues. Notebook & Desktop chipsets, Atom & other Processors, and server chipsets were the three divisions that grew or maintained revenues during the recession, and for 2012 made up 27.29% of Intel's revenues.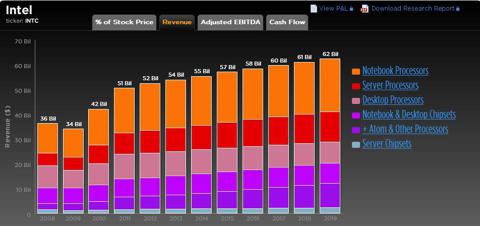 Cash Flow
The chart below shows the projected cash flow of Intel by division over the next 7 years. Cash flow is very important because free cash flow is used to reinvest in the business, buy back shares, or pay out dividends. Looking at a cash flow chart or statement can tell you if a company will have the cash flow to maintain or expand cap-ex spending or asses the ability to pay and maintain a dividend. In the case of Intel, the chart below projects a large increase [27.27%] in cash flow over the next 4 years, and leveling out somewhat after that. With the projected increase in cash flow coupled with Intel having a relatively low dividend payout ratio of [$0.90/year dividend / $2.29 Trailing EPS = 39.30% Payout ratio], Intel has more than enough earnings and cash flow to cover its dividend as well as possibly increase the dividend in future years.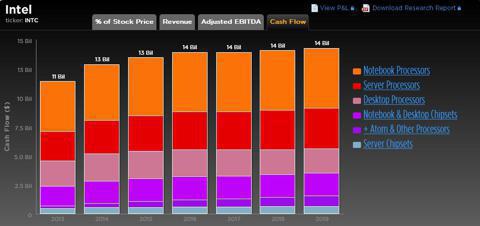 Valuing Intel
Method 1: Discounted Cash Flow
For the discounted cash flow calculation of the value of Intel per share, I used the DCF calculator from Moneychimp.com. For my assumption, I used the EPS and expected growth rate for the respective inputs below, and for the return on the benchmark index, I used the YTD return for the Technology Select Sector SPDR ETF (NYSEARCA:XLK), instead of the S&P 500. The result, which is shown below shows that the estimated fair value of shares of Intel is $30.03/share.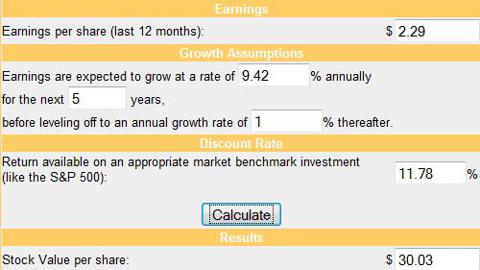 Method 2: Industry PE ratio
For this method, I looked at the Intel PE ratio of 8.68 and compared it to the average PE ratio for the Market Vectors Semiconductor ETF (NYSEARCA:SMH), and according to the Market Vectors ETF website the average PE ratio is 15.26. So if Intel were to trade at the same multiple as the rest of its peers, the share price of would be 15.26 *2.29= $35.01.
Intel Technicals
The chart below is a two-year daily candle chart of Intel. This past week, Intel bounced off its long-term support level at around $19.16, which is the third time Intel has tested that level in the last two years. As you can see from the chart below, Intel in early 2011 fell near the support level, posted a small rally off the lows, and then retested the support level. After the retest, it moved nearly 21% in a period of about 1 month. Later, in 2011, Intel again tested the support level, and the same pattern occurred again, a small gain off the support level, a retest, and then a large move higher. Now over a year later, Intel has once again fallen to the support level and bounced, but has not retested the support level which leads me to believe a short term pull back to the support level is near. That is where the opportunity is; if Intel pulls back and holds the support level and does not break below, shares of Intel could repeat history and have a large move off the support level.

Important Developments
I scanned through the last quarterly earnings transcript of Intel and found some nuggets of information that in addition to the fundamentals and technicals lead me to believe Intel is severely undervalued.
CEO Retirement
Earlier in November, the company announced that President and CEO Paul Otellini would be retiring in May 2013. No matter how large or small a company is, transitioning from one leader to another can be challenging. With no new CEO chosen yet, there should little to no effect on the stock until his successor is chosen, then the market can decide what it thinks of the new CEO.
Research and Innovation
Intel has always been known for innovation, whether it was Hyper Threading, Dual Core, Quad Core, and so on; what makes that possible is Intel is always striving to create better products. The following is a quote from the last earnings transcript talking about Intel's new Core Processor and how it met its original goal, but Intel just did not meet the goal and say "good enough," they strived to do better.
Quote: "Last month at IDF, we shared details of our next-generation Core processor codenamed Haswell. Originally targeted at 15 watts, we have made significant advancements in micro-architecture and process technology that will allow us to move Haswell down into the 10 watt envelope fostering even more innovation in form factor as well as new usage models like gesture computing and voice recognition." [Intel SA Q3 Transcript]
In addition, in Oregon, Intel is building a new $3 Billion research factory add-on to its existing factory. The two quotes below show that Intel is at the forefront of trends in the semiconductor industry of making smaller and more powerful chips. In the article, Intel's corporate spokesperson Chuck Mulloy stated the first two quotes from an Oregonlive.com article. The third quote is from an article about Intel and its strategic investment in ASML Holdings (NASDAQ:ASML), in which the majority of the investment will go towards research and development.
Quote 1: "the chip industry hopes to move to larger, 450-millimeter silicon wafers that could cut the cost of each chip by nearly a third." [Oregonlive.com]
Quote 2: "The industry is also preparing to implement new, "extreme ultraviolet" production tools that would enable even smaller feature sizes on computer chips." [Oregonlive.com]
Quote 3: "We had roughly $1 billion of stock repurchases. In addition, we closed our $3 billion strategic equity investment in ASML." [Seeking Alpha Article from Business week]
Efficiency
In the Intel Transcript and the Oregonlive article, I found two quotes about Intel redirecting old equipment and old buildings and turning them into chip producing facilities. The upgraded facility and redirected equipment will be producing newer chips, which are more profitable than older generations of chips currently produced. In addition, Intel evidently sees enough demand for its chips that it plans to reopen a closed facility.
Quote 1: "Additionally, we are redirecting equipment and space to 14-nanometer from older generation technologies." [Intel SA Q3 Transcript]
Quote 2: "Additionally, Intel confirmed this morning that it plans to upgrade its shuttered Fab 20 production facility and integrate it into an adjoining Ronler Acres research factory, D1C. The company said that the old Fab 20 will now be able to make chips on 300-millimeter wafers, an upgrade from the 200-millimeter wafers that the old factory used until it closed two years ago." [Oregonlive.com]
Closing Thoughts
Based on the underlying fundamentals of Intel, the position of Intel stock technically, and the recent important development, I believe Intel at $19.89/share is severely undervalued. Based on the two methods I used to value Intel stock, I think Intel could get to the $30 per share level by the end of 2013, representing around a 50% upside from current levels.
Disclosure: I have no positions in any stocks mentioned, and no plans to initiate any positions within the next 72 hours. I wrote this article myself, and it expresses my own opinions. I am not receiving compensation for it (other than from Seeking Alpha). I have no business relationship with any company whose stock is mentioned in this article.