Green Mountain Coffee Roasters, Inc. (NASDAQ:GMCR) engages in two operations: the specialty coffee and coffee maker business. On Nov. 17, 2012, my coverage on GMCR was initiated and published with a review of credit put spread. The spread consists of shorting 1x Jan, 2013 put at the strike price of $20 for the credit of $2.43 and buying 1x Jan, 2013 put at the strike price of $17.5 for the cost of $1.53. If this spread is still opened, it is suggested to close the spread and take the profit with 53.12% return. A follow-up on GMCR and a new options play will be reviewed below.
Recent Development
On Nov. 27, 2012, GMCR released its Q4, 2012 earnings with better than expected results. GMCR's net sales for the quarter grew 33 percent to $946.7 million from $711.9 million last year, beating analysts polled by Thomson Reuters of $902.23 million. Gross margin dropped to 33.4 percent from 35.7 percent last year, hurt by higher manufacturing cost due to production ramp up and also due to the impact of Vue brewers. Q4 profit improved to $91.89 million or $0.58 per share from $75.37 million or $0.47 per share. Adjusted net income for Q4 was $100.97 million or $0.64 per share, beating analysts' estimate of $0.48 per share.
Looking forward, GMCR raised its forecast for 2013 adjusted earnings to a range of $2.64 to $2.74 a share, up from the previous expectation of $2.55 to $2.65 a share. The FactSet consensus estimate calls for adjusted earnings of $2.49 per share. GMCR also backed its forecast for total net-sales growth of 15% to 20% over fiscal 2012. The earnings call transcript for Q4, 2012 CEO discussion from Seeking Alpha can be read here.
Following the earnings, the target price for GMCR was upgraded by Canaccord Genuity from $39 to $45 and by Lazard from $39 to $42 with a Buy rating. The analysts from Canaccord Genuity noted,
"Guidance for the seasonally strong Q1 benefits from not only the strong start in October, but also the experience of knowing sales trends over the Thanksgiving weekend. We have considerable confidence in the Q1 guidance given the timing of the Q4 report. Beyond the timing-related predictability of Q1, significantly cleaner inventories heading into Q1, better channel management and a more manageable level of growth should all add to predictability and consistency, in our opinion."
Technical Analysis
GMCR closed at $36.86 Wednesday with a whopping 27.32% gain due to better-than-expected earnings. The volume of 29.48M is 6.57x of 30 day average volume of 4.49M. GMCR had been trading in the range of $17.11 and $71.15. The MACD (12, 26, 9) indicator had been showing a bullish sign since Nov. 17 and the MACD difference continued to diverge after yesterday's jump. As seen from the chart below, GMCR penetrated through its 200-day MV of $32.27 and closed well above it after the earnings release. The momentum indicator, RSI (14), is showing an increasing buying momentum at 83.85, which is considered as over-bought. The short-term technical trend is strongly bullish, but it also raises some overbought concerns.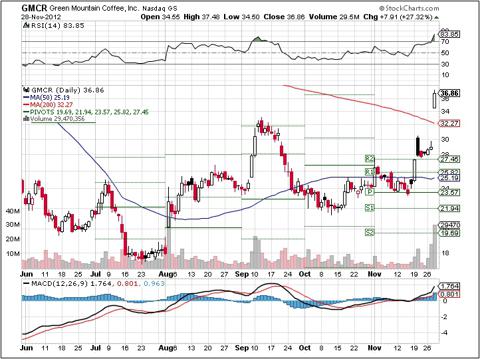 Source: StockCharts.com
Options Play
This strong earnings result reinforced our long-term positive view on GMCR. While GMCR is currently technically bullish, a bullish credit put spread will be reviewed below instead of an out-right call purchase due to the over-bought concern. The objective of this credit put spread is to acquire GMCR at a discount price while gaining some upside potential.
Short 1x March 16, 2013 Put at the strike price of $25 for the credit of $1.20
Buy 1x March 16, 2013 Put at the strike price of $22 for the cost of $0.77
The maximum profit is $0.43, and the maximum risk/margin requirement is $2.57 ($3 loss - $0.43 credit received). If GMCR closes above $25, 16.73% return on margin will be gained. If GMCR closes below $25 upon options expiration, GMCR stock will be purchased at the cost of $24.57, which is 33.34% lower than the current price of $36.86. Above March credit put spread results in less potential upside gain and more discount on acquisition cost as compared to our January credit put spread in the last review. With the recent hike of GMRC price, our main objective had been shifting from gaining upside potential to buying with further discount.
Note: All the prices are quoted from the closing of November 28, 2012 and all calculations are before fees and expenses. Investors and traders are recommended to do their own due diligence and research before making any trading/investing decisions.
Disclosure: I have no positions in any stocks mentioned, but may initiate a long position in GMCR over the next 72 hours. I wrote this article myself, and it expresses my own opinions. I am not receiving compensation for it (other than from Seeking Alpha). I have no business relationship with any company whose stock is mentioned in this article.