In the world of stocks, many trading and investing strategies accompany the daily information flooding into the market. Many market participants are constantly overwhelmed by this flood, as all of it seems to somehow relate to every stock in their portfolio or on their watch list. With this influx of information and trading signals on the price trends of stocks, picking a profit-maximizing trading strategy every day, while taking into account all available information, is a daunting and mind-boggling task for many investors. As a result, every day, computer models for investing become bigger and more complicated, more trading strategies are developed, and more debates arise about which trading strategy yields the best results. The questions are more intense and the answers are more unclear.
As with most situations in life, single logic often holds true and stands the test of time. Let's not forget that despite the overwhelming popularity of technical trading over the past several tumultuous years with people everywhere claiming to make big profits using complicated modeling, the single most successful investor in history is still Warren Buffett, who buys the stocks of companies with a simple business model and hard-to-replace goods/services. He buys stocks at deep discount to their fair values due to some temporary imbalance and inefficiency in the market. As Buffett said, "Business schools reward difficult complex behavior more than simple behavior, but simple behavior is more effective. There seems to be some perverse human characteristic that likes to make easy things difficult."
For me, there is no better example of the merits of Buffett's investment strategy than my investment in Longwei Petroleum (LPH). Countless negative attacks and careless associations resulted in the stock's decline from almost $4 to $1 in 2011 due to fraud cases at some Chinese small caps. Compounding this piling on, the stock has been bashed by discussions of technical trading signals on discussion boards just as the stock was climbing out of its valuation hell and rising toward its fair value now. To me, most of this guessing, quarrelling and discussing of trivial information is just noise. What ultimately matters to the true value of this company and my decision to invest in it are connected in the reasoning process shown in Figure 1: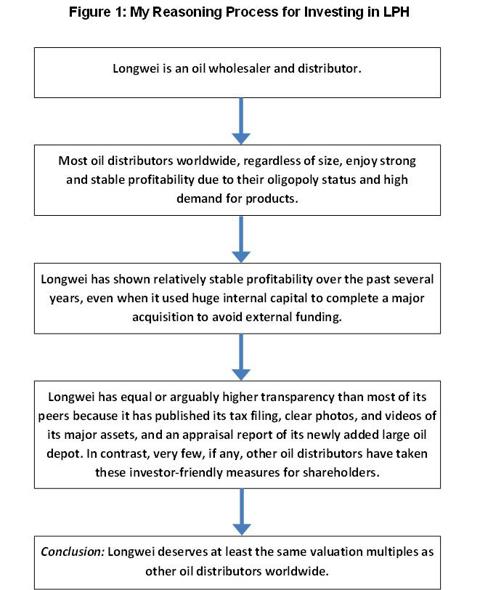 Click to enlarge
Figure 2 shows the value of Longwei's assets and operations compared with Kinder Morgan, one of the biggest oil distributors in the world.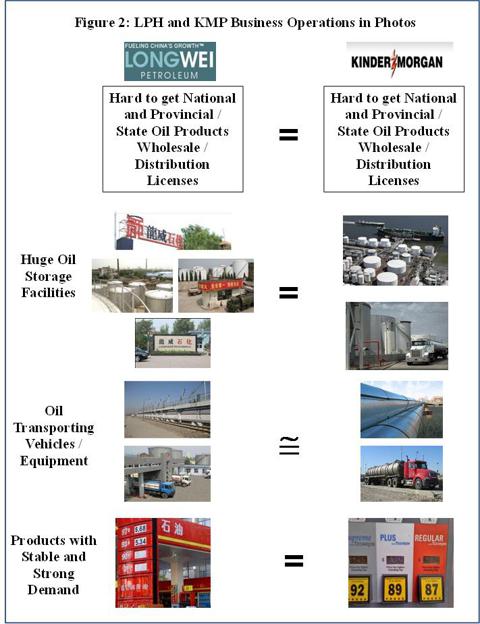 Click to enlarge
Exactly how undervalued is Longwei? To answer this question, in Table 1, I looked at the valuation multiples of a well-known oil distributor Kinder Morgan Energy Partners, L.P. (NYSE:KMP).
Table 1: Comparison of Longwei and Large Oil Distributors

All numbers in US$ millions, except ratios

LPH

KMP

TTM Price/Earning

3.57

31.68 (note 2)

TTM Price/Book

0.65

3.71

Estimated Revenue Growth Rate for Next 12 Months

26.6%

17.4%

Published photo copies of official tax filings and reconciliation of tax filings compared to SEC filings by an independent auditor?

Yes. See here.

According to the best of my knowledge, no.

Posted photos and videos showing details of all major fixed assets owned by the company?

According to the best of my knowledge, no.

Completed an acquisition of a large new facility that almost doubled the company's inventory capacity and geographic coverage without issuing any new shares?

Yes.

According to the best of my knowledge, no.

Uploaded scanned images of business licenses to the company's website for investors' to view?

Yes. See here.

According to the best of my knowledge, no.

Published an independent professional appraisal of its large-scale acquisition for the public to view?

Yes. See here.

According to the best of my knowledge, no.

Notes:

1. All numbers are from Yahoo Finance as of market close on November 28, 2012.

2. The P/E for KMP is based on current price and 2013 EPS because the company had a net loss over past 12 months due to some extraordinary one-time charges and above average amount of interest paid to general partner in the fourth quarter of 2011 and thus has no TTM P/E.
From the information in Table 1, it is not clear to me if there are higher financial and business risks in Longwei than in Kinder Morgan. However, I can understand that some people will still say that Longwei is not strictly comparable to Kinder Morgan because Longwei is much smaller. Still others will argue that Longwei is not paying dividends yet (because the company is now reinvesting its earned profits in building up inventory for its large acquired assets), while Kinder Morgan is already paying dividends. Of course, these two points are valid to some extent. However, valuing Longwei at 1/9th of Kinder Morgan's valuation in terms of P/E simply for these two reasons is not justified because even small- to mid-cap oil operators such as CVR Energy (NYSE:CVI), SemGroup (NYSE:SEMG), and InterOil Corporation (NYSE:IOC) that have not paid dividends over the past 12 months are valued at more than 10 times their trailing 12-month earnings (Table 2).
Table 2: Comparison of Longwei and Small- and Mid-Cap Oil Companies

All numbers in US$ millions, except ratios

LPH

CVI

SEMG

IOC

Market Capital

$230

$3,940

$1,570

$2,700

TTM Sales

$525

$7,749

$1,215

$1,209

TTM Net Income

$65

$404

$1.31

$29

TTM Book Value of Equity

$351

$1,252

$1,001

$746

TTM Price/Earning

3.57

9.84

1210

N/A

TTM Price/Book

0.65

2.55

1.81

3.70

TTM Dividend Yield

0%

0%

0%

0%

Estimated Revenue Growth Rate for Next 12 Months

26.6%

4.4%

1.5%

-12%

Published photo copies of official tax filings and reconciliation of tax filings compared to SEC filings by an independent auditor?

Yes. See here.

According to the best of my knowledge, no.

According to the best of my knowledge, no.

According to the best of my knowledge, no.

Posted photos and videos showing details of all major fixed assets owned by the company?

According to the best of my knowledge, no.

According to the best of my knowledge, no.

According to the best of my knowledge, no.

Completed the acquisition of a large new facility that almost doubled the company's inventory capacity and geographic coverage without issuing any new shares?

Yes. See here.

According to the best of my knowledge, no.

According to the best of my knowledge, no.

According to the best of my knowledge, no.

Uploaded scanned images of business licenses to the company's website for investors' to view?

Yes. See here.

According to the best of my knowledge, no.

According to the best of my knowledge, no.

According to the best of my knowledge, no.

Published an independent professional appraisal of its large-scale acquisition for the public to view?

Yes. See here.

According to the best of my knowledge, no.

According to the best of my knowledge, no.

According to the best of my knowledge, no.

Notes:

1. All numbers are from Yahoo Finance as of market close on November 28, 2012.

2. For IOC, the number of shares outstanding was obtained from the last 10-Q report. Market capital is calculated by multiplying the number of shares outstanding by the stock price.
The discount of Longwei's shares to its peers' valuation levels is still startling. Of course, this is not to say that Longwei should not consider paying dividends in the future. When its last acquired facility, the Huajie Oil Depot, is operating at a more stable status with a high level of inventory, it may be a good time for Longwei to issue some dividends to satisfy some investors' preference for periodic income returns in addition to capital gains. However, if the company does have more growth opportunities down the road and can give investors a clear picture of its mid- to long-term growth strategy, many investors should be satisfied that the company is reinvesting a big portion of its earned profits in business expansion to realize greater capital gains over the long run.
The last argument that some people use to try to justify a much lower valuation multiple for Longwei is that it is a Chinese company. This argument has no merit because even similar small-cap oil operators in China or Hong Kong trade at P/Es of more than 10 as shown on page 20 of Maxsoar's update report.
Returning to the opening topic of this article, while many people are constantly bothered by all kinds of information and data seemingly affecting a stock, its price trend, and technical signals every day, I only care about value and the real return I get from the company's business operation. As Buffett said: "Only buy something that you'd be perfectly happy to hold if the market shut down for 10 years. If a business does well, the stock eventually follows."
Piecing together the picture of LPH compared with all the aforementioned oil companies, I have a very hard time convincing myself not to invest in Longwei from value and return propositions. Exactly how good of a deal is LPH if I assume that the assets of these comparable companies are properly valued? I look first at the amount I have to pay to own each dollar of each company's net asset (Figure 3). Like Buffett, I am practical and economical. For a commodity like oil, I do not think for one second that the gasoline I get from one gas station can give me four or five times the benefits more than the gasoline I get from another gas station. So, there is no way I am going to pay $2 or more for each unit of asset from most of these comparable companies when I can get a similarly good asset for $0.65 per unit from Longwei.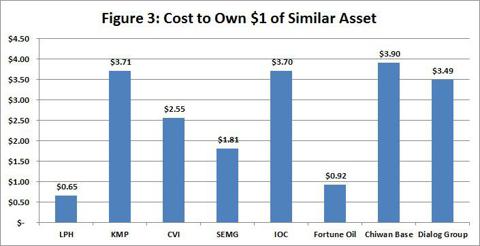 Click to enlarge
Next, as a public shareholder, I look at the real return (net profit) that a company can give me every year for each $1 I put in (annual EPS divided by stock price). The ratios are shown in Figure 4. Again, assuming that the returns I get from the other companies are acceptable, the return I get from Longwei at the current price level is astounding by any standard.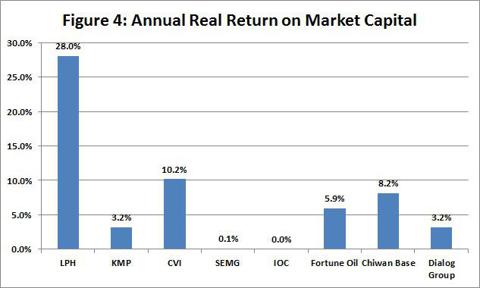 Click to enlarge
People who are not familiar with the Chinese small-cap saga over the past two years will ask: "Why then is the stock valued at such a cheap level now?" The reasons are that over the past two years a group of traders have continuously bashed almost all Chinese small caps, taking an "assuming guilty until proven innocent" attitude and treating all Chinese small caps as frauds, without any concrete evidence, and viewing every move a Chinese small cap makes as a negative and then throwing all kinds of imaginative allegations on them and persuading people to keep on dumping all Chinese small caps regardless of price levels. In the case of Longwei, Figure 5 shows the stock's price trend and the major allegations.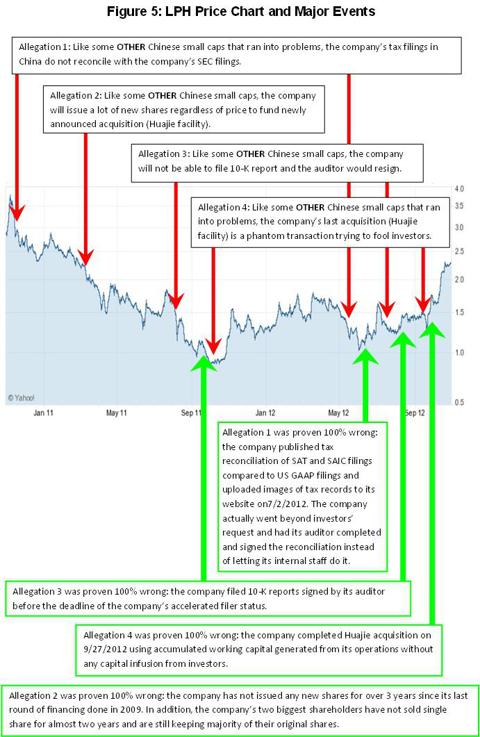 Click to enlarge
In addition to the counter-allegations shown above, on October 22, 2012, the company published an independent appraisal of its Huajie facility done by a third-party accounting firm and showing that the fair value of the facility was $119.4 million, or about 7.5% above the price Longwei paid for the facility.
Longwei's stock has appreciated about 50% from $1.50 to $2.25 since mid-September. Not surprisingly, many short-term traders are trying hard on discussion boards to persuade people to sell based on the reasoning that "what goes up must come down." Again sticking to Buffett's investment principles, I refuse to abide to this kind of short-sighted view because as Buffett says: "If past history was all there was to the game, the richest people would be librarians."
In my view, the company was completely reborn since July after it accomplished its tax reconciliation, the Huajie acquisition, and the independent appraisal of the Huajie facility. The difference between Longwei today and Longwei six months ago is like the difference between Apple Inc. (NASDAQ:AAPL) today and Apple Inc. before it came up with the first iPod or the difference between airport security checkpoints today and checkpoints before the 9/11 attacks. Many investment banks and big funds now fully recognize Longwei's value and strong business outlook and are convinced that they've got a real deal and a potential home-run investment for years to come. The drastically increasing daily volume since October shows clearly that the battleground for Longwei has moved from one among small private investors to one among super-big private investors and institutions. This is normally a sign indicating when a stock moves from being a small cap to mid cap (market capital of $500 million or more).
If the reasoning that a stock cannot go much higher than $2.25 because it was only $1.50 two months ago always holds, then the stock should not have fallen from $3.95 on November 8, 2010 to $1.47 on April 13, 2011 - a fall of almost $2.50 in just over five months. If the reasoning that an undervalued stock will always stay undervalued holds, then another Chinese small-cap, Feihe International, Inc. (NYSE:ADY), wouldn't have shot up from $2.35 to over $9.00 in four months (Figure 6). Note that I am not giving an opinion on ADY here; instead, I am just using this as an example to show that a small-cap stock can break through seemingly strong technical resistance and move up quickly when conditions are right.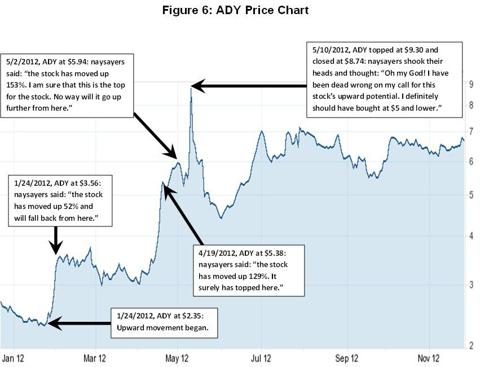 Click to enlarge
Now, I am not saying that LPH should appreciate to over $9.00 within the next three to four months. This is just another example to show that it is not uncommon for an overly depressed small cap to appreciate many times quickly when conditions are right. The thinking that a stock will always stay within the trading range established in the past is the well-studied and documented anchoring bias in forecasting. The ubiquity of the anchoring bias and the increasing percentage of the participants in the stock market today as short-term traders has resulted in many people paying little respect to a company's fundamentals over a long period of time and simply basing their buy or sell decision on an array of technical analysis tools such as supports and resistances. As a result, resistances become self-fulfilling prophecies that can cap a fundamentally sound stock from breaking out and moving much higher for a very long time.
I am not a fan of technical analysis, but I do study it quite extensively. When I pay attention to technical analysis, I choose to stick to the longest-term patterns and signals that have higher statistical accuracy in forecasting. Fortunately for LPH, the most reliable long-term technical signals have turned positive and joined forces with the company's strong fundamentals in pointing to further upward potential. Figure 7 shows that the stock has lately completed three golden crosses.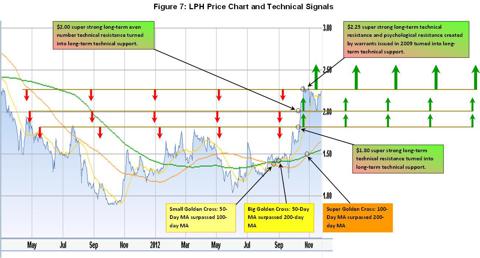 Click to enlarge
When the stock was at $3.95 in November 2010, the trailing 12-month P/E based on the diluted trailing 12-month EPS of $0.39 was about 10 at that time, which is at the low end of the P/E range among Longwei's comparables discussed earlier. That was probably the only time that the market placed Longwei close to the fair valuation level that it deserved. The company's fully diluted trailing 12-month EPS has grown by 59% to $0.62 now. Using $4.00 as a reference point, had the market not dumped the stock over the past two years amid the crises of some other Chinese small-caps in 2010 and 2011 and just kept Longwei's P/E at that same level, the stock should have been at $6.36 by now.
The company said that it expects to earn net profits of $77.6 million in fiscal 2013, assuming no additional external funding. Based on that figure and the current number of shares outstanding of close to 102 million, I estimate that EPS for fiscal 2013, which ends just seven months from now, will be $0.76. I also estimate that EPS for fiscal 2014 will be about $0.95, based on my forecast of net profits of $97.00 million. Using these forward EPS numbers and P/E of just 10, the minimum fair value of the stock should quickly rise to $7.60 in 2013 and $9.50 in 2014. Figure 8 shows all these numbers and relationships.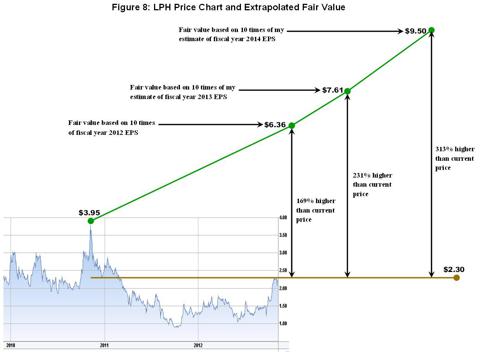 Click to enlarge
When I look at the huge gaps that still exist between the stock's current price and its theoretical, minimum fair value, I have a very hard time convincing myself to sell out of my position and call an end to the stock's upswing. I am afraid to commit a short-term trader's mistake and endure the remorse that Buffett mentions in his famous quote "The investor of today does not profit from yesterday's growth." Of course, there is no guarantee that the market will put the stock at its fair value within any specific time frame, but judging from the high reward to risk ratio I am seeing in Longwei, I'd rather stay invested at current low price levels than take chips off the table.
Of course, estimating any company's pro forma financial results is not rocket science. Even for a business as simple and stable as Longwei's, the future results will vary depending on many factors. In its just reported results for first quarter of fiscal year 2013 (July 1, 2012 - September 30, 2012), the company's revenue grew by 12.4% YoY, while sales volume grew by almost 18% YoY. Note that the results of this quarter did not include any revenue from the newly acquired Huajie facility because the purchase was completed at the end of September.
In other words, the growth was purely organic from the company's existing footprint in Central Taiyuan. China's October economic data confirmed that economic growth bottomed in September and is now rising again, while inflation is very tame, leaving huge room for the central government to significantly lower its still-high benchmark interest rate and bank reserve requirement to further stimulate the economy during the once-in-a-decade top power transition from now to next March.
In addition, Shanxi Province has just passed a new five-year infrastructure investment plan totaling RMB5 billion. The construction activities in this plan alone will consume a massive amount of gasoline and diesel.
Finally, the newly acquired Huajie oil storage depot, located at a heavy mining and industrial area at northern Shanxi Province, immediately doubles the company's geographic coverage and brings in a huge new customer base. Judging by how fast Longwei was able to ramp up the sales run rate of the Gujiao facility in 2010 and 2011, it should also be able to ramp up the sales run rate of the Huajie facility quickly, especially considering that the company announced the signing of new sales agreements valued at over $100 million a year with sixteen new major customers within one month after opening the facility.
All things considered, I think management's last target revenue of $646.3 million for this fiscal year is easily attainable, and the company should be able to grow its sales by at least 25% in the next fiscal year. Management estimated 7%-8% YoY revenue growth for its Taiyuan and Gujiao facilities in July 2012, and now it seems that these facilities are enjoying higher than 15% sales growth. It looks like management has completely reversed its tendency in forecasting and is now tending toward being overly conservative.
The just announced October revenue is further evidence of this tendency. Huajie produced $9.2 million of revenue in just 20 days of operation (it officially came online on October 11), which is equivalent to an annual run rate of $166 million. The monthly revenue run rate for the Huajie facility will likely increase every month as the company uses the profits it generates from all three facilities to increase the inventory level at the Huajie facility. The problem now for Huajie is that there is not enough supply to meet demand. I estimate that Huajie will give the company at least $180 million of revenue for fiscal 2013 and that the total revenue for the company will be at least $700 million.
The CFO's key statement in response to an investor's question during the last earnings conference call about why Longwei holds a competitive advantage in the Huajie area was, "It's like previously you had to drive 10 miles to fill up your car and now a gas station just opened one mile away. Naturally, you'll go to that new gas station." More precisely, for those big factories and mines in the northern Shanxi area, their tanker trucks previously had to drive 150 miles to fill up at a wholesale depot either in the northern Taiyuan area or in the western Beijing area. Now, they can drive 10 miles to fill up at the Huajie depot.
Also, from what I can see, the filling stations in Huajie are much more advanced and have higher filling speeds than those in most other wholesale depots (look no further than Longwei's own old filling stations in the Taiyuan depot). The Huajie facility was a tough acquisition for the company, especially with the stipulation of no external financing, but now people should understand why the CEO was so determined to get it and why he so firmly believed that it would be beneficial to the company and shareholders over the long term.
From a relative valuation standpoint, how fast the stock's revenue and net income per share grow in the near future is actually a moot point simply because the stock is so undervalued right now as shown in Figures 1 and 2. Even assuming zero growth in revenue and net profit, the company - with just its current revenue and net profit run rate - deserves a much larger market capitalization. From the movements of the stock since the closing of the Huajie acquisition in late September 2012, I see that some traders were again impatient and took profits as soon as the stock stopped rising for several days.
In my previous article, I talked about the mistake of taking a profit too early that many traders made on Apple over the past 10 years. It is obvious to me that many people are making the same mistake on Longwei right now. Figure 9 shows the similarity between Apple's price chart from January 1, 1997 to October 1, 2004 and Longwei's price chart from January 1, 2009 to November 28, 2012. Apple's prices during the period shown in Figure 9 seemed to be Longwei's prices during the period shown - multiplied by 10. I do not mean to say that Longwei is likely to appreciate 100 times as Apple did over the past 10 years, as that kind of performance is hard to reproduce. However, history seems to point to a much higher price level for Longwei's stock over the next several years.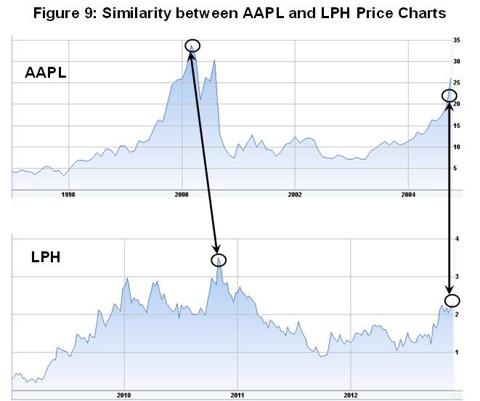 Click to enlarge
Aside from normal business risks that every stock faces, an unusual potential obstacle for investors of Longwei today with a long-term investment horizon and the hope for realizing a Warren Buffett-style return is the possibility of the company going private in the near future at a lower than fair value price. As many writers have pointed out in their articles, there has been a spree of privatization transactions for Chinese small caps this year. The pace seems to have picked up speed since September. Zhongpin, Inc. (NASDAQ:HOGS), Feihe International, Yongye (NASDAQ:YONG), American Lorain (NYSEMKT:ALN), Trunkbow (NASDAQ:TBOW), China Shengda Packaging (NASDAQ:CPGI), Ninetowns (NASDAQ:NINE), 7 Days Group Holdings (NYSE:SVN), 3SBio (NASDAQ:SSRX), and Syswin (NYSE:SYSW) all announced privatization deals in September and October.
As we can see in these earlier examples, many Chinese small-cap oil companies like Chiwan Base and Dialog Group trade at more than 10 times or even 20 times of EPS in Hong Kong or China. As a general rule, a company is normally valued at the higher end of valuation range in the industry at IPO. So, if the company is relisted in Hong Kong or China at the end of next year, the two biggest shareholders might expect Longwei to be valued at 15 times or higher of estimated fiscal 2014 EPS, which will put the stock at $15 per share assuming the current number of shares outstanding. Even if the two biggest shareholders of the company have to pay $5 per share to take the company private next February, they may still reap an arbitration gain of 200% in a year.
Of course, whether they'll pull the trigger or not depends on a lot of factors, including how high the stock price is after the investors' and analysts' site visit day next January, but I think right now that they should be at least intrigued by the idea of going private and then relisting after seeing so many examples lately. If they are indeed contemplating such a move, the following sentences in the company's news release published on October 22 about an updated valuation for the Huajie facility may contain more profound meaning than it looks on surface:
"We are committed to continuing to improve our level of transparency and disclosure with our shareholders. We have recently achieved several milestones that we hope will be catalysts to boost shareholders' confidence in our Company and lead to an improved earnings multiple that reflects our operating performance. We believe our fair value is higher than currently reflected in our stock price, especially when compared to our book value, continued Mr. Cai. Longwei has a straightforward business model, highly visible assets, and strong and stable business operations. We will continue to do our best to fully communicate the value of the Company's assets and operations to the market."
The implicit sentences behind the sentences above might be: "We have told you all positive things about our company and have warned you that our current valuation is way too low compared to our peers trading in Hong Kong and China. So, if you still decide to sell your shares at current prices or are not willing to buy our shares at higher prices, don't blame us if we pay you a token premium to buy out all your shares at $4-$5 and relist in Hong Kong at $15 per share."
If the two biggest shareholders do offer to buy all remaining shares at $5, or even just $4 per share, in my opinion it is hard for shareholders to argue in court that the price is too low and unfair due to the following five reasons:
1. Since the beginning of 2012, management has vigorously released a lot information and data that have positive meaning for the company's past results, current operations, and future results. Unless there is some materially positive development that management hasn't divulged, then it is hard for public investors to argue that the buyout suitors are willing to pay more for each share because they know something good and important about the company that the public does not know. The investor and analyst site visit day next January might be the company's last attempt to avoid any liabilities of privatization transaction on account that they will have given the public an opportunity to see how good the company's operations are with their own eyes.
2. The two biggest shareholders have only sold two million shares in 2010 and have not sold any of their remaining 67 million shares since then. The rest of the management team and none of the directors have sold a single share for as long as I can remember (at least three shares). So, there is no sign that they used any trading tricks to manipulate the stock price downward. All the selling over the past two years was done by public traders.
3. As discussed above, the management team has explicitly warned the public that it strongly disagrees with the public about the value of the company's stock and urged the public to put the stock at a significantly higher level.
4. The company has never asked for public investors' money for more than $2.255 per share. So, the argument of "we paid more and are now getting less in return" simply cannot stand.
5. The market has never put the stock above $4. So, in the eyes of a judge, the public shareholders would be contradicting themselves because, on the one hand, they have never been willing to pay $4 a share and, on the other hand, they are arguing that the stock is worth more than $4 per share after seeing the buyout offer.
So, I have set my mind that if anybody dishes out an offer to buy all of my shares for at least $4 per share, I'll have to just take it and wrap up this investment, even if I would prefer to stay longer in this stock to see it reach higher ground. If it happens, it will be yet another great loss of valuable assets and a profit earning machine for American investors and a great taking back of a national treasure for Chinese investors. Regardless, instead of keeping on thinking too much about things I have no control over, I will stick to the reasoning shown in the diagram at the beginning of this article that prompted me to invest in this stock in the first place. There are too many good qualities in this company, and there are too many upside catalysts in the future for me to fold my hand now. As Buffett says, for die-hard followers of value investing who know exactly what they are investing in, too much of a good thing can be wonderful.
Longwei has just hired a new IR company Weitian Group to expand its outreach with institutional investors and analysts. This is a step in the right direction because many investors have been suggesting for a long time that the company is under followed by Wall Street analysts and institutions. The company is also going to host an investor and analyst day to invite shareholders and interested parties to tour its facilities in the first quarter of 2013. Per the news piece published on November 28, 2012, the company has received strong interest from institutional and private investors in visiting its facilities, including the new Huajie facility. I am very excited about this opportunity to see the company's current operations and meet other analysts and big investors. I'll update readers after the investor day on what I see there.
Disclosure: I am long LPH. I wrote this article myself, and it expresses my own opinions. I am not receiving compensation for it (other than from Seeking Alpha). I have no business relationship with any company whose stock is mentioned in this article.