Excerpts from Gilford Securities analyst Ashish R. Thadhani's recent note to clients on Monster Worldwide (NASDAQ:MNST):
• • •
Investment Conclusion. Based on weak hiring activity amid a global economic slowdown and an acquisition drag – cushioned by reduced marketing & promotion spending – we are adjusting our estimates as follows: 2008 non-GAAP diluted EPS to $1.38 on revenue of $1.384 billion (+2% YoY growth) from $1.35 on revenue of $1.402 billion; and 2009 non-GAAP diluted EPS to $1.20 on revenue of $1.312 billion (-5% YoY growth) from $1.50 on revenue of $1.415 billion. We are also introducing a 2010 non-GAAP EPS estimate of $1.40 on revenue of $1.411 billion (+7% YoY growth). Our non-GAAP estimates exclude employee severance, stock option investigation, security breach and restructuring charges. At this time, we continue to anticipate a gradual resumption of organic YoY revenue growth in 3Q09. Our Hold rating remains in effect. MNST shares remain vulnerable to macro pressures despite an inexpensive valuation ($1.4 billion enterprise value translates into 1.1x 2009E revenue, 4.5x EBITDA and 11.9x non-GAAP EPS). We note that deferred revenue fell 12% QoQ. The domestic Careers segment posted a double-digit YoY revenue contraction while, on the international front (43% of total revenue), growth decelerated for the third straight quarter.
3Q08 Results. Non-GAAP diluted EPS of $0.40 vs. $0.35 a year ago on revenue of $332.2 million (-1% YoY growth) beat our $0.34 estimate on revenue of $335.9 million. Once again, results benefited from lower-than-projected marketing & promotion expenses (+$12.8 million variance or 7.1 cent EPS impact). Revenue was helped by the Internet Advertising segment (+$2.5 million variance resulting from community sites) – offset by Careers International (-$3.6 million) and North America (-$2.6 million). Operating income surpassed our expectation in the Careers International segment – but underperformed at Careers North America and Internet Advertising.
Takeaways. Results reflect -1% YoY growth (vs. +7% in 2Q08), a 21.1% non-GAAP operating margin (vs. 22.1%) and 5% YoY drop in deferred revenue (vs. +4%). Revenue slowed across the Careers businesses: North America (-11% YoY vs. -6% in the immediately prior period) and International (+17% vs. +34%) – while stabilizing at the Internet Advertising segment (-14% vs. -16%). Operating margin on a sequential basis was mixed: -780 bps in Careers North America, +80 bps in Careers International and - 30 bps in the Internet Advertising segment. Company-wide headcount rose 5% QoQ to 5,669 but revenue per employee declined 11%.
Management noted high correlation between recent financial news flow and client spending – including Europe – and severe headwinds going into the important 4Q contract renewal period; a comprehensive site re-launch in January 2009 that should spur client activity; support for future market share gains with continued hiring (even at corporations cutting overall headcount), a superior value proposition vs. print, ongoing vendor consolidation, introduction of new functionality and – if necessary – pricing flexibility; and upcoming stock purchases in the open market by CEO Iannuzzi ($1 million) and CFO Yates ($500K) along with payment of all short-term incentive compensation in the form of equity.
Monster generated strong CFFO of $91.7 million (or $0.76 per share) in the quarter. Key outflows comprised an acquisition payment ($64.6 million), stock repurchases ($41.8 million for 2.2 million shares at an average price of $19.17 each) and capital expenditures ($21.0 million). Before a $174 million payment for ChinaHR in October, Monster exited the quarter with net cash of $346.6 million – down from $396.4 million on June 30. This figure includes auction rate securities valued at $94 million. The balance is invested in U.S. treasuries, sovereign debt and bank deposits...
MNST shares are suitable for aggressive investors. In our opinion, principal risks include the following: slowdown in online help-wanted advertising; increased competition; inability to integrate acquisitions and/or translate margin potential into reality; and a correction in the Nasdaq market.
click to enlarge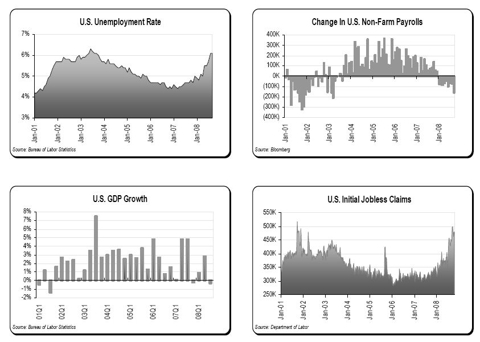 Click to enlarge
ANALYST CERTIFICATION
I, Ashish Thadhani, certify that all the views expressed in this research report accurately reflect my personal views of the subject companies. I certify that I have not and will not receive compensation with respect to the issuance of this report.