As in last week's article, we continue to profile oversold and/or undervalued high dividend stocks from our High Dividend Stocks By Sector Tables. This week we're looking at Martin Midstream Partners LP, (NASDAQ:MMLP), a Texas-based firm which operates primarily in the Gulf Coast region.
Profile: MMLP has four primary business lines:
Terminalling and storage services for petroleum products and by-products
Distribution of natural gas liquids and natural gas storage
Marine transportation services for petroleum products and by-products
Sulfur and sulfur-based products processing, manufacturing, marketing and distribution including fertilizer manufacturing and distribution (Source: MMLP website)
MMLP share price has gotten hit with a triple whammy in November - the November sell-off of many high dividend paying stocks, due to U.S. fiscal uncertainty; MMLP also did an offering of 3 million units: and, MMLP went ex-dividend on 11/5/12, so its price corrected. It's down over 11% year-to-date, as of 11/29/12.
However, when you consider that MMLP is down 14.97% from its October high of $36.00, and the share dilution and quarterly dividend equal about 15%, all of these factors appear to be already discounted into this stock. MMLP also looks oversold on its stochastic chart: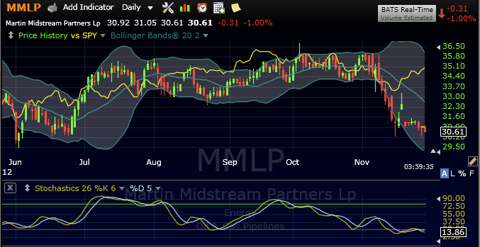 Earnings: MMLP's 2012 earnings are estimated to grow around 46%, and its 2013 earnings are estimated at around 22% growth, which gives it a much higher 2013 PEG value, due to its 30-plus P/E, which lies in the middle of its 5-year range:

Although it doesn't appear to be undervalued on a 2013 PEG basis, MMLP's Price/Sales and Price/Tangible Book ratios are much lower than its peers: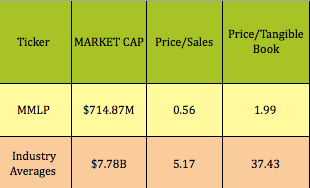 MMLP is in the process of simplifying its business mix by selling off assets which reduce its exposure to natural gas gathering and processing and certain natural gas liquid commodities. They've used some of the proceeds from these asset sales to purchase a lubricant packaging plant, which management says "will have an immediate positive impact on our distributable cash flow. Likewise, we believe the acquisition of the remaining equity interests in Redbird Gas Storage LLC will provide long-term fee-based value enhancement for our unit holders. Our Partnership will further benefit from MRMC agreeing to support and enhance the accretion of these acquisitions by suspending their incentive distribution rights in an amount totaling $18 million commencing in the fourth quarter of 2012." (Source: MMLP website)
Dividends: MMLP just increased its quarterly distribution to $.77, from $.763. Its recent price decline puts its forward dividend yield at over 10%. Its distributable cash flow grew 3.6% in the 3rd quarter, vs. 2011's 3rd quarter:

Options: If you're interested in owning MMLP at a lower price, and you don't mind waiting, another way to approach MMLP would be to sell cash secured puts at a strike price below its current price/share. This July 2013 $30.00 put currently pays $2.50, which achieves a $27.50 break-even, in addition to offering immediate income. Each option contract corresponds to 100 shares of the underlying stock, so if you sell 1 of these $30 puts at $2.50, you'll receive $250.00. (Note: put sellers don't receive dividends, we just put them on our tables to compare them to the put premiums.)
There are 2 scenarios with this trade: If MMLP is below $30.00 at or near expiration, most likely you'll be assigned the stock at $30.00, with a net cost of $27.50. If MMLP is above $30.00 at or near expiration, your Cash Reserve will be released, and the $2.50 put premium will be your final profit.
You can find more details on this and over 30 other high option yield trades in our Cash Secured Puts Table:

Financials: MMLP's Management Efficiency ratios are a mixed bag - it has an outlandishly high ROE, but lags in the other 2 categories. Its operating margin is also lower than its peers, but its debt load is also lower:

Disclosure: Author held no MMLP shares at the time of this writing.
Disclaimer: This article is written for informational purposes only and isn't intended as investment advice.
Disclosure: I have no positions in any stocks mentioned, and no plans to initiate any positions within the next 72 hours. I wrote this article myself, and it expresses my own opinions. I am not receiving compensation for it (other than from Seeking Alpha). I have no business relationship with any company whose stock is mentioned in this article.