As you may know from reading previous articles of mine, while I was able to move my IRA from my old brokerage house over to Interactive Brokers [IB] last April, we left my wife's rather small IRA at the old brokerage for a while longer. Now that the latest semi-annual dividends from the various international investments they had her in have been received, we've also moved her IRA out of the old place and, this time, into a Wells Fargo Advisors IRA, where she receives 100 free trades per year. This should be plenty to allow me to manage and grow her account going forward.
When my wife's positions finally made it over to Wells, she was left with a number of stocks that I didn't feel met our goals of investing in Dividend Growth [DG] stocks in order to aggressively build her portfolio in terms of number of positions and balance, and get her IRA to the point where it would be generating a healthy stream of dividend income by the time we're ready to retire. So I sold the dross, which left a small amount of Crescent Point Energy Corporation (CSCTF.PK), which I also hold in my IRA (courtesy of the same former broker), and an even smaller amount of MAKO Surgical (NASDAQ:MAKO), the presence of which was the result of an earlier effort on my part to try to catch a comet by the tail.
Unfortunately, not long after we added MAKO to my wife's old account, the company had a rather poor quarterly result, and the share price dropped by more than half. It has continued to languish since then, but I still believe the company has good potential to improve its sales results. Besides, it's fallen so low in value that it doesn't make sense (to me, at least) to sell it off, but rather hold on to what she has and see if it doesn't turn around at some point in the future.
That left us with a decent chunk of cash with which to start building her new, DGI-oriented portfolio, one that would complement mine in its holdings. Using My Mad Method [MyMM], I looked at companies that were already on my watchlist (plus a few that I already hold in my IRA), and went through the process of trying to find the best companies with which to get her little IRA chugging along.
Using the weighting feature of the MyMM spreadsheet, I weighted my wife's new watchlist by increasing the Yield Rank, 5 Year Dividend CAGR Rank and CCC Rank (whether a company was a Dividend Champion, Contender, Challenger, Near-Challenger, Frozen Angel or None of the Above) by 20% each, leaving the remaining 14 metrics weighted at their nominal 5.88% weight.
The following is the list of companies from which I started, and their respective original MyMM Ranks, current weighted MyMM Rank Averages and Ranks, and Recent Yields:
Orig MyMM Rank

Weighted

MyMM Avg

MyMM Rank

Recent Yield

Company

Ticker

19

20.7

23

American Electric Power Company, Inc.

(NYSE:AEP)

4.53%

2

12.4

3

AFLAC, Inc.

(NYSE:AFL)

2.54%

5

11.9

2

Alliance Resource Partners, L.P.

(NASDAQ:ARLP)

7.63%

8

18.7

19

BP plc

(NYSE:BP)

4.63%

10

15.6

10

Colgate-Palmolive

(NYSE:CL)

2.30%

5

13.6

5

The Clorox Company

(NYSE:CLX)

3.41%

9

15.0

9

Chevron Corp

(NYSE:CVX)

3.41%

4

11.8

1

NTT DoCoMo Inc.

(NYSE:DCM)

4.68%

3

13.2

5

General Dynamics Corp

(NYSE:GD)

3.10%

13

15.0

8

Kinder Morgan Energy Partners, L.P.

(NYSE:KMP)

6.00%

20

15.9

12

Lockheed Martin Corp

(NYSE:LMT)

4.27%

17

15.4

10

McDonald's

(NYSE:MCD)

3.24%

6

13.5

6

MV Oil Trust

(NYSE:MVO)

13.87%

24

21.0

25

NorthStar Realty Finance - Preferred C

(NRF-C)

9.03%

14

18.2

17

New York Community Bancorp, Inc.

(NYB)

7.85%

22

16.7

15

Omega Healthcare Investors, Inc.

(NYSE:OHI)

7.76%

16

16.4

13

Procter & Gamble

(NYSE:PG)

3.24%

18

18.5

18

Prospect Capital Corporation

(NASDAQ:PSEC)

11.55%

1

12.4

4

Republic Bancorp Inc - Class A

(NASDAQ:RBCAA)

3.27%

23

19.2

21

Southern Company

(NYSE:SO)

4.58%

25

18.8

20

AT&T

(NYSE:T)

5.23%

15

19.3

22

Vodafone Group, plc

(NASDAQ:VOD)

4.03%

12

20.9

24

Wells Fargo & Co

(NYSE:WFC)

2.68%

21

17.6

16

Westar Energy, Inc.

(NYSE:WR)

4.66%

10

16.5

14

ExxonMobil Corp

(NYSE:XOM)

2.59%
With this weighted watchlist, I wanted to accomplish a few goals (in no particular order) in terms of the companies that I picked to add to what was left in her IRA from the days with the previous broker:
Try to maximize the yield that her new portfolio would generate.
Focus on Energy-related stocks.
Try to find at least one utility company to include in her new portfolio.
Pick up some tried-and-true Dividend Champions.
Test the waters of Financials with a relatively "safe" bank stock.
Acquire approximately the same dollar amount of about seven or eight new positions.
Given all the other goals, try to avoid duplicating stocks in her new portfolio that are already in my IRA's portfolio.
In terms of the first two goals, two companies jumped out at me from the above list: ARLP and MVO. Even though picking these two would go against the seventh goal of providing further diversification within our combined portfolios, I couldn't resist including these high yielding Energy-oriented stocks to my wife's new account. We're both pro-coal, despite the current Administration's efforts to exterminate the use of it in our great country, and ARLP is the best-performing coal stock that I've come across.
MVO had also done well for me. However it has taken a real beating in its price since I added it to my wife's account. No matter, really, as the goal is maximizing dividend income over the long term. With that in mind, I knew these two would give her average yield a real boost, so I could focus on the other goals for the remaining positions that I would add to her IRA.
Also in line with Goals #1 and #2 was BP. Despite having a terrible Chowder Dividend Rule (CDR) rating due to having to slash its dividend relatively recently as a result of political fallout from the Gulf of Mexico oil spill, I'd had my eye on BP for a long time, and its yield was certainly attractive, so I chose it over CVX and XOM for its better yield and, I think, better growth prospects.
Of the utility stocks on her watchlist, WR stood out as the best choice in terms of its MyMM Rank and yield. Even though AT&T sports a better yield, and I do consider telecoms to be "utilities," I hold a nice chunk of T in my IRA, and so I invoked Goal #7 and decided against including it in her account, too.
That left Goal #4 to address next. I chose some household names for this category, and ended up selecting CLX and MCD from her watchlist. I hold a decent amount of Johnson & Johnson (NYSE:JNJ) in my IRA, and have had my eye on CLX, CL and PG for about a year, but have never really been able to bite on any of them. I selected CLX over the other "cupboard names" because of its higher yield. McDonald's share price had taken a real dip from the time that I sold it at $92.00 earlier this year, so I saw this as a golden opportunity to add this dividend stalwart to the family stable.
That left me with one slot to fill, and Goal #5 up at bat. I've been watching WFC for over a year now, but felt that I'd really missed the boat on that one, as it is up 33% in the time I've had my eye on it. I like Wells Fargo, and am a customer, and I feel like it's the only "big" national bank that's in decent shape to withstand another 2008-like situation.
However, I'd also had my eye on RBCAA for some time, and NYB had recently been recommended by a friend as another small, regional bank that was in good health with a fantastic yield. Between them, I chose RBCAA for its incredibly high MyMM Rank, which it has held for many months on my watchlist, despite NYB having a much better yield. I need to do a bit more research on NYB before taking the plunge there, but am comfortable with and glad that I was finally able to include some RBCAA in the family's investment pool.
So along with CSCTF.PK and MAKO from the "old days", here's what's now included in my wife's new portfolio, and their respective un-weighted MyMM Ranks relative to just each other: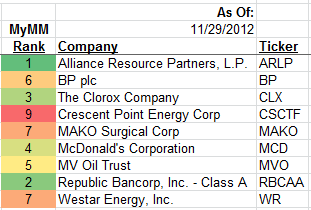 Since I made the original purchases of these new positions a little over a month ago, I've been able to add another 50% to her MCD holdings on a further dip in the price, which I'm very pleased about. I think MCD, with a recent CDR number of 23.64%, is one of the best DGI stocks one can own, but until recently its high price had kept me away from it.
You may have noticed that both General Dynamics and Lockheed Martin scored fairly well in terms of their weighted MyMM Ranks in the watchlist, especially GD. Unfortunately, the looming "fiscal cliff" and prospects for rather large, mandatory cuts in defense spending have made me a little wary of heading down the path of either of these two great companies, at least until after the New Year. But they will stay on the wife's watchlist, and after we find out what happens to the defense budget, we'll see whether either of them makes the cut for as being added to her portfolio in the future.
As it now stands, the average yield of my wife's IRA is 5.302%, which given the fact that MAKO doesn't provide a dividend at all, is a nice start towards our goal of having this account pull its weight and contribute a nice income from dividends come retirement.
So far, so good. Unfortunately, the next round of dividends from all of these positions (except CSCTF.PK, which pays monthly) won't be realized until the middle of next February. The good news is, I get my "big" bonus from work at the end of January/beginning of February, so I plan on making as big of a cash contribution to the wife's IRA as we can manage. At that point, I will try to expand the number of her holdings to an even 10, as well as adding to whichever of the existing positions makes the most sense. When that happens, I'll be sure to write about it and let you know how her little IRA is doing.
Disclosure: I am long AFL, ARLP, BP, CLX, CSCTF.PK, JNJ, MAKO, MCD, MVO, PSEC, RBCAA, T, VOD, WR. I wrote this article myself, and it expresses my own opinions. I am not receiving compensation for it (other than from Seeking Alpha). I have no business relationship with any company whose stock is mentioned in this article.