Supervalu (NYSE:SVU) shares fell nearly 20% during Thursday's session after Bloomberg broke a story that cast doubt on the ability of Supervalu to sell itself. Despite the seemingly negative news, I believe that today's drop presents an excellent buying opportunity for investors that were (and still should be) bullish about the possibility of a buyout.
Charts are courtesy Yahoo! Finance
(click images to enlarge)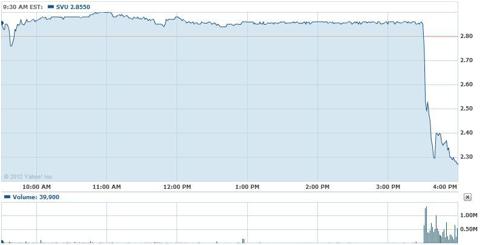 According to sources familiar with the matter, the likeliest bidder, the private equity shop Cerberus, is having trouble financing a bid. Lenders apparently are concerned about Supervalu's ability to generate cash flow to cover any additional debt, especially as revenue has been declining in recent periods.
At the closing price of $2.28, shares now trade at approximately the same level as they did before news of a potential deal leaked. A three-month chart demonstrates the complete destruction of the acquisition premium in a half hour of trading today: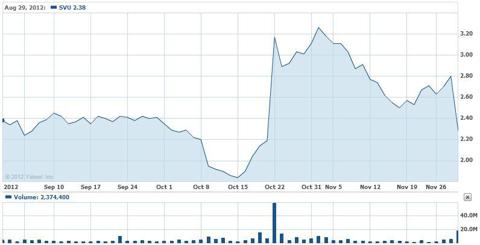 But even with today's apparent setback, investors should remain bullish about the possibilities of value creation via a full-company acquisition or sale of individual assets. If one was a buyer at $2.40 in September, they should certainly be a buyer at $2.30 today.
Supervalu's management quickly reaffirmed (via a press release after the market's close) that the company "continues to be in active discussion with several parties." Shares recovered by 10 cents following management's statement. While the Street had always assumed that there were multiple entities that may bid for Supervalu, management does a good job refreshing the memories of jittery investors by using the "several parties" language in this press release. According to Bloomberg, other interested parties may include "private-equity firms KKR & Co. (NYSE:KKR) and TPG Capital, as well as... billionaire Ronald Burkle."
The apparent financing difficulties are certainly not a positive development for a deal being closed in the near term, but investors should not overreact to today's announcement. Today, investors actually learned how close Cerberus is to buying Supervalu. The fact that the financing difficulties appear to be the limiting factor means that Cerberus really wants to get a deal done -- and must believe that there is a lot of value to be unlocked by acquiring Supervalu. If Cerberus's diligence leads to such a conclusion, the rest of the suitors may feel the same way, and other firms may be willing to structure a deal differently (i.e., requiring less outside financing) than Cerberus intends to, leading to the ability to close on Supervalu even if Cerberus is forced to walk away.
As I believe that Supervalu can get some sort of deal done (or can create value for shareholders by slowly improving operations if a deal does not occur), I increased my position by about 25% when shares dropped today. There are certainly reasons to be bearish about shares, but for investors that were bullish before today, I believe today's news and subsequent dip offers an excellent buying opportunity, not a reason to give up.
Disclosure: I am long SVU. I wrote this article myself, and it expresses my own opinions. I am not receiving compensation for it (other than from Seeking Alpha). I have no business relationship with any company whose stock is mentioned in this article.