We maintain our bullish stance on Linn Energy (LINE) based on its impressive financial performance, lucrative investment growth projects and continuously increasing reserves. The company has a dividend yield of 7 percent that makes it a valuable stock to buy for yield seeking investors. A production volume growth of 106% over the last one year, the bright future prospects of natural gas and significant enhancement in organic growth reflect that the company's future is promising.
Out of the company's total production, 24% came from NGL in the third quarter, which is not hedged and possesses high growth prospects due to strong propane demand. LINE is attractive to long term investors because of the fact that the company's oil position has been hedged for the period of the next five years while its gas position has been hedged for six years, both at attractive prices. Though its valuations are slightly on the higher side, its robust profitability and more certainty in its free cash flows justify its premium valuations. We have calculated a 12-month price target of $44, with an upside of 15 percent. Therefore, we recommend investors to take a long position in the stock.
Increase in Natural Gas Reserves:
The expected structural transformation towards natural gas would further enhance the company's production volume. Its natural gas reserves have shown an impressive growth of 50 percent in the last one year and a cumulative annual growth rate of around 65 percent between fiscal years 2006 and 2012. The company had total registered reserves of 5.1 Tcfe by the end of the first half of 2012. LINE has more than 600 horizontal drilling locations and is expected to drill an additional 81 horizontal wells in the current year. The Granite Wash operated horizontal drilling activity includes a large number of drilling wells, as shown in the picture below. In our opinion, the expected increase in drilling activities will considerably increase its profitability position.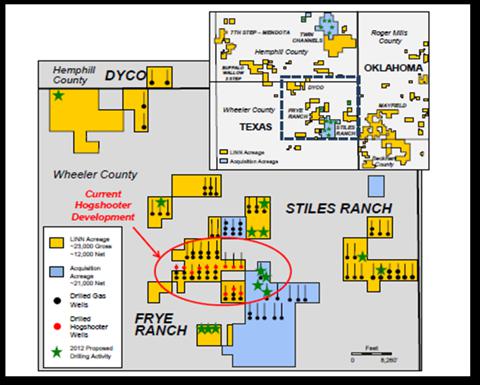 Source: Company website
Due to the development and acquisition of oil and gas properties over the course of the last year, the company has witnessed a significant increase in natural gas, oil and NGL production, as shown in the table below. It has been capitalizing on its "acquire and exploit" strategy, acquiring $9 billion of NGL, oil and natural gas assets. Going forward, LINE's potential acquisitions are expected to bring considerable production increases.

Source: Company website
Protection Through Hedging:
The company has hedged its complete oil and gas production for the next five and six years, respectively, in order to make itself less vulnerable to the price volatility in the sector. This move will prove beneficial for the company in making its cash flows more foreseeable.

Source: Company Website
Linn Energy has hedged its natural gas and oil production at profitable prices, as depicted in the following tables. In our opinion, the company has substantial potential to benefit from these positions and make the stock a secure investment for investors' portfolios. Natural gas prices are hedged at prices between $4.48 and $5.25. Moreover, oil positions have been hedged between the prices of $89 and $97.

Source: Company Website

Source: Company Website
Stock Price Appreciation:
The stock has shown an upside of 9 percent over the period of last six months. The stocks 50-days and 200-days moving averages are $40 and $39, respectively. More than 22 percent of the stock is held by institutional investors. We believe the stock has the potential to show a considerable upside, considering the upward trend in its natural gas consumption going forward. Moreover, NGL production is not hedged and comprises 24% of Linn Energy's total third quarter production. The expected increase in NGL prices will benefit the company due to strong propane growth and the increase in natural gas and crude oil prices.

Valuation:
Our 12-month estimated target price is $44 (using the last four years' historical average for EV/EBITDA), with an upside of 15 percent. The stock is trading at an EV/Revenue of 9.72x, at a considerable premium when compared to Tengasco (NYSEMKT:TGC), Forest Oil Corporation (NYSE:FST), Pioneer Natural Resources Co. (NYSE:PXD) and Anadarko Petroleum Corporation (NYSE:APC) with EV/Revenue figures of 2.46x, 4.47x, 5.9x and 3.6x, respectively. LINE is trading at a Forward Price to Earnings of 21.84x, Price to sales of 5.17x and EV/EBITDA of 22.97x. These high valuations are justified considering LINE's high growth rate. In our opinion, Linn Energy's hedged cash flows deserves premium valuations as well.
Comp. Sheet

Linn Energy

Tengasco

Forest Oil Corporation

Pioneer Natural Resources Co.

Anadarko Petroleum Corporation

EV/Revenue:

9.72x

2.46x

4.47x

5.9x

3.6x

Forward P/E:

21.84x

N/A

16.17x

20.06x

17.98x

P/S (TTM):

5.17x

1.89x

1.22x

4.75x

2.77x

EV/EBITDA:

22.97x

5.06x

7.45x

9.14x

6.6x
Source: Yahoo Finance
The following are the details of LINE's valuation and target price of $44.
| | |
| --- | --- |
| Average. EV/EBITDA. (Last five years) | 9x |
| Estimated EBITDA. of 2013 ($ millions) | $1,725 |
| EV….. | $15,525 |
| | |
| EV (Enterprise value) | $15,525 |
| Less: (Debt). ($ millions) | $6,841 |
| Add:: Cash & marketable securities ($ millions): | $1 |
| | |
| Equity ($ millions): | $8,685 |
| No. of shares. (millions): | 199.65 |
| | |
| Target. Price of 2013: | $44 |
Disclosure: I have no positions in any stocks mentioned, and no plans to initiate any positions within the next 72 hours.
Business relationship disclosure: The article has been written by Qineqt's Energy Analyst. Qineqt is not receiving compensation for it (other than from Seeking Alpha). Qineqt has no business relationship with any company whose stock is mentioned in this article.