Pfizer's (NYSE:PFE) revenue has come under increasing pressure owing to the patent cliff and investors are becoming increasingly skeptical about Pfizer's ability to tackle the problem. Although the recent quarter showed weak revenue generation ability, a higher gross margin, lower expenses, lower tax rate, and extensive share repurchase program lifted the overall performance. We also believe that the market does not fully appreciate the potential of Pfizer's pipeline; it has the ability to reinvigorate the company. There are several upcoming R&D events in 2013-14, including early data from PD-0332991 in breast cancer at the SABCS, Phase 2 results from PCSK9-antibody at AHA, Phase 3 data presentation of dacomitnib, and the completion of CAPITA study. Also, Eliquis was recently granted approval by the European Medicine agency; but it still awaits approval in the US. Eliquis belongs to Factor Xa inhibitor's class; a new generation oral anticoagulant/blood thinning drug. We believe Pfizer's ability to sustain its dividend payments make the stock a buy.
Third Quarter:
Pfizer's reported revenues were $14.0 billion for the quarter, reflecting an operational decline of 12% and unfavorable foreign currency impact of 4%, amounting to an overall decline of 16%. US revenue was down 18% owing to the exclusivity loss of Lipitor (Chart1). International revenues suffered as well and were down by 14%. The US accounted for 40% of the revenue, while the remaining was claimed by the International unit.
Chart 1: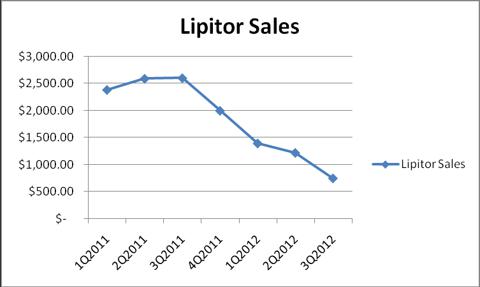 Table 2:
| | |
| --- | --- |
| Unit | % Change |
| Primary Care | (37) |
| Specialty Care | (5) |
| Established Products | 11 |
| Emerging Markets | 6% |
| Animal Health Unit | 4% |
The major products within the Primary Care unit include Lipitor, Eliquis, Viagra, Celebrex and Lyrica. The Specialty Care unit suffered due to weak demand for Xalatan in Europe and Geoden in the U.S. The trend of declining revenues owing to exclusivity losses was somewhat offset by the strong performance shown by Celebrex and Lyrica. Total exclusivity losses amounted to $2.4 billion.
Recent Unfolding:
Pfizer has announced that it completed its acquisition of NextWave Pharmaceuticals, a privately held company focused on the development and commercialization of products for the treatment of attention deficit hyperactivity disorder (NASDAQ:ADHD). The transaction gives Pfizer exclusive North American commercialization rights over Quillivant XR. The drug was approved in September 2012 and will be available by January 2013.
Recently, the FDA approved Bosulif for chronic myelogenous leukiemia. It also approved Inlyta for advanced renal cell carcinoma and conditional marketing authorization of Xalkori for advanced non-small cell lung cancer.
Patent Expiration:
Table 2:
| | | |
| --- | --- | --- |
| Drug | Expiration | 2011 Sales |
| Celebrex | 2014 | $2,523 million |
| Zyvox | 2015 | $1,284 million |
| Lyrica | 2018 | $3,693 million |
Chart 2: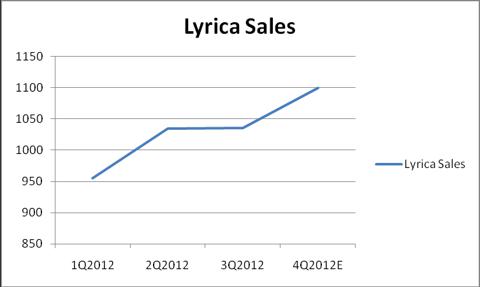 Strategy:
In order to emerge successfully from the patent cliff, Pfizer is prioritizing areas that hold the most scientific and commercial potential. For example, to counter the pressure arising from the loss of exclusivity of Lipitor, PFE acquired Wyeth Pharmaceuticals back in 2009. Wyeth's production of biological drugs such as Prevnar made the deal particularly attractive. See table 3 below for the sales performance of the drug. The acquisition of King Pharmaceutical in 2010 was intended to bolster Pfizer's existing lineup of pain killers.
It also closed down its duplicative facilities which included manufacturing plants, sales offices and R&D facilities. In our earlier article, we mentioned that the only major product churned out of Pfizer's largest research center was Chantix. The company has responded by reducing its R&D footprint and a number of disease areas it focused on. It has collaborated with universities and offers academic researchers extensive resources for the development of drugs. The underlying rationale for such a move is to cut costs and increase efficiency for the entire process.
Table 3:
| | | | |
| --- | --- | --- | --- |
|   | 2009 | 2010 | 2011 |
| Prevnar Sales (NYSE:MM) | $287 | $3,669 | $4,145 |
Dividend Stock:
Chart 3 below shows how much the company has generated in operating cash flows and what it is giving to its shareholders in the form of cash dividends. The company generated enough cash flows to comfortably pay out its dividends. We believe Pfizer provides a safe dividend yield of ~3.6% in a low yield environment.
Chart 3: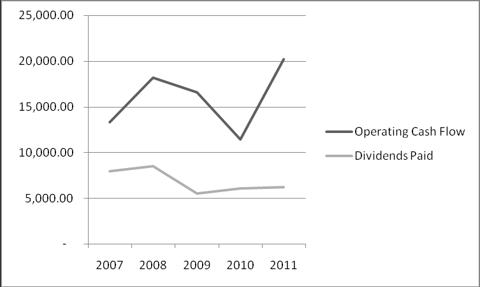 Pfizer has a strong cash position (Chart 4) relative to its competitors. With a debt to equity ratio of 47% and an interest coverage ratio of 9x, we view the current debt levels as manageable.
Chart 4: Cash and ST Investments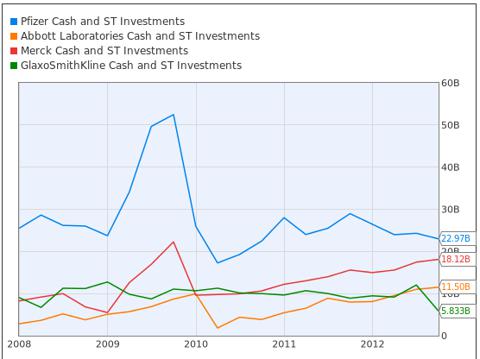 Valuations:
We applied a WACC of 9% and a long term growth rate of 1% for valuation purposes. We calculated an intrinsic value of $26. At current price levels, this represents an upside potential of 5%. The stock is up 14% since the start of the year and has provided a one year return of more than 32%. We believe that Pfizer's solid pipeline, a solid dividend yield and high cash flows make Pfizer a buy.
| | | | | |
| --- | --- | --- | --- | --- |
|   | 2013 | 2014 | 2015 | Terminal Value |
| Free Cash Flow (NYSE:MN) | 18,500 | 19,000 | 19,100 | 238,700 |
| Present Value | 17,100 | 16,100 | 14,900 | 184,000 |
Total Firm Value = $232,100 mn
Total Debt = $38,890 mn
Total Value of Equity = 232,100 - 38,890 = $193,210 mn
Outstanding shares = $7,363
Value per share = 193,210/7363 = $26
Disclosure: I have no positions in any stocks mentioned, and no plans to initiate any positions within the next 72 hours.
Business relationship disclosure: The article has been written by Qineqt's Healthcare Analyst. Qineqt is not receiving compensation for it (other than from Seeking Alpha). Qineqt has no business relationship with any company whose stock is mentioned in this article.