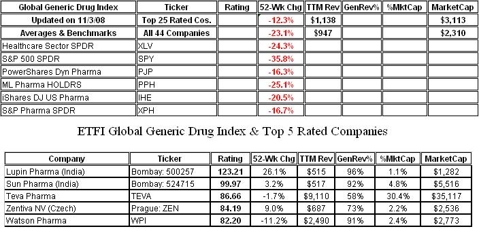 In addition to the favorable underlying trends I wrote about previously for the generic drug industry, both presidential candidates are bullish on the industry with the following excerpts taken directly from their websites:

Senator Obama: Lower drug costs by allowing the importation of safe medicines from other developed countries, increasing the use of generic drugs in public programs and taking on drug companies that block cheaper generic medicines from the market.

Senator McCain: Reduce drug costs by allowing greater use of generics (including bio-generics).

The accompanying table highlights statistics and the top five rated companies from the ETFI Global Generic Drug Index, with the top 25 rated companies outpacing the healthcare sector ETF (XLV) and existing benchmark drug ETFs, including the Pharmaceutical HOLDRs (PPH), PowerShares Dynamic Pharma (PJP), iShares Dow Jones U.S. Pharma (IHE), and the S&P Pharma SPDR (XPH). Industry giant Teva Pharma (TEVA) is included in the top five rated and is about to get bigger with its pending $7.5B acquisition of Barr Pharma (BRL), which is expected to close before year-end.

Also included in the top five rated companies is U.S.-based Watson Pharma (WPI), which has a similar business model to Teva with both branded and generic drug offerings, but on a much smaller scale with a market cap around $2.8B. The remaining companies in the top five include Czech-based Zentiva (OTC:ZTVAF) and Indian generic drug makers Lupin (India: 500257) and Sun Pharma (India: 524715), with the latter recently extending its tender offer for Taro Pharma (TAROF) until 11/7/08.