The S&P/Case-Shiller housing numbers for September were released Tuesday, so below we highlight the month-over-month and year-over-year change readings for the 20 cities that are tracked. As shown, west coast cities saw the biggest jumps in September while the east coast actually saw declines. San Diego, Las Vegas, Phoenix and Los Angeles all saw housing gains of more than 1% from August to September. On the other hand, Washington DC, New York, Charlotte, Boston, Chicago and Cleveland all saw declines.
Only two cities posted year-over-year declines in home prices -- New York and Chicago. And for New York, these numbers are pre-Sandy.
Phoenix is up by far the most over the last year with a gain of 20.39%. That's a pretty big move.
As a whole, the 20-city composite index saw home prices increase 3% on a year-over-year basis and 0.29% month-over-month.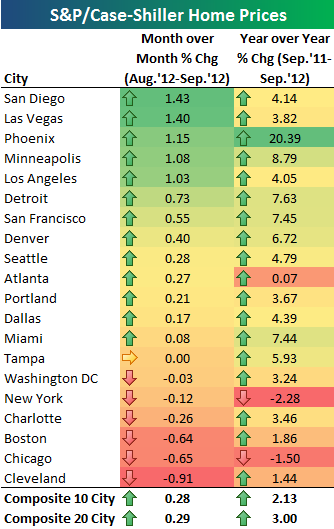 Below we highlight how far each city is still down from its housing bubble high in price. As shown, the composite indices are still down roughly 30%. Las Vegas is by far the farthest from its high at -59%, followed by Phoenix (-47%), Miami (-47%) and Tampa (-43%). Dallas and Denver are the closest to their highs at just -4%.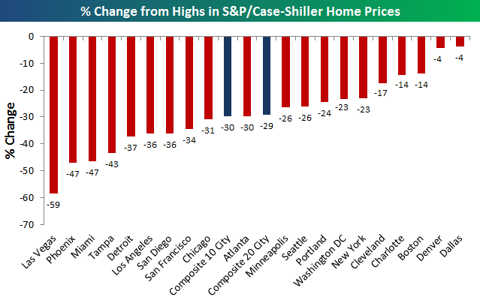 We also looked at how far each city has bounced off of its post-bubble low. For those that don't remember, home prices fell sharply from late 2005 through early 2009. We saw a minor bounce in prices from early 2009 to late 2010, but then we saw a double dip that took prices to new lows by late 2011. In 2012, though, prices have started to pick up again. As shown below, the composite indices are now up roughly 9% from their post-bubble lows. Some cities have obviously done much better than others. The five cities that have bounced the most off their lows are Detroit, San Francisco, Phoenix, Minneapolis and Atlanta. At the other end of the spectrum is New York, which is only up 6% from its low. In the New York area, prices didn't fall as much as they did in other areas during the downturn, but they certainly haven't bounced as much as other areas either.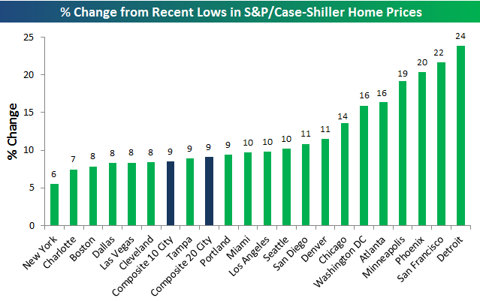 For those interested, below we highlight year-over-year percentage change charts (on a monthly basis) for the 20 cities tracked by S&P/Case-Shiller.