Athersys Inc. (NASDAQ:ATHX) has seen its stock price hit over the last three months, falling from a nice base of $1.50 all summer to today's lows at $1. This has happened despite numerous positive trial data from its drugs, as well as an outperform in its sector, stem cells. The company's lead platform product, MultiStem is an allogeneic stem cell product, which is evaluated in 2 completed Phase I clinical trials and in 2 ongoing Phase II clinical trials for regenerative medicine and stem cell therapy applications. Also, given the huge run in Acardia Pharmacueticals today on its Parkinsons disease drug, traders should note Athersys is also active in this disease. With very few biotech stocks with drugs in the Parkinson's arena this in itself could bring a nice near term gain to shares of Athersys.
Over the last few month's the stem cell sector has been on a tear with peers such as StemCells Inc. (NASDAQ:STEM) up approximately 400% and Neuralstem Inc. (NYSEMKT:CUR) up 300%. While this has happened Athersys has lost 33% of its value. A recent financing may have been the reason for the drop. It is common-place for stocks to sell-off before a stock financing is made official as those in the know short ahead of the actual news. Over the last month, since the financing at $1, the stock has found a very nice base. With approximately $29m in cash now on the balance sheet after this financing, Athersys looks poised for a large rebound in price in the coming weeks. During the selloff a large hedge fund also greatly reduced its position adding to the downdraft. Oftentimes such fund dumps can prove to be great entry opportunities for investors.
Athersys has a chart set up that we refer to as a rounded bottom, which typically forms after large price drops. After the stock sells off it finds a base ($1 area for Athersys) and consolidates in a range for a few weeks before beginning a bounce. The breakout on the Athersys chart is now at $1.10. A break of this level will see a move to the 50 day moving average at $1.19, and then a full recovery back to the 200 day moving average currently at $1.45. The stock has no delisting risks for the coming months, and with the recent financing cash is now ample. Both StemCells and Neuralstem are trading with market caps 20-40% more than Athersys leaving nice upside room here.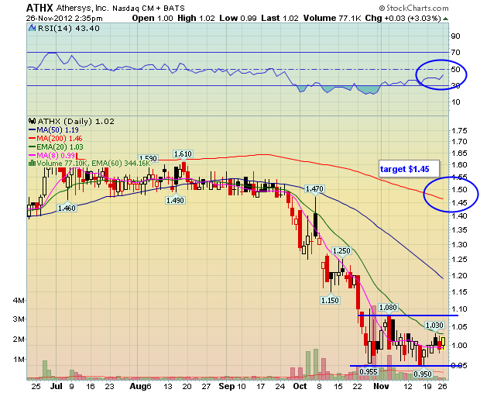 Click to enlarge
(Click to enlarge)
Lets get down to the brass tacks on Athersys and why the stock is undervalued, not just on a peer evaluation but based on its pipeline. I believe Athersys has one of the most interesting emerging stem cell technologies right now and as soon as investors take a close look at this company they will agree. Regenerative stem cell therapy is starting to get a lot of headlines, and the novel approach to this by Athersys could be a big winner for investors. Aside from the cheap peer valuation, the potential of the MultiStem platform could reap tremendous rewards. Their preclinical spinal cord injury application looks very intriguing. The Athersys MultiStem is also being used for MS. This is a company with a hot technology, in a sector getting a lot of interest, with a very nice pipeline that should be trading much higher right now simply based on its peers valuation. Long term investors pay close attention to Athersys because this cheap price wont be here for long.
Disclosure: I am long ATHX. I wrote this article myself, and it expresses my own opinions. I am not receiving compensation for it (other than from Seeking Alpha). I have no business relationship with any company whose stock is mentioned in this article.