By Kimberly Chan
After a management meeting with Ford Motor Company (NYSE:F), JP Morgan analysts reported back with confidence that Ford was going in a strong direction. Based Ford's recent progress, the analysts were convinced that the company could earn in excess of its "guided 8%-10% long-term margin range." An overweight rating was reiterated on November 29th.
Lately, Ford has been on the right track. As the second-largest automaker in the United States, Ford has been creating new and improved products, reinventing American classics to better suit consumer needs, and planning in regards to the state of the economy. Ever since a dip in stock prices this past summer, Ford has been slowly and steadily on the rise.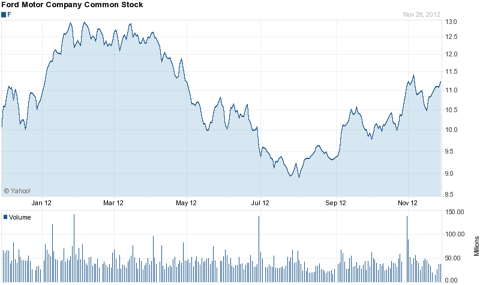 Mullaly, Fields and Ford's Strategy
Ford's business strategy has a hand in the predicted performance. The company, under Chief Executive Alan Mullaly, has been developing the "One Ford" global product strategy. This strategy is to help make product development more efficient while building and selling global models around the world.
Helping to deploy and carry out this strategy is Mark Fields, slated to take on the COO position on December 1st. While the position might be new for Fields, he is a reassuring choice and a "23-year Ford veteran." Mullally and Fields are planning to increase the expansion of global models in South America and China.
Improvements in Technology
Ford is also working to enhance its existing models. In the J.D. Power & Associates' new car quality survey, Ford fell from 5th two years ago to 27th this year in ranking. Playing a large role in this were the complaints about the MyFord Touch System. This touch screen entertainment and navigation system had not been working up to customer expectations.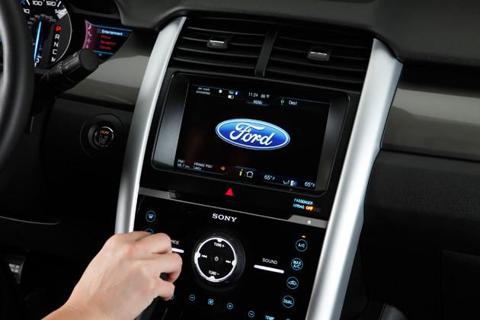 In response, Ford has announced that it will upgrade and extend the warranty of the system. Over 1 million owners will benefit from the improvements. By thinking more like a technology company, Ford will hopefully gain higher customer ratings and brand reputation.
Another improvement is the new 1.0-liter Ecoboost engine for the Fiesta subcompact. Set to debut this year, it is just one of Ford's many efforts to adapt to consumer needs in regards to gasoline prices. While the American tradition of big SUVs and pickup trucks remains untouched, Ford has been moving towards smaller, less gas-guzzling engines and parts.
Preparing for the Fiscal Cliff
Ford works hard to turn out a good performance with regards to what the times call for. The company is currently making contingency plans in preparation for a potential fiscal cliff. If Congress is unable to find another solution, the increase in taxes that the cliff will create has the power to bring down automobile demand as much as 20%. While automobile sales have increased 14% from last year, effects of the fiscal cliff could reduce sales by 12-13.5 million. Ford, "wise to brace for the worst." is adjusting production to minimize potential losses.

Conclusion
Ford seems to be making the right moves to keep steady earnings. The adaptive strategies of the company will hopefully pull through and allow the stock to outperform.
Disclosure: I have no positions in any stocks mentioned, and no plans to initiate any positions within the next 72 hours. I wrote this article myself, and it expresses my own opinions. I am not receiving compensation for it (other than from Seeking Alpha). I have no business relationship with any company whose stock is mentioned in this article.