We are bearish on AT&T Inc. (NYSE:T) as it has failed to bring about any substantial growth in revenues. Factors like lower subscriber additions, ARPU growth cooling down, contraction in EBITDA margins, and wireline deterioration are some of the major factors behind the company's modest growth. Its capital expenditure plans, even though they will bring benefits to the company in the long run, will have an adverse impact on its credit profile and may lead to a decreased profitability in the short-to-medium term. Dividend yield of 5.4% is attractive from an income perspective, however, its sustainability over the long-term through its internally generated cash flows is doubtful. The company's dividend yield has been the key stock price driver, however its recent decision to finance its CAPEX as well as dividend payments through the debt market are causes of concern and will hamper the stock's ability to bring any meaningful growth to its dividends. On the basis of the reasoning above, we recommended investors to take a short position in the stock.
AT&T, a provider of telecommunications services, is one of the largest telecom carriers in the U.S. serving over 100 million customers with its wireline and wireless products and services. As of the most recent quarter end, the company had approximately 70 million postpaid customers using its services for their communication needs. AT&T competes with companies like Verizon Communications Inc. (NYSE:VZ), Sprint Nextel Corp. (NYSE:S), T-Mobile, and MetroPCS Communications (PCS) for market share and is currently the largest in terms of market capitalization ($193 billion).
Key Business Metrics:
Key business metrics that determine the eventual profitability of telecom companies are common across the industry. These include and are not limited to:
Churn (percentage of subscribers leaving a network)
Average revenue per user (monthly)
Net subscriber additions (new subscribers added to the network per quarter)
Rising Churn:
The effective management of customer churn is crucial for any telecom company as it has a direct impact on a telecom's current and future revenue stream. To maintain and bring about improvement in service margins, a telecom carrier needs to keep a close eye on this metric. If an increasing number of subscribers are leaving the network for another because of reasons like poor network coverage, call quality and expensive package plans, it will be reflected in a churn that is rising. If said metric for AT&T is analyzed, one can see the upward trend which unlike other metrics is not necessarily positive for the company as it indicates more customers are discontinuing their services with AT&T.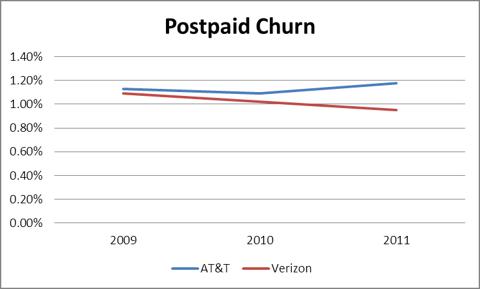 However, the first three quarters of the current year have brought in good percentages for AT&T, which is largely due to the rising smartphone penetration. Even though selling smartphones like iPhones and Samsung's flagship Galaxy S3 comes at a cost of high subsidies, it also leads to a lower churn for telecoms. Perhaps, that is the biggest reason behind the recent drop in churn for the company.
Industry Leader in ARPU but Growth Slowing:
AT&T continues to lead the wireless industry in terms of average revenues per user. In the quarter ended June 2012, the company reported postpaid ARPU of $64.93 which is much higher than Verizon's reported figure of $56.13 for the quarter. However, interesting to note is the fact that AT&T's growth in ARPU is cooling, whereas it is picking up for its rival, Verizon.
Q1 2012

Q2 2012

Q3 2012

Consolidated ARPU

Growth - yoy

-2.70%

-2.30%

-1.30%

Growth - qoq

-0.40%

0.40%

0%

Postpaid data ARPU

Growth - yoy

15.30%

14.10%

14.60%
Subscriber Base Expansion Slowing Down:
AT&T has been experiencing a slowdown in its customer base growth for a number of quarters now. A number of reasons could be responsible for the said slowdown, which include wider market coverage by its rival, Verizon, better speeds and loss of iPhone exclusivity. All these factors have led to a higher churn for the company and lower net subscriber additions. In the quarter ended September 2012, AT&T added 151,000 postpaid customers which is a substantial deterioration from the third quarter of the previous year when the company added 319,000. This is particularly worrisome considering Verizon added 1.5 million postpaid customers in the same period, a 67% improvement from the year-ago quarter.
Margin Erosion Due to Subsidies:
Smartphone sales and usage by customers continue to be an important factor of profitability for the telecom carriers as they attract more customers to the networks which in turn generate higher revenues from increased bills and service charges. Importance of smartphones to the company's revenue stream can be judged from the fact that smartphones accounted for almost 80% of postpaid devices sold in Q3 2012.
AT&T is the industry leader when it comes to selling smartphones. In the quarter ended September 2012, AT&T sold 6.1 million smartphones, 1.3 million more than in the third quarter for the previous year. As mentioned previously, selling smartphones comes at a cost to telecom carriers as they pay huge sums to manufacturers to provide such phones to their customers at subsidized rates. According to estimates, AT&T pays approximately $500 in subsidies for selling an iPhone to its customers. This upfront cost leads to an increased expense for the company, eventually leading to margin erosion. In the recent quarter ended, AT&T reported an EBITDA service margin of 40.8%, down from 45% on a sequential basis and 44% in Q3 2011. Same metric reported for Verizon was flat quarter over quarter despite adding more postpaid subscribers in the quarter.
Wireline Sliding:
Verizon's wireline business, like other telecom players in the region, has continued to show weakness in terms of dropping revenues and margins which is largely due to wireless substitution. In the quarter recently ended, the company reported wireline revenues of $14.8 billion, down 2% from Q3 2011. The chart below shows the gradual decline in the wireline business.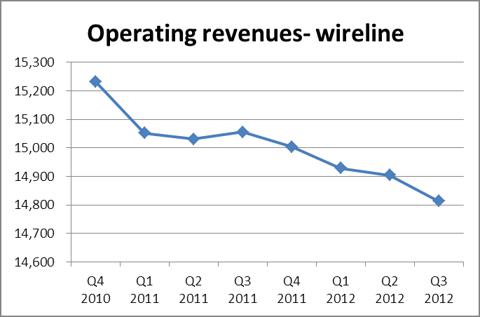 Recent Developments:
The company has recently decided to increase its leverage to finance its capital expenditures as well as dividend payouts. In a press release issued by the company, it announced that it will invest $14 billion to expand its wireless and wireline network and that it plans to take advantage of the debt market and the prevailing low interest rates. This would have the effect of increasing the company's leverage to 1.8x over the next few years from 1.4x at the end of Q3 2012. Even though such an investment would bring in operational and financial benefits in the long-term, we believe it could be detrimental for its profitability in the medium-term. Moreover, taking on more debt could also lead to decreased financial flexibility. Following the announcement credit rating agency Fitch has revised the company's rating outlook to negative based on the considerable increase in leverage.
Financial Review:
AT&T generated approximately $127 billion in revenues in FY2011 which represents a modest four-year CAGR of 1.6%. Gross and operating margins are declining gradually which signals the weakness in its operations. In the financial year ended 2012, the company posted gross and operating margins of 45% and 7% respectively versus 49% and 16% in FY 2010.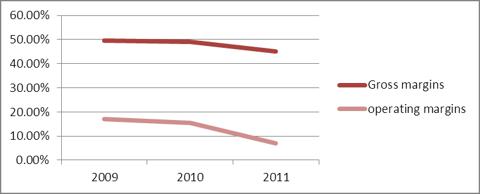 AT&T has strong liquidity as confirmed by its operating cash flows and free cash flows. As of September end 2012, the company had a total debt outstanding of $64 billion which is a slight decline from the end of FY2011. Out of the total debt outstanding a little over $3 billion is due within a year which should be covered by its cash flows as it has historically produced stable cash flows.
Dividend Perspective:
AT&T, being one of the dogs of the dow, boasts a dividend yield of 5.6% which is very attractive considering the currently prevalent low-yield environment. However, recent developments around its dividend payout suggest that its high payout might not be sustainable with its cash flows going forward. In the first three quarters of the year, the company generated operating cash flows of $28.9 billion while incurring a total of $29.3 billion in dividend payments, capital expenditures and share buybacks which explains why it has recently decided to tap in to the debt market for its wireless expansion and payout plans.
Valuation:
T is trading at 13 times its forward earnings which is lower than Verizon's forward multiple of 15x (13% discount). On a price-to-sales basis, T is trading at 1.5 times its sales, at a 12% discount and a 200% premium to the said multiples of Verizon and Sprint.
Disclosure: I have no positions in any stocks mentioned, and no plans to initiate any positions within the next 72 hours.
Business relationship disclosure: The article has been written by Qineqt's Telecom Analyst. Qineqt is not receiving compensation for it (other than from Seeking Alpha). Qineqt has no business relationship with any company whose stock is mentioned in this article.