The share price of Bank of America (NYSE:BAC), one of the largest U.S. mortgage servicers, is expected to witness a rally in the near-term based on the improved housing market and elevated consumer confidence. The financial performance of the bank has improved significantly in the last few quarters, and that should also help in raising the share price.
I mentioned in an article on Seeking Alpha in September that the share price should move in the range of $8 to $10 over the medium-term. It moved exactly as expected so far. The consolidation should end going forward as the stock has gathered enough steam for a brand new up-move above $10.
Bank of America: Improved Housing Market to Fuel Income
There are not enough homes right now to meet the needs of the market, reports Bloomberg.
Stockton, California, has the highest U.S. foreclosure rate. It also has a housing shortage. The number of homes for sale in the city fell 42 percent in October from a year earlier. Listings routinely attract multiple offers. Prices are on the rise.

When banks pulled back on foreclosures two years ago following a government investigation into allegations of faulty practices, market researchers, academics and Wall Street analysts said that a surge of delinquent homes would deluge the U.S. market once lenders resolved the claims and worked through backlog, driving down prices for years to come.

In fact, the flood failed to materialize, even after the five biggest U.S. mortgage servicers reached a $25 billion settlement with federal and state regulators in February. Instead, the number of properties for sale shrank to the fewest in a decade, prices appreciated at the fastest pace since 2005, and the gradual healing of the housing market helped boost consumer confidence and the economy.
Since the February settlement, the five largest U.S. mortgage servicers provided loan relief to 309,385 borrowers, including trial plans, according to a report by Joseph Smith, monitor of the deal. Bank of America, Chase (NYSE:JPM), Citi (NYSE:C), Wells Fargo (NYSE:WFC), and Ally reached a $25 billion mortgage settlement with state and federal officials in February 2012 over foreclosure practices. The settlement helped stabilizing prices.
Third Quarter Earnings: In Line with Street's Expectations
The bank's third-quarter earnings was essentially flat compared with a $3.1 billion profit in the second-quarter. But it was much better than a $1.8 billion loss in third-quarter of 2011. The net interest margin increased 11 bps to 2.31%, benefiting from lower parent company debt and sequentially lower market-related premium amortization and hedge ineffectiveness. Due to lower securities yields and subdued new loan demand, margins could not rise at a faster pace.
Factors that Impressed the Street
Improved Capital Building: The bank's capital building exercise improved significantly. The estimated Basel III Tier 1 common ratio (including the terms of the Fed's proposals) increased 102 bps to 8.97%, partially because of accumulated comprehensive other income gains (which added 18 bps) and partially because of risk-weighted asset declines (which added 40 bps).
Improved Asset Quality: Asset quality continued to improve, with the net charge-off ratio declining 19 bps sequentially (excluding new regulatory guidance on Chapter 7 bankruptcy treatment), and the nonperforming assets ratio declining 6 bps to 2.64%.
What's Expected Going Forward
Net Interest Income Growth Expected: According to the management of the bank, the net interest income for Q4 should be in line with Q3 levels. The liability actions being taken by management should offset low rate pressure. However, the full impact of the roll-off of parent company debt and recent redemption of high-cost trust preferred securities and subordinated debt ($6.2 billion in third-quarter 2012 and $5.1 billion announced for fourth-quarter 2012) should help propelling net interest income modestly higher in 2013, according to Standard & Poor's Ratings Services. With the housing market recovering fast along with improving consumer confidence, the bank's net interest income is expected to remain elevated going forward on a sustainable basis.
Interest Expenses Should Moderate: Long-term debt declined to $287 billion at the end of Q3 of 2012, from $302 billion at the end of the prior quarter, and from $399 billion at September 30, 2011. As a result, interest expenses moderated and should continue to moderate.
Stock Attractively Valued based on PTBV
The price to tangible book value per share or PTBV represents the amount of money an investor would receive for each share if a company were to cease operations and liquidate all of its assets at the value recorded on the company's accounting books.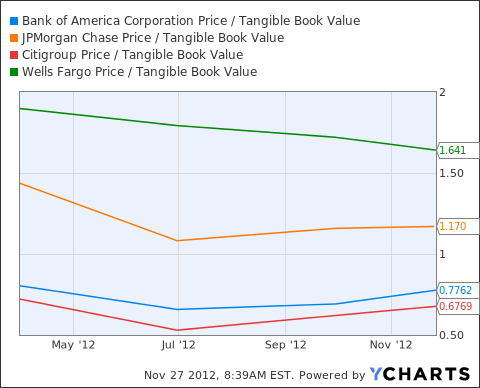 BAC Price / Tangible Book Value data by YCharts
With a tangible book value per share of $13.48 as of September 30, 2012, and a price / tangible book ratio of 0.7762, the stock looks attractive around $9.80.
Technical Analysis
The stock is currently consolidating with a bullish bias. The RSI and MACD are signaling bullish move ahead. The upper band of the Bollinger Bands located at $10.13 could act as a mild resistance. Strong support exists around the 20-Day SMA level near $9.56. The logical target of the bullish move should be $12.
Disclosure: I have no positions in any stocks mentioned, but may initiate a long position in BAC over the next 72 hours. I wrote this article myself, and it expresses my own opinions. I am not receiving compensation for it (other than from Seeking Alpha). I have no business relationship with any company whose stock is mentioned in this article.