Commodity chart of the day
Daily Aussie dollar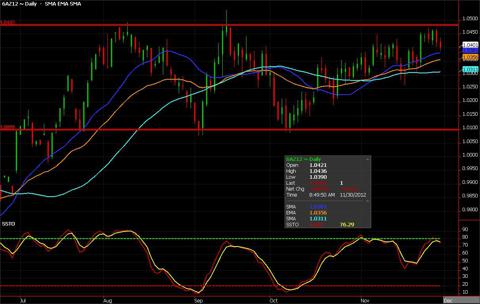 A weakening dollar in response to improved risk appetite has contributed to some recent strength in a number of commodities. As commodities go as does the Australian dollar. In the last 2 months prices have appreciated 3.5% to trade up near the trend line that has been established the last 6 months identified by the horizontal red line on the chart above.
I am speculating that commodities will back off in the short run and therefore we should see some pressure in the Aussie. We would get confirmation on a move lower once the 20 day MA is penetrated identified by the dark blue line. Do I think we trade to the lower horizontal trend line and do a full retracement? No, but we should see enough movement for at least a trade. Be willing to cut losses on a fresh high - even a 50% retracement the risk/reward dynamic is 2:1. Playing futures, my advice is the December contact looking to be out of the trade by this time week and with options going out to March.
One thing to consider is that we have a RBA meeting next week though I expect no action. The only surprise could be a reduction from the current 3.25%.
Risk Disclaimer: The opinions contained herein are for general information only and not tailored to any specific investor's needs or investment goals. Any opinions expressed in this article are as of the date indicated. Trading futures, options, and Forex involves substantial risk of loss and is not suitable for all investors. Past performance is not necessarily indicative of future results.
Disclosure: I have no positions in any stocks mentioned, and no plans to initiate any positions within the next 72 hours. I wrote this article myself, and it expresses my own opinions. I am not receiving compensation for it. I have no business relationship with any company whose stock is mentioned in this article.