Intuit (NASDAQ:INTU) has been a wonderful growth company this decade. Over the past six years, sales have kept a CAGR of 8%, EBIT margins have grown from 24% in FY 2007 to 28% in FY 2012, and cash flow as a multiple of net income has been consistent at a strong 1.5 times. In addition to value created from profits, shares have been repurchased every year since FY 2007, with the FY 2007 share count exceeding FY 2012 shares outstanding by 14%.
Despite a 22 times earnings multiple, I find INTU to be sharply undervalued for three main reasons: 1) the consumer tax market for software use is largely untapped, and the customer base for the consumer tax and accounting markets will continue to grow beyond market expectations; 2) free cash flow growth will allow continued share repurchase programs in the near future (in addition to the current one); and 3) margins will continue to expand as INTU's business solutions products grow share, and consumer tax and accounting products expand their already dominant position in the industry.
As described above, the market has rewarded INTU's growth and consistently stronger sales. I will outline why the price of INTU stock should be at least 20%-30% higher than the current price. Every piece of data and information, unless otherwise noted as a forecast or estimate, is from publicly shared sources. Also, all figures are in millions aside from per unit figures. Below are a few valuation metrics for Intuit: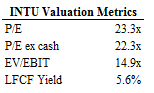 Summary of Intuit

Intuit offers tax and accounting products, financial services products, and business solution products (i.e., small business accounting), the last of which include financial, employee, and payment management solutions. Intuit's software product breakdown is as follows, including as a percentage of sales and EBIT:
Click to enlarge images.

Generally, since the tax software products make up the majority of EBIT, overall profits and cash flows tend to be very seasonal, making annual figures the most useful. I believe this has drawn some investors away from investment or at least stayed investment until the beginning of the year.
1. The consumer tax market is currently untapped, and the customer base for the consumer tax and accounting markets will continue to grow beyond market expectations.
Income tax filers can file taxes either by pen/paper or they can file electronically. If they file electronically, tax filers can either use government e-filing services online or they can purchase consumer tax software. The latter include companies like Intuit, TaxACT (acquired in January 2012 by Blucora (NASDAQ:BCOR) from 2nd Story Software), or H&R Block (NYSE:HRB). These three companies make up roughly 88% of the electronic tax filing market, with Intuit commanding about 64% market share. In addition, in 2005, the IRS estimated that 64 million people filed taxes by pen and paper and 68 million filed taxes electronically, 48% and 52%, respectively, of tax-paying individuals. Since then, electronic tax filers have jumped to about 72% of market shares. That implies that the decrease year over year in pen-and-paper filings is around 5.5% a year.
A market share table can be found below:

Based on the information here, there is still a huge market potential for INTU. With 43 million pen-and-paper filers and nearly half still using the government e-filing system, there remains a largely untapped market for INTU to take slices from.
Intuit's market-leader position will give it the lion's share of new workers that begin paying taxes, older workers switching from pen-and-paper methods, and others seeking a better service than the government e-filing system. For every one of these groups entering the e-filing consumer market, INTU will acquire roughly 64% of them. Below you can see how the market has grown in e-filers and shrunk in pen-and-paper filers, implying a residual for "new filer" growth (had neither been a pen-and-paper filer nor an e-filer).

Before moving on, I want to note the importance of the business model here on consumer tax revenues. Other than being a subscription-based software model, like most of Intuit's products are, TurboTax has an inherently defensible business model. When you file taxes on TurboTax the first year, it becomes much easier for you to file again with TurboTax the next year. There is little or no reason to switch because all of your prior-year information is stored electronically, such as your W-2s. You'll also be more familiar with a very easy-to-use software that helps you to minimize the amount of income taxes you have to pay as they guide you through deductions.
2. Strong free cash flow growth.
Aside from growing revenue base and profitability from expansion, INTU earns a very healthy amount of free cash flow, which continues to grow in excess of net income. Earning nearly 1.5 times net income and almost 25% of revenues in free cash flow, INTU will have more cash for acquisitions (i.e., Mint.com) that allow it to market its other financial products (i.e., Quickbooks and Quicken) to consumers. At a 5.6% LFCF yield, INTU's FCF is not necessarily cheap, but nor is it at all expensive considering the growth of its products and product markets.
3. Margin expansion as products become more defensible.
Since FY 2007, INTU EBIT margins have grown from 24% (bottoming at 22% in FY 2008) to 28% in FY 2012. Because so much of Intuit's revenue growth is based on the sale of software products and much less on services (like HRB), INTU maintains great economies of scale. This allows INTU an increased return on smaller increases in cost, and why I expect margins to be 30% by FY 2015.
The keys to margin growth will be increased revenue in Consumer Tax/Accounting and Small Business Group product markets and acquisitions of other high margin companies (such as PayCycle for INTU's Employee Management Solutions segment in 2009). Potential limiting factors on margin growth will be INTU's Free Tax Advice offering for the Consumer Tax segment. Intuit is using the Free Tax Advice program to market itself to consumers and teach them about proper filing methods and techniques. I think this service will be a long-run benefit for Intuit if it succeeds in getting enough potential software users to use TurboTax or Quickbooks.
A Re-Valuation
Based on the facts and figures listed above, I have forecast INTU financials to FY 2015. In order to focus more on the mispricing of the company and growth of at least half of INTU's EBIT, I will not elaborate on Intuit's other product markets, many of which have also seen strong growth in the past five years. A table deconstructing INTU's product lines and margins can be found below:

Using the facts and figures from above, we can build the Consumer Tax segment revenue that is highlighted in the above table: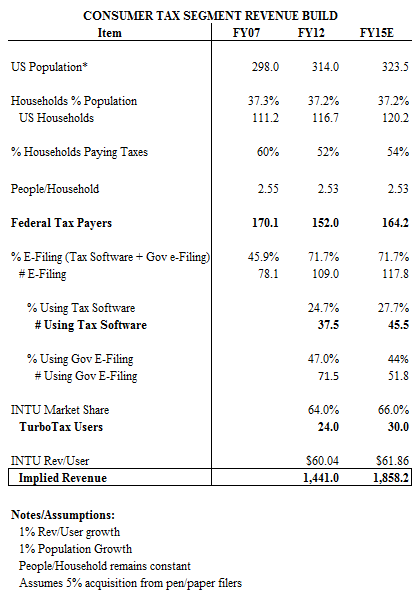 Furthermore, using the revenue EBIT margin forecasts, we can predict FY 2015 net income and EPS:

The resulting price appreciation is substantial. If we assume that INTU completes their share repurchasing program ($1.6 billion left) by FY 2015, the target price is $90 (a 53% appreciation). On the other hand, if we assume a lower earnings multiple than today's 22 times, say 20 times, we're looking at a target price of $65 (a price appreciation of 11%). With the repurchasing program, this lower-multiple pricing becomes $72 (appreciation of 22%). These scenarios imply that some completion of the purchasing program and continued growth beyond the next two to three years will reap at least a 20%-30% rise in share price. Since there is still a large percentage of the market left to grow even after FY 2015 in terms of pen-and-paper filers remaining and new filers entering, I don't see much downside in the multiple in the near term.
Conclusion
Strong brand names, recurring revenue sources, pricing power from dominant market share, competitive advantages across product lines, and high and expanding margins make Intuit a buy and hold.
Disclosure: I am long INTU. I wrote this article myself, and it expresses my own opinions. I am not receiving compensation for it (other than from Seeking Alpha). I have no business relationship with any company whose stock is mentioned in this article.