Today we are going to examine one play in the REIT sector which we think could make for a good short to mid-term investment for investors willing to take on some risk. The company in question is Chimera Investment Corp (NYSE:CIM) and unlike many former high flyers like American Capital Agency Corp (NASDAQ:AGNC) and Annaly Capital Management (NYSE:NLY), it appears to be holding up fairly well. American Capital Agency Corp and Annaly Capital Management have taken severe beatings over the past two months, and both are trading close to their 52 week lows. Chimera Investment Corp on the other hand actually trended higher while many of its peers sold off. From a relative strength and trend perspective it is much stronger than American Capital Agency Corp or Annaly Capital Management, and it also sports a much higher yield. The yield currently stands at 13.8%.
We are going to examine Chimera Investment Corp both from a technical and fundamental perspective. We will start off by putting it through a simple selection process to make sure it fulfils certain basic requirements.
The selection process:
A yield of 12% or higher
The stock should be trading below book. It is currently trading at $2.69 and has a book value of $3.27
A profit margin of 80% or higher
A 3-5 year EPS estimated growth rate of 5% or higher
A P/E that is significantly below the industry average. It has a P/E of 4.91 and the industry average is 16.35
Chimera Investment Corp fulfilled all the above requirements.
Reasons to consider Chimera Investment Corporation:
It is trading roughly $0.60 cents below book value. On a percentage basis it is trading roughly over 22% below book.
A very strong yield of 13.8%
In general you are better

off

investing in Mortgage

REITs

as opposed to

junk

bonds that offer high yields.
Even though the Fed is going to purchase $40 billion worth of mortgage-backed securities indefinitely, the spread between short and long-term rates is still wide enough for Mortgage

REITs

to make money.
The stock has held up pretty well during the recent sell off, and unlike most of its peers, it is trading closer to its 52 week high than its 52 week low, as is the case with many of its peers.
Analysts have an estimated growth rate of 5% per annum for the next five years.
It is trading above its 200 moving day average. In general, the outlook is more bullish for stocks that are trending above their 200 day moving averages. Furthermore, the 50 day moving average traded above the 200 day moving average on the 12th of October. This confirms that the short to intermediate trend is bullish.
According to fastgraphs (indicated in the chart below), the stock is currently undervalued.
Charts and tables of interest
| | | | | |
| --- | --- | --- | --- | --- |
| Earnings History | Dec 10 | Mar 11 | Jun 11 | Sep 11 |
| EPS estimate | 0.17 | 0.15 | 0.15 | 0.14 |
| EPS Actual | 0.14 | 0.17 | 0.13 | 0.06 |
| Difference | -0.03 | 0.02 | -0.02 | -0.08 |
| Surprise % | -17.60% | 13.30% | -13.30% | -57.1 |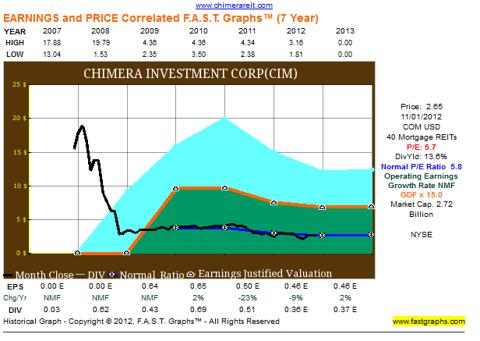 The orange line represents the valuation growth rate line. Generally, when the stock is trading below this line and in the shaded green area, it represents a good long term entry point. The stock is currently trading below this line.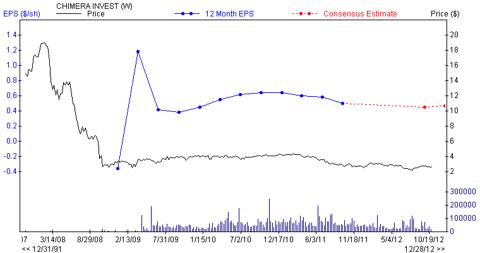 When a stock is trading above the EPS and EPS consensus estimate line, it is a bullish phase, and the outlook is for higher prices. The stock is trading well below the EPS line, and until it trades above this line it might not make for a good longer term investment. Therefore, it would be best to focus on the short to intermediate time frames.
Technical outlook
The stock appears to have bottomed out on the 27th of July, as it has been trending progressively higher since then. While many of its peers topped out in October and experienced extremely strong corrections, it held up remarkably well during this period. It is also trading above its 200 moving day average and the 50 day moving average crossed above the 200 day moving average. These developments indicate that the short and intermediate trends are bullish. A weekly close above $2.85 could result in a test of $3.20 and perhaps a move to new highs.
Over the very short-term time frames there is a chance that it could drop down to $2.50 before breaking out. The markets are still in a corrective phase, so we would wait for a test of the $2.50 ranges before jumping in.
How does it stack up against the competition?
We will compare Chimera Investment against several of its peers using several key metrics such as P/E, quarterly revenue growth, operating margins, PEG, etc. This will provide further insight into the company, and it could also help you determine if it is the right play for you.
| | | | | | |
| --- | --- | --- | --- | --- | --- |
| | CIM | NLY | (NYSE:CMO) | (NYSE:MFA) | Industry |
| Quarterly revenue growth | -0.38 | N/A | -0.03 | -0.06 | 0.20 |
| Revenue | 614.10M | 1.89B | 186.00M | 340.02M | 102.99M |
| Gross Margin | 1.00 | 1.00 | 1.00 | 1.00 | 0.79 |
| EBITDA | N/A | N/A | N/A | N/A | 64.62M |
| Operating Margin | 0.91 | 0.86 | 0.91 | 0.91 | 0.56 |
| Net Income | 555.28M | 1.46B | 149.17M | 298.37M | N/A |
| EPS | 0.55 | 1.45 | 1.62 | 0.84 | 0.21 |
| P/E | 4.91 | 10.11 | 7.41 | 9.92 | 16.35 |
| PEG (5 yr expected): | 1.11 | -1.21 | 1.21 | 2.24 | 2.60 |
| P/S | 4.38 | 7.58 | 6.37 | 8.66 | 5.76 |
M= Millions B = Billions
Conclusion
The stock is trading 22% below book value and unlike most of its peers it has held up rather well during the recent market selloff. While many former high flyers are languishing close to their 52 week lows, Chimera Investment Corp is trading closer to its 52 week highs than its 52 week lows. Investors willing to take a bit of a risk could be well rewarded in the short to intermediate time frames. Consider waiting for a test of the $2.50 ranges before getting in.
EPS charts obtained from zacks.com. Competitors and earnings history data sourced from yahoofinance.com.
Disclaimer
It is imperative that you do your due diligence and then determine if the above play meets with your risk tolerance levels. The Latin maxim caveat emptor applies-let the buyer beware.
Disclosure: I have no positions in any stocks mentioned, and no plans to initiate any positions within the next 72 hours.
Business relationship disclosure: This article was prepared for Tactical Investor by one of our analysts. We have not received any compensation for expressing the recommendations in this article. We have no business relationships with any of the companies mentioned in this article.