Companies can be investor friendly in different ways. Sometimes the friendliness creates share value. Sometimes it destroys more than it helps.
Take The Buckle (NYSE:BKE) and Aeropostale (NYSE:ARO), two young adult apparel retailers. I suggested a pair trade two years ago due in large part to Buckle's generous dividend policy and Aeropostale's reliance on share buybacks. My advice back then and still today: Buy Buckle; sell Aeropostale.
The strategy worked: Buckle is up over 60% plus $6.75 in dividends but not including the recently announced special dividend of $4.50. Aeropostale is down 45% - the company doesn't give dividends.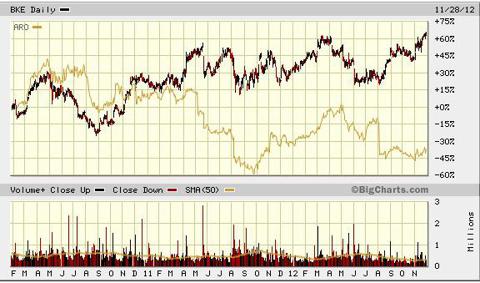 The two have vastly different approaches to cash. The Buckle has returned almost all of its earnings after capex to investors in the form of dividends and special dividends. The Buckle has declared a special dividend each of the last 5 years. It will give a $4.50 special dividend to shareholders this December on top of its usual $0.20 quarterly dividend.
Aeropostale doesn't give a dividend but returns cash to shareholders via share repurchases.
Aeropostale has been generous in returning cash to investors through its buy back program returning over $1 billion on 60 million shares repurchased. Yet Aeropostale committed the cardinal sin of buybacks - omitting share repurchases when shares were woefully low.
Take a look. Aeropostale bought back very few shares when its stock collapsed in 2008 - 2009 and in late 2011, failing to take advantage of low share prices.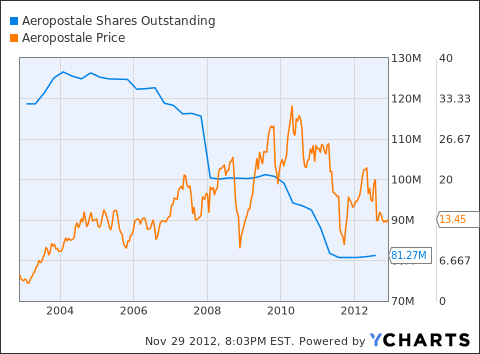 Aeropostale faltered in its commitment to its share repurchase plan. Buybacks only work if management repurchases shares each quarter no matter what. That way companies avoid buying only when shares are high.
In contrast, Buckle rewards shareholders in both good and bad years - It gives a regular dividend and, remarkably, a "regular" special dividend five years running.
Now, Buckle is better than Aeropostale in so many other ways. Its operating margins trounce those of Aeropostale- 22% versus 5%. Its been delivering double digit 1 year, 3 year, 5 year, and 10 year average revenue and earnings growth - far better than the inconsistent Aeropostale. Yet it is Buckle's commitment to returning cash to shareholders that really differentiates this outstanding retailer.
Disclosure: I am long BKE. I wrote this article myself, and it expresses my own opinions. I am not receiving compensation for it (other than from Seeking Alpha). I have no business relationship with any company whose stock is mentioned in this article.
Additional disclosure: Disclaimer: The opinions in this document are for informational and educational purposes only and should not be construed as a recommendation to buy or sell the stocks mentioned. Past performance of the companies discussed may not continue and the companies may not achieve the earnings growth as predicted. The information in this document is believed to be accurate, but under no circumstances should a person act upon the information contained within. We do not recommend that anyone act upon any investment information without first consulting an investment advisor as to the suitability of such investments for his specific situation.