The Wall Street Journal reported that Whiting Petroleum (NYSE:WLL) had considered selling itself earlier this year but decided not to go forward with a deal. Apparently the buyers (with an "s") believed Whiting's asking price was too high. You can read the article here.
The stock, which was trading up over a point before the news, dropped sharply and ended yesterday's session down $1.34/share (3.2%) on more than 2.5 times average volume.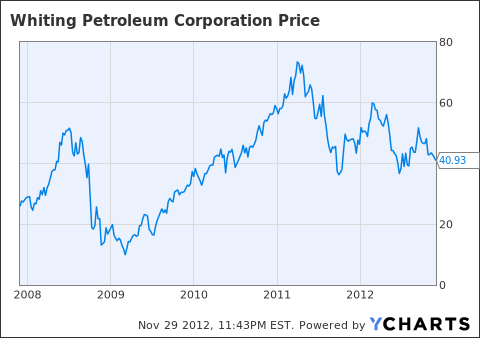 WLL = $40.94
Mkt Cap = $4.87 Billion
P/E ((ttm)) = 12.32
EPS ((ttm)) = $3.32
Div (Yield) = Nil
Shares Outstanding (diluted) = 118,924,000
This comes less than a month after Reuters erroneously reported StatOil (NYSE:STO) was considering a bid of $7.6 billion (or $65/share) for Whiting. Reuters later reported StatOil issued a statement calling the speculation "unfounded and plain wrong."
Takeover fever in the Bakken has been the topic of much conversation since StatOil swooped down on Brigham Exploration (BEXP) and picked up the company for what many analysts feel was a very good price (for STO). GeoResouces (NASDAQ:GEOI), another Bakken producer, was taken out for a nice premium by Halcon Resources (NYSE:HK) earlier this year. There have been many other deals, many of which were simply acreage acquisitions.
But Whiting continues to be the talk of the Bakken. It is the second largest oil producer in the Bakken behind EOG Resources (NYSE:EOG). In Q3, WLL produced an average of 82,615 BOE/day, representing a 17% increase over the third quarter 2011 average daily rate of 70,675 BOE/day. Whiting exited September 2012 producing 84,550 BOE per day. In Q3, 86% of the company's production was crude oil and natural gas liquids (NGL). The entire Q3 earnings report can be seen here.
I myself have expressed surprise that big U.S. oil companies such as ConocoPhillips (NYSE:COP), Chevron (NYSE:CVX), Occidental Petroleum (NYSE:OXY), and Exxon Mobil (NYSE:XOM) have not made a move on Whiting. Any of these companies could easily swallow up Whiting. For these big oil companies, who are so challenged at growing their oil production and replacing reserves, what's wrong with buying up a company that has over 6,000 prime drilling locations, is growing production at nearly 20%/year, and whose production is 86% oil and NGLs?
But the question remains: What is WLL worth and what might be a rational asking price to take over the company?
It's not hard to figure out. Whiting's management has been making the rounds and has been very transparent on this issue. Company President and COO James Brown recently gave a presentation at the Bank of America Global Energy Conference. You can view a .pdf of the slides here (11/05/12).
Slide 6 of the presentation shows proved reserves using SEC NYMEX pricing of $96.19/BBl and $4.12/Mcf Held Flat: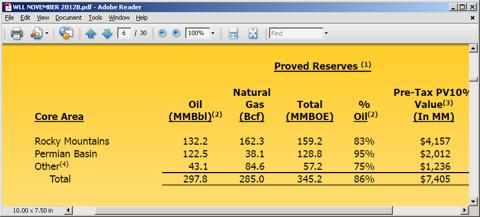 Slide 7 of the presentation shows probable and possible reserves using SEC NYMEX pricing: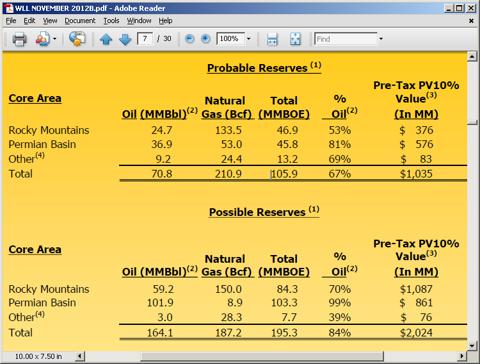 Slide 8 shows resource potential valuation: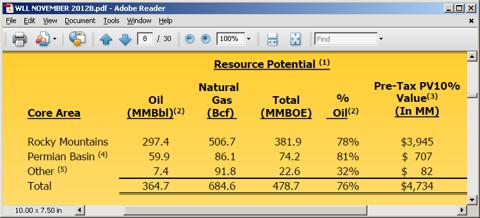 The following table is a summation of these valuations:
Whiting Petroleum Valuation (in billions)

Proved Reserves

$7,405

Probably Reserves

$1,035

Possible Reserves

$2,021

Resource Potential

$4,734

TOTAL

$15,195
So this is Whiting's view of their company's valuation. Mr. Brown says the company's proved/probable/possible estimates are not "blue sky."
Whiting is arguably the best operator in the Bakken as slide 17 shows. This is a bar graph of 12 month average production by operator in the Bakken and Three Forks since January 2009. Whiting leads the pack.
In addition, the company has two natural gas processing plants. The Robinson Lake Plant is in the Williston Basin and primarily serves the Sanish field:
112 miles of oil gathering lines
321 miles of gas gathering lines
540 wells connected
1538 estimated ultimate wells connected
Current volume 64 MMcfd
Planned Capacity 90 MMcfd
Estimated annual cash flow $40 million
Mr. Brown said a 50% interest in the Robinson Lake plant was sold and the company is considering monetizing this asset with an MLP or a Trust. He values the asset at $350-400 million.
The second plant is Belfield plant which gathers the Pronghorn field:
83 miles of oil gathering lines
25 miles of gas gathering lines
32 wells connected
310 ultimate wells connected
Current volume 13 MMcfd
Planned capacity 35 MMcfd
Estimated annual cash flow $20 million
Mr. Brown said a 50% interest in this plant was sold to a subsidiary of MDU Resources (NYSE:MDU). There is much more work to be done building out the gathering systems feeding this plant. Mr. Brown said it would be several years before the company would consider monetizing this asset.
In the question and answer session following the presentation, Mr. Brown also mentioned the possibility of the company monetizing the Postel field, currently producing about 8,600 boe/day. He valued that asset at between $800 million to $1 billion.
With respect to the discount placed on Bakken oil due to transportation constraints, things appear to be getting better. With the addition of rail capacity, Bakken pipeline capacity is becoming less constrained. In addition, refineries such as Delta's Trainer and those owned by Phillips 66 (NYSE:PSX) and Valero (NYSE:VLO) are becoming more interested in direct sourcing Bakken crude and sharing delivery risks. Mr. Brown thinks the Bakken may have "turned the corner" on the delivery issue.
What is the buyout number?
In the Q3 earnings release, WLL reported $1.6 billion in long-term debt. The current market cap is $4.87 billion. So for starters, buying the company at today's market price would take $6.47 billion.
But the summation valuation shown in the above table is $15.195 billion. Let's say the two gas gathering plants are currently worth $450 million. That adds up to $15.645 billion in total value. Minus the debt we get to $14.045 billion.
But let's face it, much of this valuation estimate is coming from the company. So let's say Whiting is being a bit on the optimistic side and lop off 10% of the speculative value estimate. Let's deduct another 10% for stock rights and the production participation plan. And let's give any potential buyer the right to a 35% profit. The following summarizes my WLL takeover valuations:
Whiting Petroleum Takeover Price Estimation (in billions)

Estimated Value

Proved, Probably, & Possible Reserves + Resource Potential

$15,195

Gas Gathering Plants (2)

$450

Long-term Debt

-$1,600

Total Value Estimate

$14,045

Adjustments

-10% (Optimistic company valuation)

-$1,405

-10% (Stock rights, production participation plan, misc.)

-$1,405

Total After Adjustments

$11,235

Buyer Profit Potential

-35%

-$3,932

Buyout Price (Est)

$7,303
A total buyout price of $7.303 billion, with a total number of diluted shares of 118,924,000, equates to $61.41/share - an ~50% premium to today's close (Nov 29, 2012). This is not far from the previously reported rumor of $65/share.
Where Does Whiting Go From Here?
So is the company worth $15 billion as President and COO James Brown said? Yes, it probably is. But it won't be bought out for that price. But $60-$70/share seems very doable.
But I get the feeling Whiting's management was affected by the StatOil buyout of Brigham Exploration and the strong-held belief by many that BEXP sold out too cheap. The report today by the WSJ said the "buyers" (as in more than one) balked earlier this year because of the price WLL was looking for. My gut tells me if a deal was going to have been done, 2012 was the year to do it. Whiting is becoming a mature producer and the big companies seem to prefer buying some virgin acreage and going from scratch.
As a Whiting shareholder, the company continues to have the attributes for which I initially invested: quality assets and production growth. However, the performance of the stock has been disappointing. It has gone basically nowhere in three years now. These on-again off-again takeout rumors are a big distraction and are causing short-term speculators to jump in and out of the stock. The company's shareholders get whip-sawed on big volume spikes. Not good.
When I first bought Whiting and wrote a Seeking Alpha article, a comment was left that said something like this: "It's always something with those guys." After holding the stock for quite some time now, I know what he means. It's hedging, or it's expenses, or it's the production participation plan shaving off a nickel a share in earnings as in Q3 (See my article Whiting Petroleum's Q3: Production Up, Net Income Down). Or it's a Trust spin-off and grumblings of impropriety. It's always something.
I'd like to see the firm buckle down, get a handle on expenses, and manage the company for the shareholders. That means turning production growth into net-income growth. That means dividends. The trusts may be working out well for WLL management, but how have they helped WLL shareholders over the past 3 years? Why make all the investments (money, time, and energy) in the gas gathering plants only to "monetize" them when gas prices are low and they could be long-term cash-flow advantageous to hold? Why spin-off Postel when it is a proven producer and another cash-cow? I'd like to see them pay down debt, cut expenses, and get EPS up. The stock will follow.
Whiting is a buy at today's price - but it might be even cheaper after the market opens this morning and digests the WSJ article. But for the stock to move in the long run, the company's management should forget marketing WLL to prospective buyers. It must have been a huge distraction this year and all WLL shareholders have to show for it is a whip-sawed stock with short-term investors.
What we need is growth in net income. Quarter after quarter, year after year. If the company's management commits themselves to this goal, the $61/share buyout price calculated in this article could look very cheap in 2-3 years. Without a buyout.
Disclosure: I am long WLL, PSX, COP, XOM. I wrote this article myself, and it expresses my own opinions. I am not receiving compensation for it (other than from Seeking Alpha). I have no business relationship with any company whose stock is mentioned in this article.