One of investors' most widely used valuation metrics is the price-to-earnings ratio. At first look, Safeway (NYSE:SWY) seems to be a bargain, trading at only 8.5 times forward earnings. This is much lower than its peers' average or the S&P 500 P/E ratio of 14.4 times. Without considering Supervalu (NYSE:SVU), which is in financial distress, using other multiples based on a per-share basis -- like price-to-book value ratio or price-to-sales ratio -- Safeway also appears undervalued compared to its peers.
| | | | | | | |
| --- | --- | --- | --- | --- | --- | --- |
| Company | Div. Yield | P/E Ratio | PEG | P/BV | P/Sales | EV/EBITDA |
| Wal-Mart (NYSE:WMT) | 2.22% | 14.6 | 1.43 | 3.27 | 0.53 | 7.53 |
| Whole Foods (NASDAQ:WFM) | 0.85% | 32.5 | 1.73 | 4.58 | 1.47 | 15.2 |
| Kroger (NYSE:KR) | 2.31% | 10.5 | 1.14 | 3.61 | 0.15 | 7.41 |
| Supervalu | - | 4.6 | - | - | 0.01 | 4.18 |
| Safeway | 4.12% | 8.5 | 0.86 | 1.46 | 0.1 | 4.79 |
Source: Bloomberg.
However, are these valuation multiples accurate enough to properly value Safeway? The company has aggressively purchased its own shares over the past few years leading to a distortion in per-share valuation multiples, like the price-to-earnings ratio. Usually, when companies buy back their own shares it can lead to a share price increase due to higher earnings per share (EPS), if the earnings multiple remains constant. In Safeway's case, this didn't happen given that its stock price has tumbled over the past few months despite the higher EPS, resulting in the current low P/E ratio.
Click to enlarge images.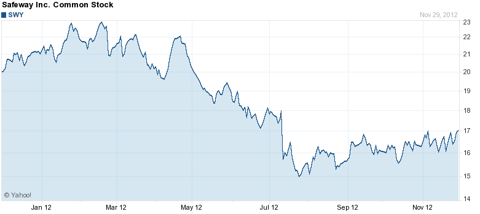 Source: Yahoo Finance.
Clearly, investors mainly focus on Safeway's deteriorating fundamentals, instead of higher EPS numbers, because they aren't the result of higher business profitability. As I discussed in my previous article on the company, "Analysis Of Safeway's Dividend Sustainability," despite the industry headwinds that traditional food retailers have faced during the past few years, Safeway has spent a lot of money buying back shares over the past few years instead of improving its balance sheet.
This lower number of shares outstanding increases the earnings and dividends per share, even when the company's absolute profit and dividend cash outflow remain the same. This leads to higher dividend yield and lower P/E ratios that may suggest undervaluation, but can be misleading because they aren't supported by better business fundamentals that, indeed, drive higher valuations.
Share Buyback Effect
Under the company's repurchase program initiated in 1999, Safeway has aggressively bought back shares over the last few years. The average number of shares outstanding was reduced from 445 million in 2007 to 344 million last year, which represents a 23% decline. Safeway has recently increased the overall amount of its share repurchase program in $1 billion. Thus, in the first two quarters of 2012 Safeway's outstanding shares decreased by 57 million to 240 million, from 297 million at the end of 2011. During the last quarter, the company did not repurchase any shares to preserve cash.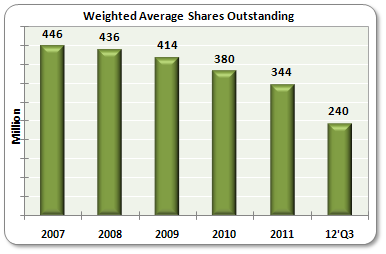 Source: Company data.
Over the past five years, Safeway has been able to achieve relatively stable sales, but at the expense of profitability. Its operating profit margin has declined considerably, from 4.2% in 2008 to 2.6% last year. This was also reflected in earnings per share that declined from $2.21 in 2008 to $1.78 last year, but due to the lower number of shares Safeway was able to smooth the impact of volatile earnings in the EPS. Also note, Safeway's reported EPS in 2011 is adjusted to exclude a tax expense of $98.9 million, from the Canadian dividend paid in the first half of 2011. Without this adjustment, the EPS would have been $1.50 declining only 3% from the previous year, which is much lower than the -12.4% reported in net income.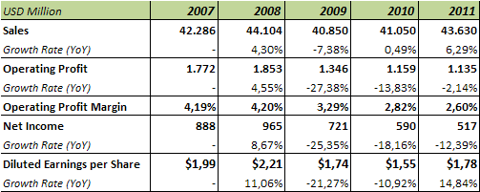 Source: Company data.
If instead of buying back shares Safeway had maintained the number of shares stable over the years, its earnings and dividend per share would have been much lower than was actually reported and distributed to shareholders. As shown in the following table, with a stable number of shares since the end of 2007 at 446 million, Safeway's EPS and DPS in 2011 would have been, respectively, $0.62 and $0.18 lower than what was actually reported. Therefore, Safeway has inflated by more than 30% these per share figures, due to the share buyback program.


Source: Company data and author's calculations.
Looking at the most recent quarterly data, the difference between reported and adjusted figures is even higher than in the previous years because of the large amount of shares repurchased in 2012. Also, assuming that Safeway had remained with 446 million shares outstanding, the EPS in the three last quarters would have been, on average, 44% lower than reported.

Source: Company data and author's calculations.
According to Yahoo Finance, analysts' estimates for Safeway's FY 2013 earnings are $2.11 per share. However, if next year's earnings per share are calculated using the same methodology above, the EPS would be only $1.13, and therefore Safeway would trade at 15.1 times forward earnings instead of the implied 8.1 times forward P/E it currently trades at. This shows the huge impact share purchases can have on EPS, and by how much Safeway's apparently low P/E ratio can be misleading.
Alternative Valuation
So, if the P/E ratio and other per share based multiples are distorted by the lower number of shares outstanding, investors should use other methodologies to properly value Safeway. However, you should also note that this applies to all companies that aggressively buyback shares like Safeway has done in the past.
Remaining focused on a relative valuation methodology, I suggest the use of enterprise value multiples instead of per-share multiples. This way, it is possible to value the company without the distortion caused by the low number of shares outstanding, because the company's cash spent on share repurchases will increase its net debt. Therefore, share buybacks will be neutral for the company's valuation with this methodology and is more reliable for valuation purposes.
Based on an enterprise value to EBITDA methodology and applying 2012 year-end estimates from 4- traders.com, it is possible to calculate Safeway's theoretical fair value for the end of the year as shown in the table below. Assuming an EBITDA multiple of 5.0 times and the FY 2012 EBITDA forecast of $2.15 billion, Safeway's enterprise value at the end of December is $10.75 billion. Subtracting the net debt of $5.16 billion gives a market value of $5.6 billion. Dividing by the 239.6 million shares outstanding corresponds to a fair value per share of $23.3. Compared to Safeway's Nov. 29 close price of $17.05 results on 37% upside potential, which is a very good margin of safety, suggesting Safeway is currently undervalued by the market.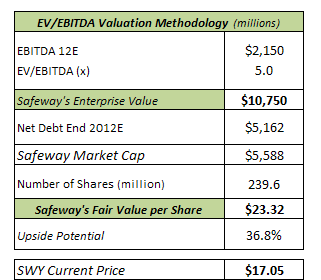 This valuation is obviously very sensitive to Safeway's EV/EBTIDA multiple and net debt value assumptions. In the following table, I perform a sensitivity analysis where you can see how much Safeway's fair value changes, given a 0.5 times change on the EV/EBITDA multiple and $500 million plus or minus on the company's net debt.

Conclusion
Safeway's valuation could have been misleading if investors focused their investment decision solely on the company's low P/E ratio due to the aggressive share buybacks performed, especially in 2012. Although Safeway appears to also be undervalued based on the EV/EBITDA methodology, in other cases this valuation can lead to a different conclusion. This implies that investors should use several valuation methodologies/models to form the basis of their decisions, especially when reported figures no longer reflect business fundamentals -- as in the case of companies that aggressively buyback shares.
Disclosure: I have no positions in any stocks mentioned, and no plans to initiate any positions within the next 72 hours. I wrote this article myself, and it expresses my own opinions. I am not receiving compensation for it (other than from Seeking Alpha). I have no business relationship with any company whose stock is mentioned in this article.