Whether you like or not, electric vehicles are here and will eventually replace combustion engines. This transition has less to do with the myth that combustion engines are causing global warming and more to do with the fact that gasoline prices are perpetually doomed to trend higher over the long term due to the limited supply of oil while electricity is essentially unlimited. We have seen hybrids and electric vehicles take center stage on our streets and more impressively hybrid and electric vehicles are taking center stage at the Los Angeles Auto Show over the next two weeks.
There are a few reasons why electric vehicles have been slow and cumbersome to get to market. The first and foremost reason is that many electric vehicles cannot drive over 100 miles per charge. And when you combine this with 8-12 hour charging periods then you get a vehicle that is utterly useless. This is why hybrid vehicles, such as Toyota's (NYSE:TM) Prius, have become popular. By combining an electric engine with a combustion engine you get a vehicle that can drive on the electric battery at low speeds while using a combustion engine for normal speeds.
Nevertheless, electric vehicles are progressing rapidly. As more R&D money is spent to improve battery life, range and charging time then we will see reasonably priced electric vehicles that can drive the same distance as a similar car with a combustion engine. But how long will this take? This is not a question we can answer, but we will discuss why Tesla's (NASDAQ:TSLA) focus on electric vehicles makes the stock a great long-term buy at these levels as well as what we expect to see out of Tesla in 2013.
Brief Background
Tesla's first vehicle was the Roadster, which came with a 245 mile range at 55 miles per hour. However the Roadster came with a lofty price tag of $109k. Tesla's second vehicle, the Model S, was recently released and is a huge step forward from the Roadster. Tesla's third vehicle, the Model X, is scheduled to go on sale in 2014 along with a second-generation Roadster.
The Model S is a huge advancement from the Roadster for several reasons. First and foremost, the Model S is more reasonably priced than the Roadster. While the Roadster was priced higher than a Porsche 911, the Model S begins at $50k and ranges up to $98k. Also, the Model S will reportedly drive up to 230 miles for the $60k model and up to 300 miles for the $70k and up models. Not to mention the Model S is a four-door luxury car compared with the sporty Lotus partnered Roadster.
Another note to make regarding Tesla is the creation of "Supercharger" stations. Currently there are six Supercharger stations in California. Tesla's supercharger stations are free to use and take 30 minutes for a 150 mile range. To digress a bit, some will argue that quick charges ruin the battery, but this does not matter because the Model S comes with a 7-year battery warranty and the Roadster comes with an 8-year battery warranty. Therefore if Supercharges ruin the battery as many anti-electric car enthusiasts tout then Tesla owners can simply get a new battery free of charge.
Nevertheless, Supercharge stations are a major reason why Tesla's vehicles will sell very well in the future. In fact, one of the biggest downfalls of an electric car is not having a feasible place to recharge the battery while on a trip. Therefore as more Supercharge stations pop up then it will make Tesla vehicles more useful and popular to consumers. The good news is that by 2015 Tesla is expecting to have over 100 Supercharger stations up and running. Obviously the exact number will be directly correlated to the number of Tesla cars purchased or ordered.
Financial Background
One of Tesla's biggest knocks is the fact that the company has never produced a yearly profit in the firm's history. Therefore we have a stock that has no financial backing. Fortunately this is about to change. But before getting to 2013 and beyond, let us digress a bit and discuss the past seven years. Dating back to 2006 Tesla's financials resemble that of a start-up firm in the survival stage. Tesla has proven it can satisfy customer demand yet the firm has been unable to maintain profitability. Also of note, Tesla's revenue and operating expenses have increased, which has led to increased net losses on a yearly basis.
The lack of profitability is due to a few reasons and we will digress once again to discuss them. First off, Tesla produced a limited number of Roadsters due to an agreement with Lotus and in order to give each buyer an investment that will depreciate in value more slowly (and possibly appreciate) than your standard run of the mill Ford (NYSE:F) F-150. The second issue is that the high price of the Roadster and some Model S models make it so that the majority of consumers cannot afford to purchase the car. Both of these facts have hurt Tesla in the past and until Tesla is able to create a mainstream model we believe that the profitability of the company will never be fully reached.
With that in mind, we believe that Tesla will create a mainstream car in the $15,000-$20,000 range at some point in the next 10 years. This may be a decade away, but when the technology develops it will be possible. In this situation we expect to see Tesla sell more electric vehicles than other automobile firms because we expect Tesla to reach the stage of creating a 400-500 mile per charge vehicle at a reasonable price much sooner due to the fact that Tesla devotes every research dollar to electric vehicles while other automobile companies have other endeavors.
Moving back to the financials, as you can see in the table below, Tesla will not be profitable in the fourth quarter of 2012 due to the firm being "four to five weeks behind our (Tesla) previously announced Model S delivery goals as of the end of 2012" (September 24, 2012 8K).
(click to enlarge)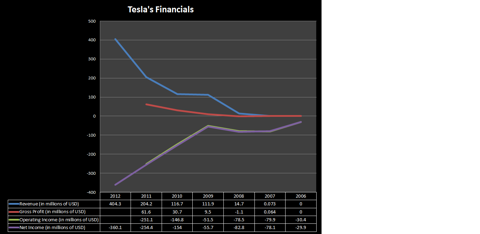 (Source: Spencer Knight)
This delay is due mostly in part to the fact that Tesla has taken extra care to make the Model S the world's best car. And it worked because according to Motor Trend the Model S is the Car of the Year for 2013. Nevertheless, Tesla has recently guided 2012 revenue to be $400-$440 million. We are expecting Tesla to produce a net loss of $340-$360 million on $404 million in revenue for 2012. This may be a loss on the entire year, but it is a sign that Tesla is close to producing a profitable year. For instance, Tesla plans to produce 20,000 Model S vehicles in 2013 and keep in mind only 2,500-3,000 Model S vehicles will be sold in the fourth quarter which is one-fourth to one third the amount of cars needed for Tesla to produce positive cash flow and hence become a profitable company.
This is why we are expecting Tesla to produce a substantial profit in 2013. If Tesla can produce positive cash flow with about 10,000 cars per year, then we should see Tesla turn a profit in 2013 if it fulfills the 20,000 car goal; which, by the way, is in question because Tesla is four to five weeks behind its 2012 schedule. Another concern to note is that further supply chain complications could make it difficult for Tesla to reach its 20,000 car goal in 2013, which would send Tesla's stock price spiraling.
Stock Background
Currently Tesla's share price indicates the company is valued at $3.83 billion. At this point it is difficult to say this is unreasonable considering Tesla is in the survival stage and transitioning into a profitable company. However we believe that possible supply chain issues or demand issues would wreak havoc on the stock price.
Since Tesla's IPO the share price has followed a fairly steady upward trend that indicates the stock will continue to reach higher highs and higher lows. We believe that future Model S deliveries and upgraded production will ultimately lead Tesla's stock to substantially higher highs. We also believe Tesla's share price will sit in the $65-$70 per share range by the end of 2013.
The reason for this belief is that we are expecting the slower production of the Model S early on will lead will to greater production over the long term. If this plays out as we are expecting then Tesla will produce greater revenue and profits than investors and analysts are expecting. Thus we will see the share price spike considerably higher at some point in 2013.
From a more long-term perspective the key to Tesla's success is how quickly the automaker develops a car priced for the masses. With that in mind, it is possible for Tesla to succeed with only high-end vehicles since Audi, BMW and Mercedes are doing well. On the other hand these three high-end producers also have the support of low-end vehicle production as well. Tesla does not have this same support system and we believe that Tesla will develop a low-end car at some point; perhaps something similar to Honda's (NYSE:HMC) Civic but not as small as Nissan's Leaf or Chevy's (NYSE:GM) Spark.
It is also important to note that the possibility of a low-end Tesla vehicle is several years if not a decade away. The truth is the next few years will be filled with the Model S, Model X, and another version of the Roadster. After these three vehicles we are expecting Tesla to develop a lower-end vehicle with less power, longer battery range, and quicker recharge time. This would be the car that would take Tesla's stock to the next level over the long term.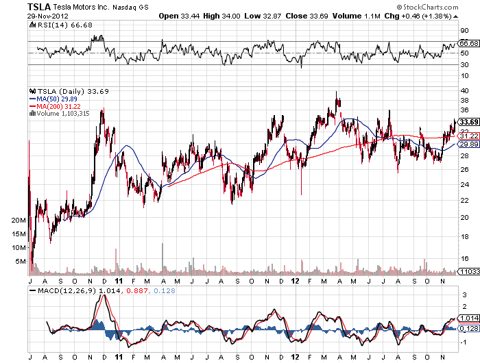 (Source: StockCharts.com)
Conclusion
Based upon what we believe and the data available we view Tesla as a strong long-term buy. However the concerns surrounding the company should be reiterated once again. First off, Tesla's demand could drop off if the company is unable to develop a vehicle with a greater range and shorter charging time. We are confident Tesla will develop this technology, but it is a concern that needs to be mentioned.
Secondly, competition from other electric vehicles may cause Tesla's demand to diminish. We believe that the Model S is the best electric car on the market, but competition from the extremely eco-friendly Fisker Karma and GM's future lower end electric vehicles may cause problems. The counterpoint to this is the fact that high-end companies such as Lululemon (NASDAQ:LULU) have fared very well because their wealthy customer base is not affected by recessions or economic weakness.
A third concern is whether Tesla suppliers will be able to provide enough supplies in the short term to keep Tesla's 2013 projections on target. With that in mind Tesla will need to maintain the same quality of production as we have seen since June. Tesla has done a fantastic job thus far but as the production line heats up then this may change. We believe quality will not be sacrificed, but as more orders pile up Tesla's suppliers will need to keep pace with the demand and Tesla must avoid pushing vehicles through quicker than originally planned.
Despite these concerns, we are expecting to see Tesla's share price rocket higher in 2013. As we mentioned above, we expect to see Tesla's share price reach the $65-$70 range based upon strong demand for the Model S. Based upon our sales expectations we are expecting to see Tesla produce $145-$150 million in income on $1.8-$1.9 billion in revenue in 2013. Assuming Tesla hits our target of $145 million in net income in 2013, this would give the stock a P/E ratio of 36.93-39.77 if the stock hits $65-$70 per share. And this is not an unreasonable P/E ratio for a firm that is growing as fast as Tesla. Therefore when we take these concerns into consideration, we believe Tesla is a stock to buy in 2013.
Disclosure: I have no positions in any stocks mentioned, and no plans to initiate any positions within the next 72 hours. I wrote this article myself, and it expresses my own opinions. I am not receiving compensation for it (other than from Seeking Alpha). I have no business relationship with any company whose stock is mentioned in this article.