It has been awhile since I wrote anything about Transocean (NYSE:RIG). However, positives are mounting for this cheap offshore driller. It looks like it is time to take a hard look at adding to my position as the shares look ready to move higher
Recent positives for Transocean:
It just entered into a "change of conduct accord" with Brazil. This could be first step of a face saving process to put a huge proposed fine over a minor spill (3600 barrels) behind it. This would remove an overhang on the stock.
Argus upgraded the shares from "Hold" to "Buy" early in November.
Consensus Earnings estimates for FY2012 and FY2013 have risen substantially over the last month.
Transocean Ltd. Is one of largest providers of offshore contract drilling services for oil and gas wells worldwide.
5 additional reasons RIG is undervalued at $46 a share:
The 31 analysts that cover the stock have a median price target of $60 a share, more than 30% above the current stock price.
The stock is selling at just 9.5x forward earnings and has a low five year projected PEG (.60).
RIG has easily beat earnings estimates the last four straight quarters. The average beat over consensus has been north of 40% over that time period.
The stock is cheap at just 8% over book value and approximately 7x operating cash flow.
RIG has some short term technical support at just under the current price (See Chart).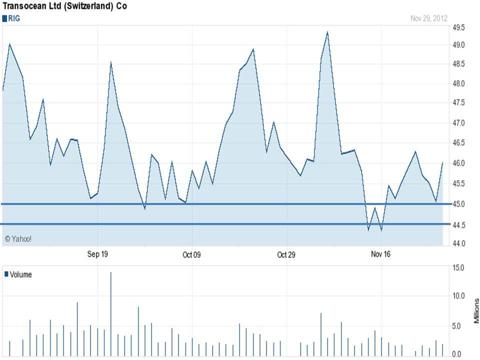 Disclosure: I am long RIG. I wrote this article myself, and it expresses my own opinions. I am not receiving compensation for it (other than from Seeking Alpha). I have no business relationship with any company whose stock is mentioned in this article.