Nvidia (NASDAQ:NVDA) is our favorite stock to invest in. In this article we will cover 4 reasons that you need to include this stock in your holdings.
Growing Market Share. Nvidia grew its market share at the expense of Intel (NASDAQ:INTC) and AMD (NYSE:AMD) last quarter.
Jon Peddie Research reports:
NVIDIA gained 3.7% to 18.5% versus the second quarter, while AMD fell 1.5 percent to 21.2 percent and Intel dropped 2.4 percent to 59.8 percent.

From Q2 to Q3 Intel slipped in both desktop (7%) and notebook (8.6%). AMD dropped (2%) in the desktop, and (17%) in notebooks. Nvidia gained 28.3% in desktop from quarter to quarter and jumped almost 12% in the notebook segment.
This growth will fuel Nvidia's revenue and earnings -- two things that help a share price grow.
Dividends, Dividends, Dividends
Nvidia announced the 1st quarterly dividend recently. At the current share price of 12.03, this comes out to a yield of 2.49% per year. While not a huge percentage, it does add up over time and for a great tech stock like Nvidia it's just an added bonus while we wait for the stock to appreciate.
Attractive Cash Position
Nvidia currently has 3.43 billion in cash and just a mere 19 million in debt. Current cash per share is 5.50. Nvidia's stock price stands at 12.03. This means that 45.7% of the stock is backed by cash. One heck of a buffer! Free cash flow is 419 million. This gives the company plenty of liquidity in its business dealings. The PEG ratio stands at 1.31, but might come down some as growth expectations go up due to the recent market share gains.
Market Diversification
Nvidia currently has several product lines that sell to many different markets: GeForce for the desktop environment; Telsa for the scientist community; Tegra for mobile devices such as cell phones, tablets like the Microsoft Surface and even automobiles. Nvidia's Quadro is aimed at graphics professionals that use programs such as Autocad or Photoshop.
Nvidia GRID is focused on streaming games and streaming gaming leader Gaikai has decided to deploy GRID. This diversification means that if one segment experiences hardship the entire company will not be in trouble.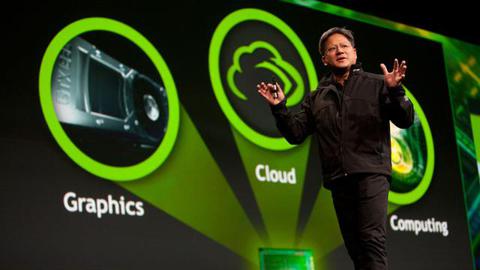 (The focus of Nvidia: Graphics, Cloud via Grid, and Computing)
Conclusion
Given the factors covered, we view Nvidia as a very attractive stock to own. Due to its large cash position, down side risk is limited. The company is well-diversified with proven management and products in several segments which are growing at the expense of competition. Long term the company has the potential to put its Tegra processor or GRID streaming service into any device that has a display and reap the associated profits for shareholders. Given the favorable financials and diversification we would recommend you average into the stock by acquiring a small stake and every few weeks adding to it.
Disclosure: I am long NVDA, AMD. I wrote this article myself, and it expresses my own opinions. I am not receiving compensation for it (other than from Seeking Alpha). I have no business relationship with any company whose stock is mentioned in this article.