The share price for Yum Brands Inc. (NYSE:YUM) fell 6.65% in after-hours trading on Thursday after the Company released softer sales trends in China and backed a disappointing full-year forecast.
YUM is a quick service restaurant company based on a number of system units, which include 38,000 units in more than 120 countries. YUM generates revenue through company-owned restaurants, franchise fees and licensing agreements. YUM's brands include KFC (17,400 units), Pizza Hut (12,100 units), and Taco Bell (5,500 units). With these brands' sizeable international appeal and the company's rare economic moats in the restaurant industry, YUM should be able to extend its leadership in emerging markets, including China, and continue to generate positive economic return in the long-term.
Softer Sales In China
The company added 800 new sites in China during the year while YUM has focused much of its attention in this country. However, in the short-term, YUM is suffering from the softer sales in China. The Company expects a decline in Q4 sales at established restaurants in China, where a cooling economy is making it difficult to exceed the 21 percent gain it had there a year earlier. While more than half of total revenue and operating profit for Q3, 2012 came from China, YUM expects the same-restaurant sales to fall by 4 percent in Q4, 2012. China's slowdown was also affecting YUM's competitors, including McDonald's Corp. (NYSE:MCD). However, as stated by David Novak, YUM's CEO Chairman and CEO, "For the fourth quarter, stronger-than-expected operating performance from Yum Restaurants International and our U.S. division is offsetting softer sales in China." YUM also forecasted 2013 earnings per share growth of at least 10 percent and repeated its call for 2012 EPS growth of at least 13 percent, or $3.24 per share, excluding special items. This forecast was lower than the analysts' poll of $3.28 per share.
Fundamental Overview and Technical Analysis
With the data gathered from MorningStar, YUM's key stats will be compared to its competitors in the industry of restaurants under consumer cyclical sectors, including McDonald's Corporation and Wendy's Co. (NYSE:WEN). Despite the trailing revenue and EPS growth (3 year average) of 3.8 and 11.8, as compared to the industry average of 4.5 and 14.0, YUM managed to achieve a higher net margin of 11.9%, ttm, as compared to the 10.5 for the industry average. YUM has also been generating strong ROE of 77.1, as compared to the average of 32.3, and maintains a lower debt-to-equity of 1.4, as compared to the average of 2.8. YUM is currently over-valued with P/E of 21.9, compared to the average of 19.7.
In the near-term, with the softening of sales in China, YUM's share price could fall back and result in a more attractive valuation for YUM. Investors should monitor the price development for YUM after this disappointing forecast, which already caused a stir in the after-hours market.
YUM closed at $74.47 with 0.78% gain on Nov. 29, 2012. The after-hour trading price is $69.52 with a 6.65% decline. YUM had been trading in the range of $55.62-$74.75. As seen from the weekly chart below, YUM should be able to find the support at $66.65, its 50-day MV.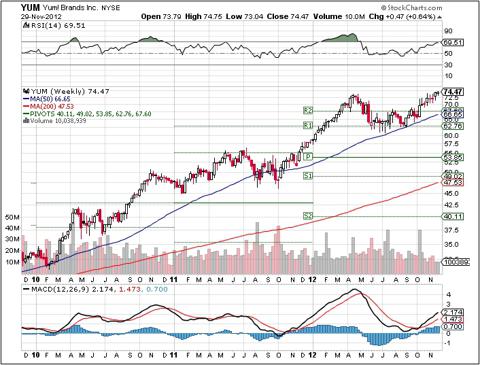 Source: StockCharts.com
Options Play and Safe Entry Price
While the long-term outlook for YUM remains positive, there will be short-term selling pressure due to slowed sales in China. Investors should wait until the selling is done to establish the long-term position. When the time comes, a credit put spread can be considered to acquire the stock at a discount price. Based on the estimated 2013 EPS of $3.56 and average industry P/E of 19.7, $70.13 should be a fair price for YUM. A credit short put options play consisting of shorting 1x put at the strike of $65 and buying 1x put at the strike of $60 for the 3 month term options should give a margin of safety for investors to acquire this quality stock while gaining some upside potential
Note: Investors and traders are recommended to do their own due diligence and research before making any trading/investing decisions.
Disclosure: I have no positions in any stocks mentioned, and no plans to initiate any positions within the next 72 hours. I wrote this article myself, and it expresses my own opinions. I am not receiving compensation for it (other than from Seeking Alpha). I have no business relationship with any company whose stock is mentioned in this article.