I wrote a recent Seeking Alpha article on the nation's largest shopping center REIT, Kimco Realty (NYSE:KIM), and as I explained the 50 year-old REIT has delivered exceptional performance and value demonstrated by the company's financial flexibility. Accordingly, Kimco has executed a near flawless capability for maintaining an optimal balance of capital, which, in the current environment, is about 60 percent equity, and a mix of perpetual preferred stock and debt - with well-staggered maturity dates to reduce risk.
Achieving these proportions helps the company reach a fixed-charge coverage ratio of 2.5 times and a net debt to recurring EBITDA of 5.3 times.
Part of the validity of Kimco's well respected balance sheet has been its use of perpetual preferred stock - a critical tool for the company. Earlier this year (March and July) Kimco was able to go to market to raise $625 million at a blended rate of 5.8 percent. The much-publicized July issuance (Preferred J series) of $225 million at 5.5 percent remains one of the lowest coupons ever, and was the lowest for a REIT issuance at the time. These proceeds allowed the company to refinance existing preferred obligations, saving about $11 million in interest payments each year and lowering the average coupon by 1.4 percent.
Kimco's Delivers Yet Another Innovative Preferred Offering
This week, Kimco announced yet another Preferred offering: a $175 million 5.625% Perpetual Preferred Offering. The company announced the sale of 7,000,000 depositary shares, each representing a 1/1000 fractional interest in a share of the company's 5.625% Class K Cumulative Redeemable Preferred Stock, $1.00 par value per share. These depositary shares, priced at $25.00 per depositary share, entitle holders of each depositary share to a 5.625% cumulative dividend or $1.40625 per annum, are not convertible into common stock and are redeemable at par at the option of the company on and after December 7, 2017.
The company intends to use the net proceeds from this offering for general corporate purposes, including (NYSE:I) funding towards the repayment of its $198.9 million principal amount of 6% Senior Unsecured Notes due November 30, 2012 and (ii) to reduce borrowings under its revolving credit facility maturing October 2015.
As Kimco's Vice Chairman and CEO explained,
We are very pleased with the execution of this new perpetual preferred stock offering. We pride ourselves on seeking opportunities in the capital markets to enhance our capital structure. This new perpetual preferred stock issuance provides meaningful long-term fixed-charge savings.
Kimco, publicly traded since 1991, owns and operates North America's largest portfolio of neighborhood and community shopping centers. As of September 30, 2012, the company owned interests in 922 shopping centers comprising 135 million square feet of leasable space across 44 states, Puerto Rico, Canada, Mexico and South America.
Kimco has an equity capitalization of $7.75 billion and the common stock shares are trading at $19.00 (My recent NAV pricing on KIM was $23.25. See article here). The investment grade rated (BBB+ by both S&P and Fitch) company has a dividend yield of 4.4 percent and the company's one year total return is 40.07% (source: Bloomberg). Here is a snapshot of Kimco's year to date total return performance (20.48%):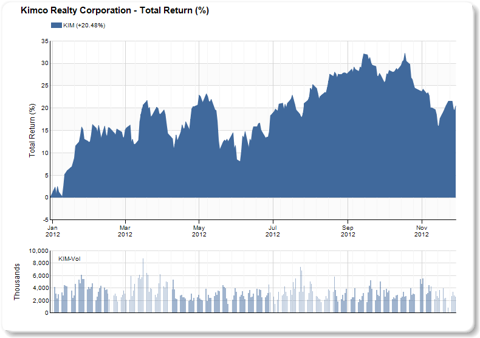 Source: SNL Financial
Disclosure: I have no positions in any stocks mentioned, and no plans to initiate any positions within the next 72 hours. I wrote this article myself, and it expresses my own opinions. I am not receiving compensation for it (other than from Seeking Alpha). I have no business relationship with any company whose stock is mentioned in this article.