PC maker Dell (NASDAQ:DELL) reported yet another decline for its third quarter. Revenue dropped 11% year-over-year to $13.7 billion, even worse than lowered consensus expectations. Earnings slipped 28% year-over-year to $0.39 per share on a non-GAAP basis, also below consensus estimates. Total product revenue dipped 13% year-over-year to $10.7 billion, while service revenue dipped 1% year-over-year to $3 billion.
The company continues to struggle with its transition to mobile, as its consumer and PC businesses falter. Consumer revenue fell 23% during the third quarter, and the segment's operating loss was $65 million. In the near term, this signals some possible weakness at both Intel (NASDAQ:INTC) and Microsoft (NASDAQ:MSFT), though the company didn't say much about Windows 8 other than it was exciting. Consumers are moving away from the PC in droves, but we think the market will eventually bottom, since PCs perform some vital functions that aren't as easy on tablets and smartphones. Still, even that portion of the company is losing share to Lenovo and Apple (NASDAQ:AAPL).
Enterprise Solutions and Services revenue grew 3% year-over-year to $4.8 billion, outpacing growth at the rest of the company. Not surprisingly, large enterprise spending was weak, with the segment declining 8% year-over-year to $4.2 billion. We're not totally shocked by this development, with companies staring down the fiscal cliff and the coming of a recent refresh cycle. However, we're encouraged to see the company's move to software and services cushioning the blow a bit. Management noted that non-GAAP gross margins are running above 50% in the segment-much higher than the company's blended margin of 22%. We remain cautious, however, since a complete business transformation is not only risky, but an overwhelming challenge.
The small and medium business segment held up relatively well, with revenue decreasing only 1% year-over-year to $3.3 billion. We think investment from smaller business is outpacing large enterprises due to the drive for increased efficiency, and a strong desire to capture share. Mobility, which Dell assured wouldn't be too negatively impacted by the iPhone and other connected devices, slipped 26% year-over-year. We don't see any impetus for users to buy laptops from Dell on either the consumer or enterprise front at this point, so we except weakness from mobility to prevail.
Still, the company posted $1.3 billion in operating cash flow during the quarter, and it continues to return cash to shareholders via dividends and buybacks. However, the company's cash conversion cycle, which improved this quarter, will inevitably lengthen as it shifts toward a greater enterprise mix.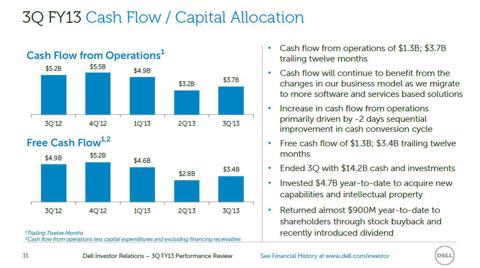 Click to enlarge
Image Source: Dell
Going forward, the firm is predicting sequential revenue growth of 2%-5%, as well as full-year non-GAAP earnings of $1.70 per share. Both forecasts seem optimistic, in our view, unless we see some more clarity on the fiscal cliff and tax policy.
Even as its core business declines, it's hard not to be intrigued by Dell's valuation at current levels. Cash flow is certainly declining, but it remains relatively robust. However, the company's current score on the Valuentum Buying Index (our stock-selection methodology) suggests the market still doesn't like the company. Shares now yield in excess of 3.5% on an annualized basis, which could provide a floor for the stock-at some point.
Still, we aren't huge fans of Dell's current business model, and we're not as enthusiastic about its enterprise potential as management. Nevertheless, we could become more excited about the stock when the valuation becomes simply too cheap to ignore, or if its VBI improves. However, we're not there yet. For a read on how we calculate the intrinsic value of Dell, please click here.
Also, though Dell has scored a 9 on our Valuentum Buying Index (VBI) in the past (click here), our members did not add it to our Best Ideas portfolio. We maintain our current VBI ratings on our website, but click here for the best way to use our process.
Disclosure: I have no positions in any stocks mentioned, and no plans to initiate any positions within the next 72 hours. I wrote this article myself, and it expresses my own opinions. I am not receiving compensation for it (other than from Seeking Alpha). I have no business relationship with any company whose stock is mentioned in this article.
Additional disclosure: Some of the firms mentioned in this article are included in our actively-managed portfolios.