Background
OCZ Technology Group (NASDAQ:OCZ) is a controversial name in the storage industry and, indeed, the entirety of the stock market. The company designs, builds, and markets solid state drives for both consumer and enterprise use. OCZ has suffered a multitude of woes, including a management shakeup, several quarters of disappointing earnings, fiercer competition in the solid state drive space, and working capital constraints.
Things went from "bad" to "terrible" fairly quickly during the last quarter. First, founder and CEO Ryan Petersen announced his abrupt resignation after the firm issued a revenue warning. The warning, according to the ousted executive, was due to a "shortage in NAND flash." Shortly thereafter, Ralph Schmitt, formerly of PLX Technology (NASDAQ:PLXT) took the helm of the troubled company. The situation seemed to cool off, especially as the new executive's seasoned track-record as a veteran of corporate-turnarounds seemed to eventually bolster investor sentiment. Things got even worse from here.
On the day that earnings were supposed to be released, OCZ and the new CEO dropped yet-another bombshell: that the former lowered guidance was not accurate and that the firm was unsure of when it would be able to release earnings for the quarter. The firm did note several nightmarish facts:
Gross margins were negative during the quarter due to customer-incentive/rebate program that went awry
The firm was (and still is) unsure of whether prior financials would need to be restated
Cash burn was significant during the quarter. This was further elaborated on at a recent Needham conference at which the CEO stated in no uncertain terms that the company would need to "raise cash"
All of these factors, coupled with uncertainty surrounding OCZ's competitive positioning in what has essentially morphed into a commodity market over the last several years, has led to a substantial decline in OCZ's share price. However, the extreme pessimism, coupled with an enormous (but now decreasing) short interest makes for a compelling turnaround and then eventual take-over play. There is over 200% of potential upside to be had in shares of OCZ Technology should the company, under new management, turn the company around and either grow the firm to become a storage giant or - in a more likely scenario - an acquisition target.
The Solid State Opportunity
OCZ Technology Group was founded in 2002 by Ryan Maurice Petersen. The firm originally positioned itself as a computer hardware manufacturer that targeted the "enthusiast" segment of the PC market. These products included graphics cards, DDR SD-RAM, fans, heat-sinks, power supplies and other low-margin, commodity peripherals. This business was, of course, not particularly lucrative. Under the leadership of Ryan Petersen, the firm decided to become a pure-play solid state drive company in an attempt to capitalize on a fundamentally new and potentially game-changing opportunity.
Understandably, OCZ's management was particularly attracted to the secular growth opportunity that the solid state drives provided, especially as the company had a good deal of expertise in dealing with memory products. A leap into NAND flash-based products seemed to play into the company's strengths. OCZ became a pure-play solid state drive maker in 2009, essentially getting in at the "ground floor" of the market opportunity. In fact, according to recent estimates from iSuppli, SSD shipments are expected to quadruple over the next four years: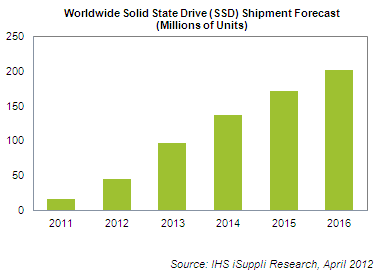 What is it, then, that makes solid state drives particularly appealing, especially with Western Digital (NYSE:WDC) and Seagate (NASDAQ:STX) generating immense amounts of cash flow from the sale of traditional hard-disk drives into the client PC markets as well as enterprises? The key advantages are:
Speed - a typical solid state drive is many times faster than a traditional hard-disk drive in both sequential, but most markedly in random accesses (which comprise the majority of user workloads), where the performance delta is measured in orders of magnitude.
Power Consumption - a solid state drive is made up of NAND flash, which is a piece of silicon. It does not have moving parts unlike a traditional hard-disk drive, which has both spinning magnetic platters and a moving electromagnetic head.
In addition to providing a tangibly better user experience for client workloads (things will "feel" faster, applications load faster, files can be copies more quickly, etc.), but the tangibly better power consumption metrics are better suited for more power-conscious PC environments. In particular, the Ultrabook push from Intel (NASDAQ:INTC) emphasizes the use of solid-state drive solutions for both speed and power-consumption purposes.
The TAM for solid-state drive/flash solutions is not limited to client workloads. Data-centers rely extensively on faster, more power efficient storage and processing technologies. Solid state drives, while nowhere cheap enough on a per-gigabyte basis to completely supplant the traditional hard-disk drive in the data-center, are increasingly seeing usage as caching solutions to lower the average access time of the storage subsystem of the data-center.
This brings us to the primary disadvantage of solid state drive solutions of today: cost. Traditional hard disks cost roughly $0.03 - $0.05 per gigabyte, while a typical solid state drive will run anywhere from $0.50 - $1.00 per gigabyte. For bulk storage, solid state drives do not - and will likely not for the foreseeable future - represent a compelling value proposition as hard-disk replacements for users that require massive amounts of storage.
However, as data increasingly moves towards the cloud, mainstream users are likely finding themselves with less of a need for gigantic 1 terabyte and larger drives. In fact, for the majority of mainstream users, a 256GB solid state drive is likely a better value proposition than a 2TB hard disk. The fact that tablet PCs such as the Apple (NASDAQ:AAPL) iPad and the Microsoft (NASDAQ:MSFT) Surface successfully sport anywhere from 16GB - 128GB of NAND flash is indicative that for the majority of mainstream users, speed trumps space (this is, once again, enabled by the Cloud, which is filled with hard-disk drives).
The solid state drive is quickly becoming mainstream, and the opportunity is certainly there. However, is OCZ Technology Group the company to play the secular trend with?
Understanding The SSD Business
To build a solid state drive, one needs the following puzzle pieces:
An SSD controller
NAND flash
Firmware
The SSD controller, along with the firmware that runs on it, determines the performance and reliability characteristics of a given drive. The quality and the type of the NAND flash also plays a part in the speed of the drive, but it primarily serves as the raw "material" on which the data is stored.
By far the most expensive part of the bill-of-materials for a modern solid state drive is the NAND flash. To build NAND, a firm needs to have access to a semiconductor fabrication plant. This is outside of the scope of most smaller solid state drive companies, so production of NAND is limited to a select few large companies including Samsung (OTC:SSNLF), Intel, Micron (NASDAQ:MU), Hynix, and Toshiba (OTCPK:TOSBF).
The SSD controllers are generally provided by specialized semiconductor companies, most notably LSI (NASDAQ:LSI-OLD) (which recently acquired SandForce for $370M) and Marvell (NASDAQ:MRVL). However, many of the firms with NAND fabrication plants have built or are currently in the process of building their own SSD controllers. Hynix recently acquired Link-A-Media, a small semiconductor firm that specialized in NAND flash controllers, for $248M, presumably to fuel a push into the consumer solid state drive market. Seagate took a stake in the TLC NAND specialist DensBits in order to bolster its own internal solid state technology efforts.
So we can broadly designate a few main "types" of consumer solid state drive vendor:
Fabless Without Controller - these companies (such as Corsair Components, Plextor, and others) license an off-the-shelf controller from one of the aforementioned firms, may or may not customize the firmware, and buys NAND from a NAND fab.
Fabless With Controller - these companies develop their own controller/firmware technology while buying NAND from the fabs (OCZ is the only one left of this type)
With Fab, Without Controller - these companies make their own NAND flash but opt to use third-party controller technology (examples include Micron and, for the consumer drives, Intel).
With Fab, With Controller - these are the fully integrated giants. This includes Samsung, Hynix, and Toshiba.
The type of company that is likely to do the best financially is the one that has its own NAND fabs, as I mentioned previously that by far the largest part of the BOM for an SSD is the NAND. Obviously, having an internal controller platform is a key differentiator - especially for enterprise solutions - but the business of selling NAND is becoming more lucrative as NAND spot prices increase.
The worst off companies are the fabless without a controller. Not only does each sale of a drive from one of these companies mean money in the pocket of the NAND producer (who is likely selling a competing product for cheaper), but it also means even more razor-thin margins as the barrier-to-entry here is simply not that high.
OCZ, formerly of the fabless and without controller variety, now has its own controller technology. While I am bullish on the long-term prospects of the solid state drive industry, the harsh reality of the business is that the firms with the fabs will generally enjoy pricing power over the fabless drive makers.
This means that for the high-volume, mainstream client SSDs, a company like OCZ cannot hope to profitably out-price a behemoth like Samsung or Micron.
Why OCZ Can't Take The Big Guys Head On Directly
OCZ's growth story has seemed phenomenal. A quick look at the rate of growth in quarterly revenues shows an extremely attractive trend:
OCZ Revenue Quarterly YoY Growth data by YCharts
Further, it seemed that OCZ's strategy of bringing more things in-house (NAND packaging, controller/firmware, etc.) was having a positive impact on the gross margin line: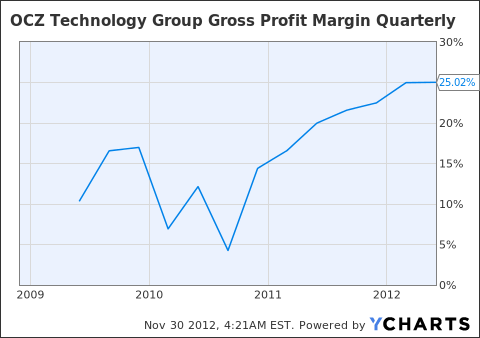 OCZ Gross Profit Margin Quarterly data by YCharts
However, these gross margin improvements weren't "free." Operating costs followed a similar trend to revenues and gross margins, leading to consistent operating losses and very negative cash flow: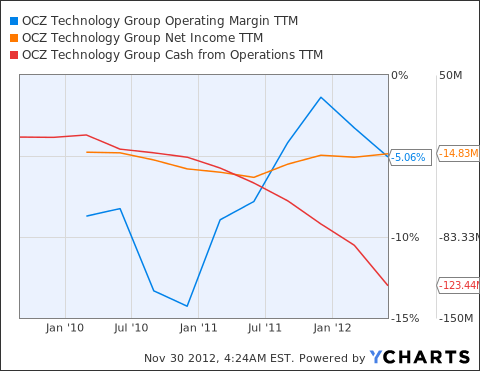 OCZ Operating Margin TTM data by YCharts
OCZ would regularly incur "non-recurring expenses" regarding the development of a new drive, the tape-out of new controller silicon, and so forth. Further, the company very frequently diluted the float with the issuance of secondary offerings that would occur whenever the company managed to burn up the cash raised from the last secondary: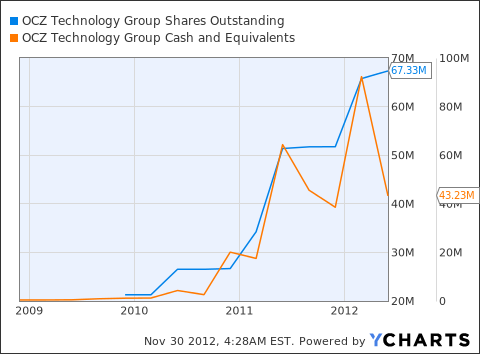 OCZ Shares Outstanding data by YCharts
These abysmal operating and financial metrics are indicative of the painful truth that OCZ cannot compete with the "big boys" in the high volume mainstream consumer solid state drive space. However, new management seems quite aware of this reality. That is why the firm has publicly announced that it will shift away from low margin, more mainstream products to higher margin, mid- to high-end products across its lineup.
Finding Product Niches - The Obvious Opportunity
We have established that in the high volume, commodity solid state drive market, the economics of OCZ's previous business model (out-price the competition) were simply not viable. However, it is not uncommon for smaller, more agile players to attempt to carve out a niche in a market dominated by larger, better capitalized competitors. That is what an investor in OCZ should base his/her investment thesis on for a potential investment.
Where then, could the company find a niche? There are plenty embedded within the secular solid state drive/storage landscape. OCZ is targeting the following:
High end enthusiast-oriented drives
Enterprise hard disk drive replacement
Flash caching solutions for the data-center
While the first two segments are still heavily based on NAND-flash pricing, the products here are not differentiated by price, but by reliability and speed. In recent tests, OCZ's latest-and-greatest "Vector" solid state drive exhibited extremely high end performance, achieving parity or leadership with the highest end drives from Samsung, which gives OCZ the ability to price its drives similarly (which significantly impacts the gross margin line). According to the Anandtech review,
With the Vector, OCZ has built a price and performance competitor to Samsung's 840 Pro, which previously remained peerless at the top of our charts. For a company that just weeks ago was considered down and out for the count, this is beyond impressive.
It is clear that this first niche is going to be well-handled by OCZ. The second - enterprise hard disk drive replacement - is likely to be satisfied by the same type of products that the firm releases for the enthusiast desktop sector, but perhaps with stricter validation. Performance and reliability are the critical factors here, so an in-house controller and NAND packaging allows OCZ to help build suitable, somewhat customized products for these markets.
The final "big" niche is enterprise flash caching solutions. As I noted previously, hard disk drives still reign supreme on the gigabyte-per-dollar metric. For applications like databases, web servers, and so on, there needs to be a lot of storage space, but at the same time accesses need to be fast. In computer architecture, the notion of a "cache" is simple: put the most frequently accessed data into a faster part of the storage hierarchy so that the average access time is significantly decreased. In this case, high end PCIe flash caching solutions are perfect to speed up such applications.
Currently, Fusion-io (NYSE:FIO) is a pure-play that dominates this space with very fast, and very well adopted (Apple is one of their big customers, for example) products. The firm has been seeing double-digit sales growth year-over-year while maintaining gross margins in the mid-50% level. This is due to the fact that the solutions that the firm sells derive their 'secret sauce' from the value added from software, rather than from simply selling hardware.
OCZ is attempting to break into that market. With the purchase of SANRAD, a flash virtualization software developer, and a partnership with Marvell for an enterprise-flash grade controller, the firm has been putting in the pieces in place for a serious assault on this space. While revenues have yet to really materialize here, with the most recently reported quarter showing only $3.834M in sales of these products (likely test-orders), it is important to note that as the firm's software platforms develop, there is a real chance to break into this high margin segment (although it is important to note that Fusion-io's lead in this area is quite substantial).
Controller Licensing - The Not So Obvious One
While selling drives and solutions is certainly important to top line growth, there is a very serious opportunity to supercharge the bottom line with IP licensing and controller sales. As I noted previously, OCZ builds its own controllers in house starting with the "Vector" drive. The "Vector" is by all accounts among the very fastest drives available today. Should the drive prove over time that it is one of the most reliable, then there is a very serious opportunity for OCZ in the controller IP side of things.
LSI and Marvell have built pretty nice, multi-billion dollar businesses in selling storage controllers, including solid state drive controllers. Marvell repeatedly notes that the solid state drive controller business has been one of double digit growth for the company despite turbulent times elsewhere. LSI's purchase of SandForce has also paid off well with similar growth characteristics. So, what is stopping OCZ from super-charging the returns on its R&D by licensing its controller technology to the drive vendors that can't afford to build their own products? Nothing on the technical side.
Such a business would play perfectly to OCZ's strength as a small-cap technology company: sell high end flagship drives under the OCZ brand, but generate a lucrative income from selling controllers to the hordes of commodity drive vendors. Gross margins for these products are in the 50%+ range (given LSI's and Marvell's gross margin profiles), and it would require very little - if any - additional operating expenses.
Further, having superior controller technology opens the floodgates to potential merger and acquisitions. A recap of recent deals in the space:
Link-A-Media, a pure-play controller developer, sold to Hynix for $248M
SandForce, a pure-play controller developer, sold to LSI for $370M
This brings us to the reason that OCZ offers a compelling risk/reward profile despite the overhanging issues: valuation.
As of 11/30, OCZ is trading at around $1.75 per share, or roughly a market capitalization of $117M. Should OCZ emerge from the SEC investigations and file a 10-Q that does not indicate balance sheet disaster, shares of the company could be worth anywhere from $3.7 - $5.5 per share for its controller business alone. This is conservative as it discounts the value of the SANRAD acquisition for flash caching virtualization software, as well as the technology that is used to actually build drives.
However, the current valuation implies significant downside risks to the thesis. In addition to the problems mentioned at the beginning of this report, there are some other potential pitfalls to this valuation:
No Buyers: While there has been significant M&A in the SSD controller space, it is clear that all of the major NAND players have either acquired the technology that they need, or they are ramping up in-house development efforts.
Dilution: OCZ's CEO noted at the recent Needham conference that the firm would need to raise cash. Should OCZ pursue such a move, current shareholders would get significantly diluted, and this would lower any sort of M&A price on a per-share basis.
Further Business Risks
There are also additional risks. Should OCZ not eventually pursue a M&A path once the business is back on track, the firm's actual business has plenty of risk to it. While OCZ's technology positions it nicely for niche markets, there are still other strong players in those markets with sizeable cost advantages. Notice that the OCZ Vector is not a decisive leader, but a worthy competitor to the Samsung offering. Should Samsung decide to get more aggressive, OCZ's premium once again comes under pressure.
Further, it is not wise to assume that the pure-play semiconductor companies such as Marvell and LSI are sitting still. These firms have sizeable amounts of cash and will likely significantly accelerate R&D to match/exceed the potential up-and-comer in the SSD controller licensing space.
Finally, in the flash caching and enterprise storage space, it is unwise to assume that OCZ will be able to easily make a dent in the area. Fusion-io is a very fierce, focused, and well-capitalized competitor. Other, non-public companies such as Violin Memory, also offer quite competitive products for this space. The barrier to entry here is actually fairly large, and something that OCZ's management has failed to communicate thus far.
Stock Risks
There's still significant risk to the share price at current levels. OCZ still has not filed its 10-Q report for FQ2, and it is unclear whether the company will file its FQ3 report on time. It is likely, however, that upon filing of the report - barring a financial situation that puts the firm near bankruptcy (which is still a distinct possibility) - the stock will undergo a short-squeeze as uncertainty around the company and the stock clear.
Investors who do not want to "gamble" should wait until the form 10-Q for FQ2 is filed. Gamblers may want to take a look at the stock at these prices and pull the trigger now.
Conclusion
OCZ is a gamble, and buying before the 10-Q is filed amplifies the speculative aspect around the stock. Previous management diluted shareholders while burning cash at an alarming rate. More dilution is probably on the way as the company seeks to re-capitalize itself, and if not, some very high interest debt it likely to be issued.
That being said, the company is operating in a segment with explosive secular growth, and with a lot of valuable technology under the firm's roof, OCZ could grow to thrive in the new solid-state world or it could be opportunistically acquired by a larger storage company once the firm's financials are out in the open for all to see.
Disclosure: I am long INTC, MSFT, MRVL. I wrote this article myself, and it expresses my own opinions. I am not receiving compensation for it (other than from Seeking Alpha). I have no business relationship with any company whose stock is mentioned in this article.