After a pullback on the NASDAQ of nearly 11% markets have started to rally again. If you used the pullback to generate cash, your next order of business is determining if the current rally is sustainable and where to invest next.
Rally attempts that are triggered during a holiday shortened week are suspect in my mind but we can't ignore the fact that markets changed direction last week, even if many traders were home watching their favorite football game while eating Thanksgiving leftovers.
From a broad market perspective there are some mildly bullish developments underway. Other than a little bit of selling early in the week, most of the action has been to the upside. Volume has not been as convincing as I would like, but that could still develop. As of the close Thursday, the NASDAQ is up nearly 7% from mid-November lows. Second, some leading stocks have broken out and others are setting up bases. Granted, the current round of leading stocks are not the highest quality; that could also still develop.
The most challenging aspect of recent market action has been the impact of Fiscal Cliff progress or lack thereof. Not exactly what you want driving the market, but that is what we have to navigate. It is fair to say we have a broad market rally underway; now we need to look at specific investment opportunities.
During the pullback I built my watch list of stocks. A couple of industry groups stood out to me and Internet stocks was one of them. If you have not noticed, Yahoo (NASDAQ:YHOO), Facebook (NASDAQ:FB), Ebay (NASDAQ:EBAY) and others have nice rallies underway. It may be late to pick-up shares of Yahoo; EBay and Facebook are somewhat less extended. Another way to participate in this segment of the market, especially given timing and the type of rally underway, is through the First Trust Internet ETF (NYSEARCA:FDN). As you would expect, FDN has been performing in line with some of its top holdings, which include: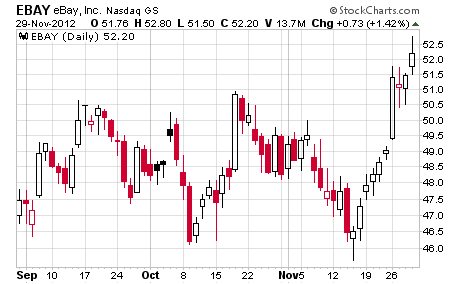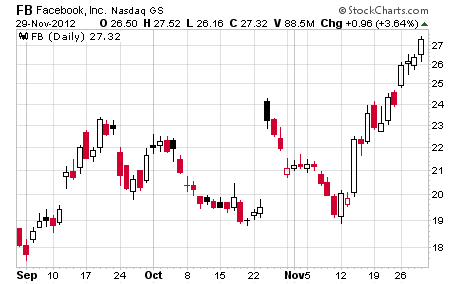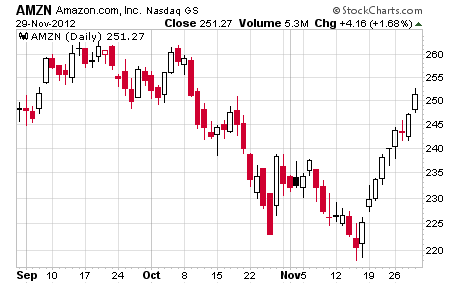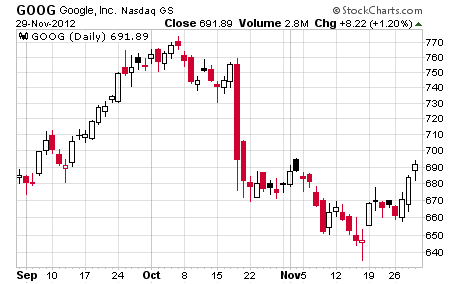 Together the four stocks above represent approximately 28% of FDN, according to the First Trust website as of November 28th, 2012. The top 10 positions represent approximately 52% of the fund and include: Priceline (NASDAQ:PCLN), Yahoo, Salesforce (NYSE:CRM), Juniper (NYSE:JNPR), Rackspace (NYSE:RAX) and Netflix (NASDAQ:NFLX) - overall some pretty decent companies. Many investors may have opted to own the individual stocks which may explain why the AUM of FDN is below where it could be given the liquidity of its holdings.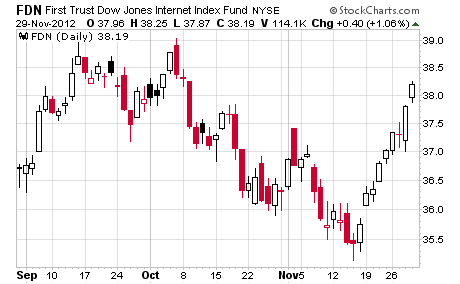 It is a little disappointing the Internet segment isn't being led by younger companies and that may point to the maturity of the current rally. FB is the only recent IPO of the group mentioned above. LinkedIn (NYSE:LNKD) is also included in FDN and appears to be taking a bit of a breather after a very successful IPO.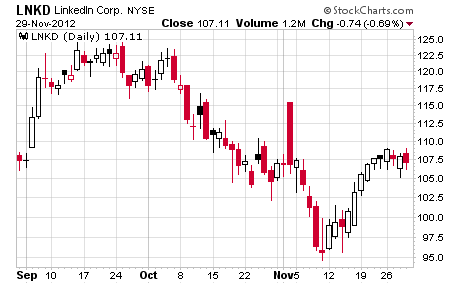 Internet leadership is a welcome element in the current rally but there are many reasons to be cautious here with the fiscal cliff banter an added element of uncertainty. I am not optimistic the two sides will be able to agree. The Dems want to focus on revenue and The GOP appear willing to concede to some degree on the issue but want spending addressed, which so far has gone unanswered. Politicians love to give things away, even if they can't possibly pay for them. Both parties know the Debt Ceiling is going to be hit in early 2013, an added dynamic.
The best we can do is let the market set the direction, identify the stocks that are leading and implement the appropriate risk management for the macro environment. Right now the market is suggesting that if we do get a Santa Claus Rally the Internet Sector is poised to deliver some Christmas gains.
Disclosure: I am long FDN. I wrote this article myself, and it expresses my own opinions. I am not receiving compensation for it. I have no business relationship with any company whose stock is mentioned in this article.
Disclaimer: Past performance does not guarantee future results. Investments are subject to risks including loss of principal. This presentation is for informational purposes only and is neither an offer to sell or buy any securities. A variety of sources we consider reliable have provided information for this presentation but we do not represent that the information is accurate or complete.