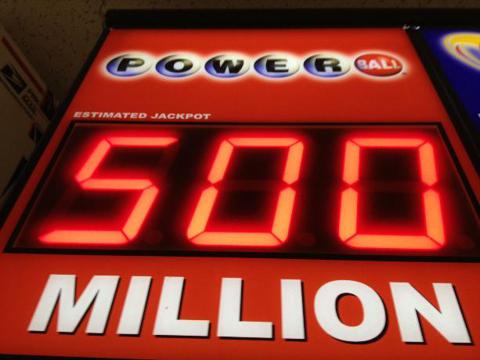 There were only two news stories this week. The first was the $500 Million PowerBall Jackpot, and the other was the flurry of activity around "special dividends."
For those less cynical than I, there is no thought that insiders of companies such as Las Vegas Sands (NYSE:LVS) stand to benefit to the tune of a few winning PowerBall Jackpots, while regular shareholders, as I am, will just get hit with a tax bill that they would ordinarily not have been subject to paying.
But to be totally fair, I don't have the need to replenish my cash after pumping $100 million into a presidential campaign. But the nearly $1 billion that will be left over after taxes makes that $100 M seem like a good investment.
Of course, even the non-cynic would wonder about borrowing, albeit at historically low rates, in order to fund a special dividend, as Costco (NASDAQ:COST) is reportedly doing. Nice -- pay corporate taxes on profits, pay capital gains on the dividends and then pay interest costs.
The real cynic will suggest that those taxes are being paid without really getting anything in return, other than transferring share value from one pocket to another. The last time so much money disappeared was when Jon Corzine was keeping an eye on its comings and goings. To this day, no one has followed up on my suggestion that his pants pockets be checked.
Interestingly, while an analyst pointed out that recent dividend increases have not resulted in multiple expansions, the market, however, loves the announcement of these special dividends and drives share prices higher. So as long as they stay elevated, why be cynical?
On the other hand, my cynicism has paid off in one way. After the PowerBall drawing, I have $2 more in my pocket than many other people, having calculated that the odds of winning the jackpot was 12 times greater than my using the treadmill in my basement, but still not great nor special enough for a wager.
At least with stocks, there's a chance of getting your money back, although you can't necessarily say the same thing if you actually step foot into the Las Vegas Sands.
Also in the "special" category, Groupon (NASDAQ:GRPN) CEO Andrew Mason referred to Groupon as being a "special company" on Wednesday. So special, that if you lined up all of the cigarettes being smoked by people on line to buy Powerball tickets, they still wouldn't stink as badly as Groupon's performance. I nearly purchased shares this week with some stray cash, but then thought that it wasn't special enough to throw money at it. I did think differently after it went higher on speculation that being special wasn't special enough to run the company. As it would turn out, being special is enough.
It seems that the rest of the year we will be held hostage to those special someones, including some lame ducks that may do the right thing, as opposed to the politic thing, as we count down to the "fiscal cliff."
Unfortunately, each time someone in a leadership position gets in front of a microphone, the immediate market movements dwarf all of these special dividends and Jackpots. Since this Sunday morning's talk shows will be replete with players from both sides talking up their proprietary love of nation, Monday could be an interesting day, despite the fact that no one is really running for election at the moment and there really shouldn't be any over the top comments.
But there will be.
As usual, the week's stock ideas are presented as being either in the Traditional, Momentum, Double Dip Dividend or Premiums Enhanced by Earnings categories (see details). This week, for some reason, the picks are skewed toward the Momentum and Earnings related side, an irrational expression of "Risk On," a phrase that probably means little when the market can swing in either direction on the basis of a single uttering and then whipsaw as the sentence is completed.
After a hard week for retail, Kohls (NYSE:KSS) has finally returned to the last price at which I owned shares and subsequently had them assigned. The wait for the return was longer than I had expected. It happens to go ex-dividend on Monday morning, so it's too late to double dip by the time you read this article, but I did so on Friday afternoon, having sold the $44 December 22, 2012 call option (for purposes of illustration, the appended details includes ROI based upon both dividend eligible and no dividend share purchases).
Norfolk Southern (NYSE:NSC) has also had a rough going lately and is another stock that I haven't owned for a while. With all of the talk of decreasing demand for coal and iron, Norfolk Southern reflects the pessimism. I think it will be among the leaders in recovery, even if that recovery is in China. The trickle down sentiment and optimism should help stabilize its share price.
So much for the Traditional picks. Instead, probably due to some recent price drops, but without real evidence that their stories are about to be undone, a number of more speculative plays have appeal this week.
Lexmark (NYSE:LXK) isn't really very speculative, although after announcing that they're getting out of the printer business, I'm not really certain what they actually do to generate income. I currently own shares that got crushed after disappointing earnings awhile ago. After receiving a premium and dividend or two, I uncharacteristically sold a January 2013 call and basically forgot about that specific lot of shares for about six months. In the meantime, the shares have recovered and paid a few more dividends. To further reduce the pain, in the interim, some short-term lots were bought, calls sold and shares assigned.
My shares of Baidu (NASDAQ:BIDU) purchased just this past week were assigned. After a large drop in Friday's trading, I think I'm ready to pick up shares again, despite the fact that they will be at a higher price than the original purchase. Baidu fell about 20% following its earnings release recently and seems to have support at the $92.50 level. Its ROI from selling calls is a little lower than I normally would like, but that's an accurate description of just about everything, as volatility remains so low.
Cliffs Natural Resources (NYSE:CLF) has become a household name, if you live in a household that doesn't communicate much or if you watch a lot of business news. I'm a little surprised that it hasn't bounced back to an appreciable degree since it presented some bad operating news and Goldman Sachs (NYSE:GS) downgraded shares. Given the way Cliffs tends to trade, I would have thought that a week would have been sufficient. Since it's hit its annual low, I may be ready for a small position again.
VMWare (NYSE:VMW) may also not really be a speculative stock, as it has a proven product and customer base. As long as competition stays muted, it should do well with its proprietary approach. I haven't owned shares in about two years. The last time I did so, it was my oldest son's first time pushing the buy order button, as he was the protagonist in making the purchase. In return, he received 50% of the profits. Not a bad deal, especially since he had no downside risk, other than my eternal scorn.
The final Momentum stock for the week is none other than AIG (NYSE:AIG) again. Always the bridesmaid would describe it well. It must be achieving some kind of respectability, as the attractiveness of its premium relative to the risk seems to be decreasing, but it's still appealing enough in these days of depressed volatility to at least consider taking to the dance.
The lone Double Dip Dividend play of the week is Williams Co (NYSE:WMB). I currently own shares and have also had some lots recently assigned at lower prices. I often like a new entry into Williams when it is about to go ex-dividend. It, along with many of my current positions, seems to have been hit unduly hard, but picking up cheaper shares and selling calls leading to those shares' assignment just helps to offset the paper losses and makes it easier to accept for the time being.
This week, there are two potential earnings related plays. As is usually the case, the stocks selected for consideration have shown that they are very capable of exhibiting outlandish moves in either direction upon earnings, or sometimes for no reason at all.
Pandora (NYSE:P) is among those companies that has a questionable business plan, but it is not run by Andrew Mason. The only real downside to this particular choice is that only monthly options are available, and I prefer not to have a long noose around my neck.
On the other hand, Lululemon (NASDAQ:LULU) has weekly options, but can also have large price shifts. As with Green Mountain Coffee Roasters' (NASDAQ:GMCR) selection in this category the previous week, sometimes selling puts will provide a better ROI, so I'll look at that possibility as trading begins early next week and it's time to build my own jackpot.
Traditional Stocks: Kohls, Norfolk Southern
Momentum Stocks: AIG, Baidu, Cliffs Natural Resources, Lexmark, VMWare
Double Dip Dividend: Williams Co (ex div 12/5)
Premiums Enabled by Earnings: LuLu Lemon (12/6 AM), Pandora (12/4 PM)
Remember, these are just guidelines for the coming week. Adjust accordingly with market movements, and you'll have the makings of a healthy income stream for the week with reduction of risk.
Disclosure: I am long GRPN, KSS, LXK, WMB, GMCR, and I may initiate purchases in AIG, BIDU, NSC, LULU, P, CLF, VMW. I wrote this article myself, and it expresses my own opinions. I am not receiving compensation for it (other than from Seeking Alpha). I have no business relationship with any company whose stock is mentioned in this article.