VIX - Market Sentiment:
Friday, S&P futures were mostly flat to close out the final week of trading in November. November opened at 1412 on the S&P and closed at just a hair over 1416. The futures traded in a fairly tight range, moving just 12 handles top to bottom. Again, it appears the declining 50 dma provided short term resistance of 1418, as we were not able to push through this level for the second day in a row. Monday is the beginning of a new month of trading, so don't be surprised if new month money flows could attempt to push us through this level for a third day in a row. A check of the NYMO closed with a reading of 56.52 yesterday and should pull back to the 40-45 level after today.
The spot CBOE Volatility Index (VIX) began to creep higher heading into the noon hour and never looked back. The VIX hit a low of 14.89 before moving higher as the market appeared to take profits ahead of the new month. This is interesting, as typically the VIX "comes in" heading into the weekend, but continued to push higher as the day progressed. Volatility ETF (NYSEARCA:VXX), 2x ETF (NASDAQ:TVIX), and alternative 2x ETF (NYSEARCA:UVXY) moved higher throughout the day as front month futures finally got a bid. This was somewhat capped, though, as net premium of puts was also overall purchased. It should be noted the VIX futures contracts traded on light volume, so if we do not get any follow through selling (Volatility buying) on Monday, the volatility ETFs will most likely get killed on Monday. It is worth noting that today is the first day I have seen in a very long time where the put to call ratio was near 120%. Typically, you do not see this unless you are on a down day on heavy volume, so keep some powder dry.
(click images to enlarge)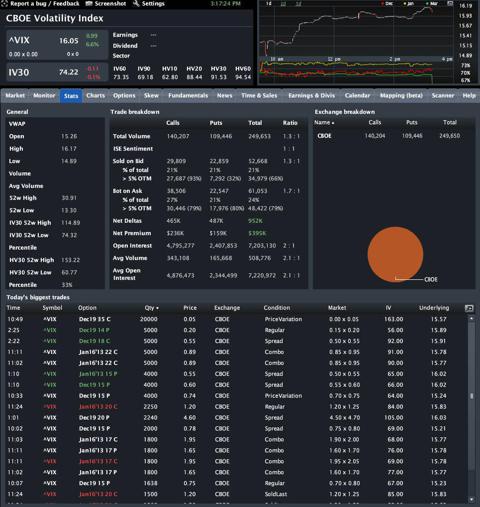 Statistics and Screenshot Provided By LiveVol
VIX futures are below.
Yesterday
· December VIX futures 15.40
· January VIX futures 17.10
· February VIX futures 18.30
Today
· December VIX futures 15.58
· January VIX futures 17.15
· February VIX futures 18.35
Options Paper:
Volume today heading into the final hour was again pretty average, trading just 14M contracts.
S&P ETF (NYSEARCA:SPY) led the way as usual, with 2.9M contracts traded followed by Apple (NASDAQ:AAPL), trading just 701K contracts. For those who follow my trades on Twitter, I did short the almighty AAPL today through puts, as a close below 585 could send us down to 571 quickly next week as the computers re-calculate what to buy and sell technically. I do have a pretty tight stop on this, and anything above 590 will force me to exit the trade and move on. Facebook (NASDAQ:FB) continues to push higher again, trading more than 230K contracts, followed closely by both the Silver ETF (NYSEARCA:SLV) and Gold ETF (NYSEARCA:GLD), which it pains me to know I was going to short yesterday, but did not.
One bullish play today came from Coca-Cola Enterprise (NYSE:CCE). More than 21K of the 32 strike calls traded today, buying nearly 20K of them for .30. This effectively is a 600K bet, or 2 million share bet, to the upside CCE will run north of 32 prior to December expiration. Calls have been nibbled in this name over the last couple of trading days, but today was a large bullish bet. Typically, this name only trades just 2K contracts in all strikes, so volume is more than 13x average daily volume in this name. To top it all off, calls outnumbered puts more than 15:1 in today's trading session. Implied volatility soared in the front month as this bet was put on, driving up call premium quickly. I would like to join this trade, but will need to wait for a pullback in volatility, or I am considering using a calendar spread to take advantage of the large jump in IV30 in December options.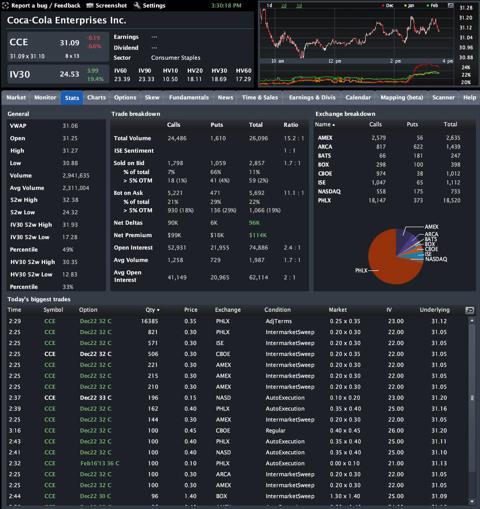 Statistics and Screenshot Provided By LiveVol
Popular ETFs and equity names with bullish/bearish paper:
Bullish Option Flows - ISE and % OTM calls bought on offer
Cablevision (NYSE:CVC) 88% of the 3.2K OTM calls bought on offer
Toll Brothers (NYSE:TOL) 3.5K bought
AK Steel (NYSE:AKS) 62% of OTM calls bought
Weatherford (NYSE:WFT) 60%
Blackstone (NYSE:BX) 3.5K
Sprint Nextel (NYSE:S) 4.3K of the 8K OTM calls bought on offer
Micron (NASDAQ:MU) 51%, follows put buying from yesterday
Clearwire (CLWR) 18.5K OTM calls bought on the offer as call rolls dominated the tape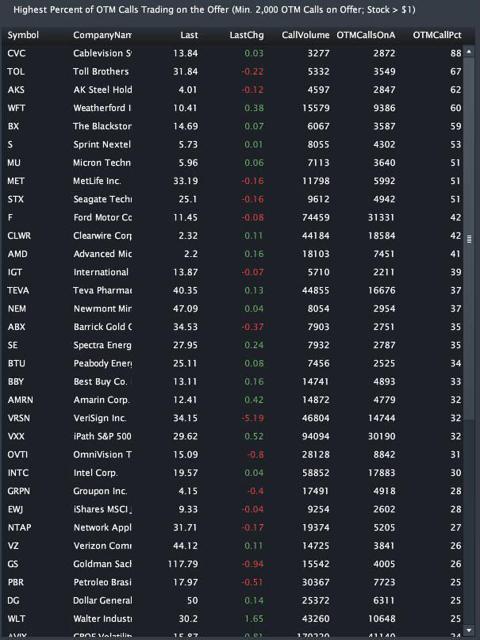 Statistics and Screenshot Provided By LiveVol
Bearish Option Flows - ISE and % OTM puts bought on offer
South Korea ETF (NYSEARCA:EWY) 98% of puts bought
Keryx (NASDAQ:KERX) 95% (longtime painful name for me as put buyers look for pullback)
IMAX (NYSE:IMAX) 6,661 puts bought on offer, mostly front month
HJ Heinz (HNZ) 92% of the 2.2K puts bought on offer
Live Nation (NYSE:LYV) I wrote about this stock yesterday (here) when I went short as 83% or 7.3K bought again today.
Applied Materials (NASDAQ:AMAT) 65% OTM puts bought.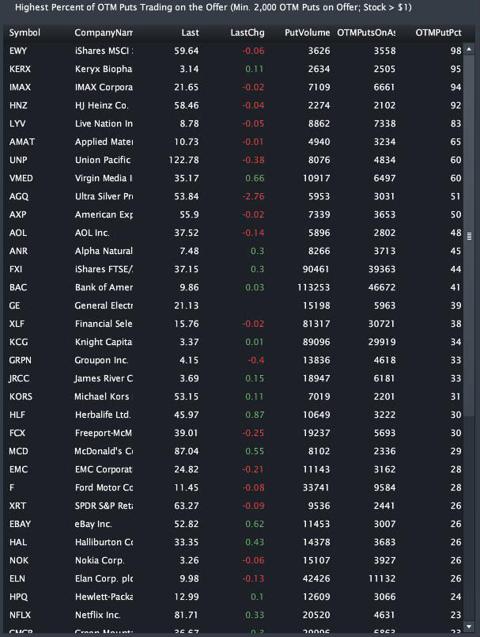 Statistics and Screenshot Provided By LiveVol
Disclosure: I am long AGNC, APC, KERX, MNST, MTGE, WMB, WLL, and I am short AAPL, FXE, LYV, RIMM, SPY. I am also long straddles in ABC.
Trades today: Closed EW calls, Bought AAPL puts, Bought WMB calls
I wrote this article myself, and it expresses my own opinions. I am not receiving compensation for it (other than from Seeking Alpha). I have no business relationship with any company whose stock is mentioned in this article.
Disclaimer: The opinions in this document are for informational and educational purposes only and should not be construed as a recommendation to buy or sell the stocks mentioned or to solicit transactions or clients. Past performance of the companies discussed may not continue and the companies may not achieve the earnings growth as predicted. The information in this document is believed to be accurate, but under no circumstances should a person act upon the information contained within. I do not recommend that anyone act upon any investment information without first consulting an investment professional as to the suitability of such investments for his or her specific situation.