Annaly Capital (NYSE:NLY) has long been considered one of the safest and most well-run agency mortgage real estate investment trusts (mREITs). However, this may no longer be the case. Annaly has not only paid out lower dividends than other similar mREITs, but has also not shown the book value increases that the others have. Annaly did not aggressively raise its leverage ratio when interest rate spreads were high, and therefore its investors lost out on potential gains. Annaly also recently announced the acquisition of CreXus (NYSE:CXS). This is a confusing move since CreXus contains a different mix of assets than Annaly. Fellow SA contributor Zvi Bar wrote a nice piece on what Annaly maybe looking for in buying CreXus.
Annaly has been consistently underperforming its peers it is sector over the last couple of years. Rivals in the agency mREIT sector include CYS Investments (NYSE:CYS), Hatteras Financial (NYSE:HTS) and American Capital Agency (NASDAQ:AGNC). As shown below, its book value has not kept pace with these peers: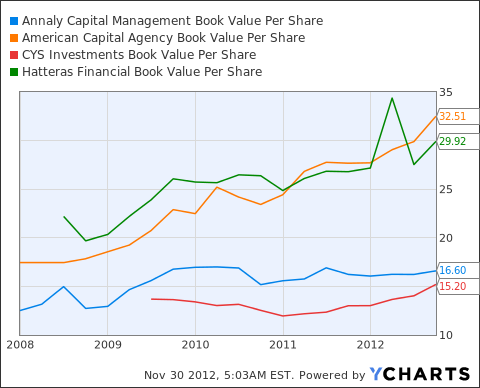 NLY Book Value Per Share data by YCharts
You can also see how Annaly has lagged the others in terms of its dividend:
NLY Dividend data by YCharts
Annaly is also showing some worrying signs with its payout ratio. Last quarter Annaly paid out 99% of its net interest income in common share dividends, preferred share dividends, and expenses. This is not a good sign since Annaly needs to retain some income to buy assets to replaced the ones that are prematurely paid. This prepayment is labeled CPR and for Annaly is has consistently been around 20% per quarter. To make matters worse for Annaly, is has to pay a premium of over 3% to buy these assets.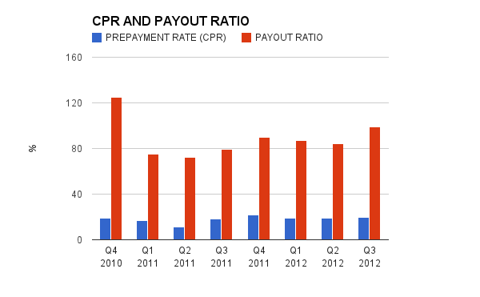 Here is a graph of Annaly's dividend payments and expenses plus preferred dividends. Note how the expenses and preferred dividends are becoming a larger share of total payouts: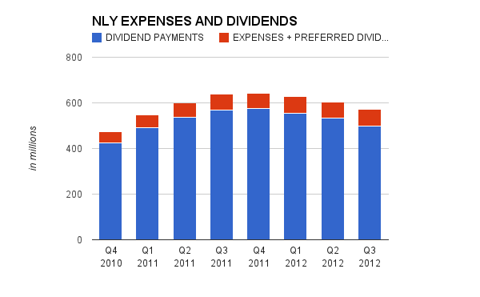 Next here is a chart of these payouts along with Annaly's interest income. Please note how razor thin the margin between them has become: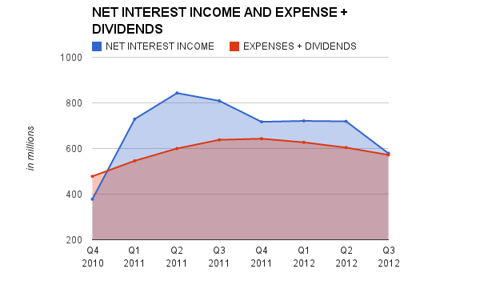 The average payout ratio over the last 8 quarters for Annaly is about 85%. Assuming Annaly pays out this 85% and a similar interest income next quarter of $579 million, we arrive at a figure of $492 million. When we subtract the $72 million in fixed costs (expenses and preferred dividends) Annaly had last quarter we arrive at $420 million. Assuming Annaly has a similar number of shares outstanding of 997 million, we arrive at an expected dividend of $0.425 next quarter. This would be a reduction of 15% from the current dividend of $0.50. Please note that Annaly will be buying back shares in Q4 and the total shares outstanding and interest expense may vary. Also note that when Annaly buys back these shares it will boost its book value since the current price is below book value.
Please also note that Annaly may also generate income from selling assets. However doing so would result in a return of capital and hence a decline in book value.
The final and most devastating chart for Annaly would have to be its interest rate spread over the last 8 quarters. The interest rate spread has plunged to 1.02%. The spread was at 2.08% during Q3 2011. This means it has been cut in half in a year.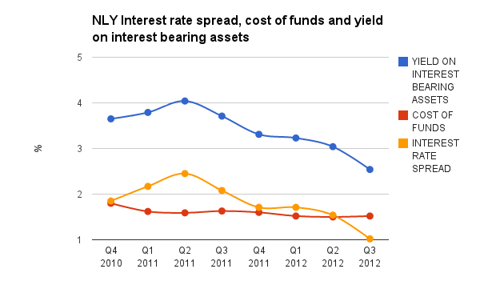 Annaly could escape a dividend reduction if mortgage yields were to increase or if it could somehow lower its cost of funds. However both of these scenarios are unlikely. Cost of funds for Annaly have been around 1.5% and realistically could not get much lower while mortgage yields have been sent lower as a matter of public policy.
I would avoid Annaly at this due to the lower expected dividend, its buying of non core assets in CreXus and prior poor performance. I would suggest that for those looking for a better run mREIT, that AGNC and CYS (here is a piece I previously wrote on them) are better alternatives. Do not settle for the underperformance that Annaly has displayed.
Disclosure: I am long CYS. I wrote this article myself, and it expresses my own opinions. I am not receiving compensation for it (other than from Seeking Alpha). I have no business relationship with any company whose stock is mentioned in this article.