In my article of April 30, I gave a buy recommendation for Royal Dutch Shell (RDS.A, RDS.B). Nothing has changed so far; I am still bullish about the company.
As a Dutch living in the Netherlands, investors ask me sometimes which are the most famous Dutch companies listed on NYSE Euronext Amsterdam. I always answer Royal Dutch Shell, Unilever (NYSE:UL) and Heineken. Other companies with great businesses in the U.S. are Ahold, Akzo Nobel and Reed Elsevier.
My focus in this article is again Royal Dutch Shell.
Some History
Royal Dutch was founded in 1890 by Aeilko Jans Zijlker to drill for oil in the Dutch West Indies (Sumatra). Its stock was oversubscribed four-and-a-half times at its first flotation. Shell finds its origins in the oil transport and storage business based on a large tanker fleet, when it was founded by Marcus Samuel as the "Shell Transport and Trading Company" in the United Kingdom in 1897. Under the leadership of Henri Deterding, both companies were combined into Royal Dutch/Shell Group in 1907, with Royal Dutch (production and refining) holding 60% and Shell (transport and storage) owning 40%, but both continuing to exist as separate companies. Finally in 2005, both companies were fully merged into one legal entity called Royal Dutch Shell plc, which is headquartered in The Hague (Netherlands), but is trading in London, Amsterdam and New York.
Royal Dutch Shell is now a fully integrated oil & gas company, which produces, transports, and refines oil, gas and petroleum products. There are two shares in issues: "A" and "B" shares. The "A" shares belong to the former Royal Dutch company and trade on the Amsterdam exchange, while the "B" shares are trading as the former Shell Transport and Trading Company Plc in the United Kingdom. The main difference between both shares relates to the taxation of dividends, with the Dutch "A" shares being subject to withholding tax restrictions.
Investment Case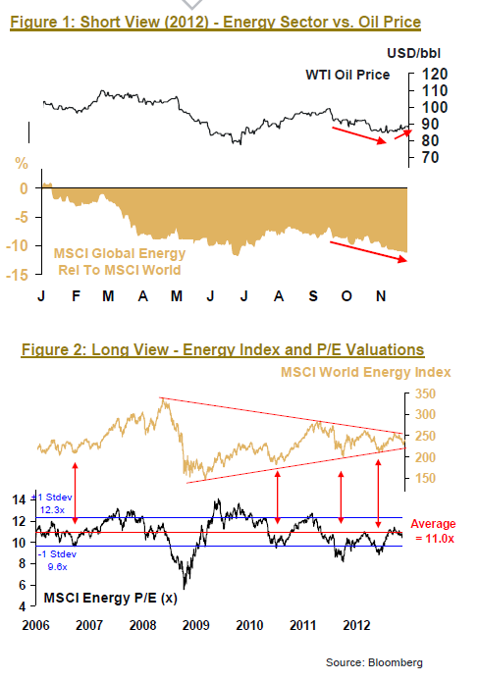 Recent Developments in Energy Sector
As investor sentiment turned risk-averse in Q4, oil prices declined and energy underperformed again (Figure 1). The energy sector trailed the MSCI World index by 2.6% in Q4 and widened the relative underperformance to 11.1% in 2012.
Outlook
First: Improving global growth prospects based on "green shoots" in China will support oil prices. Among the green shoots indicating faster expansion are stronger housing demand and hiring in the U.S. and accelerating factory output and retail sales in China. Oil prices seem to have bottomed, while the energy sector continued to underperform (Figure 1).
Second: If sentiment improves, low energy valuations could provide a share price catalyst, as sector P/E (10.6x) is already below average P/E of 11.0x (Figure 2)
While the energy sector has recovered from 2009-lows, it is locked into a triangle formation. Past share price gains occurred after the sector P/E hit the lower end of the valuation range.
Royal Dutch Shell
In an environment of volatile oil prices, integrated oil companies benefit from their defensive character because their earnings and share prices have a relatively low correlation to the oil price movement (compared to other energy companies). While oil prices remain volatile and investors are debating at which speed the global economic recovery will continue to proceed, integrated oil companies such as Royal Dutch Shell can still provide a downside hedge against future oil price weakness. In this context, Royal Dutch Shell provides an interesting combination of low valuation with a high dividend yield.
In addition to the solid value, the company comes with a "growth option" that is primarily based on two mega projects in Qatar (Pearl gas-to-liquids and Qatar 4 LNG) and one long-life project in the Americas (oil sands, deep water and unconventional gas). These 25-year long-term projects in Qatar and in the Americas can deliver more predictable future production growth across the whole commodity price cycle and will effectively "de-risk" the company's resource base.
Q3 Results
Royal Dutch Shell reported a 6% year-over-year decline in clean net profit (after inventory revaluations and exceptional items) to $6.6 billion in Q3, which was slightly (4%) ahead of consensus expectations. Net earnings in the upstream unit dropped year-over-year by 10%, driven by lower realised oil and gas prices and rising exploration cost in addition to a 1% decline in production volumes (mostly due to divestments and unplanned maintenance downtime). LNG volumes rose year-over-year by 4%. Downstream earnings fell by 5% on the back of lower chemical earnings due to rising feedstock prices in Europe and falling demand.
After previously guiding for 2-3% per year production growth for the 2009-2012 time period based on a full pipeline of new exploration projects, the company upped its 2014 volume target to 3.7 million boe/day, which now implies 3.3% per year volume growth until 2014. Management raised its gross capex guidance (before asset disposals) to $26-30 billion per year for 2011-2014 to finance the long-term growth. The dividend policy will be aligned with its major peers, now targeting dividend growth in line with underlying earnings (previously inflation-beating dividend growth).
Wall St Consensus vs. Performance
For fiscal year 2012, analysts estimate that RDS.A will earn $8.51. For the 3rd quarter of fiscal year 2012, RDS.A announced earnings per share of $2.28, representing 27% of the total annual estimate. For fiscal year 2013, analysts estimate that RDS.A's earnings per share will grow by 7% to $9.12.
Wall Street Consensus Estimate

Fiscal
Years
Avg
High
Low
No. of Est.
Est. P/E
2013
9.12
11.03
8.31
11
7.3
2012
8.51
8.82
8.25
12
7.9
2013 vs. 2012
7%
25%
0.7%
-8%
-8%
Q4'13
2.35
2.54
2.24
4
28.5
Q4'12
2.23
2.44
2.11
6
30.0
Q4'13 vs. Q4'12
5%
4%
6%
-33%
-5%

A company's earnings outlook plays a major part in any investment decision. Standard & Poor's organizes the earnings estimates of over 2,300 Wall Street analysts, and provides their consensus of earnings over the next two years. This graph shows the trend in analyst estimates over the past 15 months.
Final Note
With a P/E ratio of a little bit more than 8 and a dividend yield of more than 4%, Royal Dutch Shell is a perfect play for value and dividend orientated investors.
Disclosure: I have no positions in any stocks mentioned, and no plans to initiate any positions within the next 72 hours. I wrote this article myself, and it expresses my own opinions. I am not receiving compensation for it (other than from Seeking Alpha). I have no business relationship with any company whose stock is mentioned in this article.