Actionable Items:
Highest Positive Spread: Cornerstone Strategic Value Fund (NYSEMKT:CLM)
Focus Stock: Cohen & Steers Select Preferred Income (NYSE:PSF)
Last Week's Focus Stock: New Germany Fund (NYSE:GF)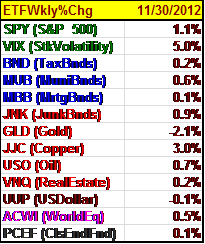 Week of 11/30/12: The equity index was a positive (1.1%) and the bond prices were again on the rise (0.3%). The industrial commodities were (1.5%). The US Dollar was off by -0.1%. The entire "index" (without the VIX) was up by 0.4%. The market's volume was up 26% this week after the average holiday week.
Spending Losses and Tax Cuts: Mitch McConnell (Senate Minority Leader) outlined his wish lists for changes in Medicare and Social Security spending (fair enough). While he supports income on the richest, he tax not give away the prevailing system.
Most of Mr. McConnell's wish list for income taxes will be "smashed". The republicans did understand the way the majority was voting.
CEF Weekly Review: On average, the 13 closed-end fund (CEF) types registered a share price increase of +0.4% for the week ending 11/30/12. The high-low spread (average percentage price change difference between the highest and lowest fund types) registered this week was +2.9% versus last week's high of +2.0%. On an aggregate unweighted basis, the weekly average price change for the approximately 525 CEFs in the GrowthIncome database was +0.5%.
The PowerShares CEF Income Composite (NYSEARCA:PCEF), an ETF that invests in taxable fixed-income CEFs, advanced +0.1% for the week. PCEF is now up 7.3% yield-to-date on price appreciation. Currently, PCEF's trailing twelve months' yield is 8.0% (YTD monthly total return of 15.3%).
CEF Weekly Fund Type Performance: The leaders in the CEF index were GenEqFnds (1.7%), WrldEqFnds (1.0%) and OtherFnds (0.8%). Both LoanPartFnds (-1.2%) and InvGrdBndFnds (-0.6%) were laggards. Both LoanPartFnds and InvGrdBndFnds were a negative PrcNAVSprd of -1.7% and -1.0%, respectively and the Unweighted PrcNAVSprd was a negative -0.2% (equity over NAV).
Highest Focus Stock for the Week: Cornerstone Strategic Value Fund price increased 5.2% with a change of a positive 0.5% for the NAV. This would indicate a positive PrcNAVSprd of 4.7% (prices change relative to NAV change-negative at best). CLM has concluded its "rights offering" to holders of its common shares. The "rights" will actually expired on November the 30th at five o'clock.
The "rights offering" is 107% of NAV and 90% of share value. So the "rights offering" is receiving its NAV's shares. New holders would be opportunistic to receive shares that are priced on less than share values. The dividend rates will be going down to a discount 7.8% from January to February.
Lowest Spread and Focus Stock for the Week: Cohen & Steers Select Preferred Income share price declined -2.3% and its price advance was 0.6% from NAV; its PrcNAVSprd declined 3.3%. The share price yield is 7.7% and its premium to discount is about 0.6%.
Last Week's Focus Stock: Last week we had New Germany . The stock was up 2.1%.
Disclosure: I am long PHK, GF. I wrote this article myself, and it expresses my own opinions. I am not receiving compensation for it. I have no business relationship with any company whose stock is mentioned in this article.