MBIA (NYSE:MBI) is expected to report Q3 earnings Wednesday before the open with a conference call scheduled for 11:00 am.
Guidance
Analysts are looking for EPS of (14c) on revenue of $429.29M. The consensus range for EPS is ($1.66) to 61c, according to First Call. Only one analyst provided a revenue estimate.
CNBC reported last month that the government was considering taking a stake in MBIA and other bond insurers.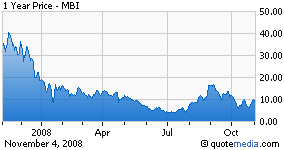 MBIA received some bad news when Moody's placed the company's Aa3 insurance financial strength rating on review for a possible downgrade on September 18. The ratings agency noted that it took the action following its upward revision to cumulative loss projections for subprime RMBS exposures. Moody's added that its review of MBIA's ratings would focus on the impact of increasing cumulative loss rate projections on MBIA's mortgage-related exposures and risk-adjusted capital position.
The ratings agency also noted that it had previously increased its estimate on losses from 2006 vintage subprime first-lien pools to an average of 22%, compared with the agency's estimate of 14% to 18% in January 2008. MBIA responded by announcing that it had enough liquid assets to fund potential termination payments in the vent that it was downgraded.
In a separate matter, the Financial Times recently reported that MBIA has filed a lawsuit against Bank of America's (NYSE:BAC) Countrywide Financial for allegedly falsely representing to investors and MBIA that mortgage loans in the form of guaranteed bonds were originated in "strict compliance with its underwriting standards." MBIA is suing over guarantees that it provided for $14B of Countrywide's mortgage bonds.