My goal is to find undiscovered high yielding dividend stocks. Every market has stocks with high dividend yields based upon the sector's strengths and the company's leadership within its respective sector. My favorite current income name is Northern Tier Energy LP (NYSE:NTI). The company, based upon recent refining margins, should pay in excess of $4.00 distributions for the next 12 months. Based upon a current stock price of $23.30, this results in a 17% income yield.

Northern Tier Energy is a Master Limited Partnership (NYSE:MLP) that focuses on downstream refining and retail operations. The partnership holds a 17% stake in a pipeline company. Northern Tier Energy is a new type of MLP called a variable MLP that pays out substantially all its cash as unit holder distributions but does not promise regularity of payments. This is unlike other MLPs which operate pipelines and other energy chain assets under long term contracts and virtually assure unit holders of regular and increasing distributions. In Northern Tier Energy's case, distributions regularity and levels are not guaranteed.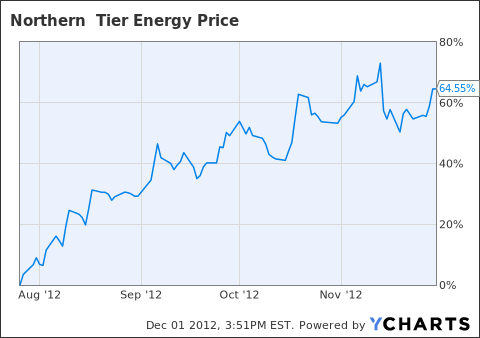 Distributions
The company announced their first distribution, $1.48/per unit, on November 12th. The distribution went ex-dividend on November 19th. This article highlights why the refinery's spread margins favor higher distributions going forward.
The significant profit margins are due to the refineries access to the Canadian oil production and Bakken, North Dakota oil production. Northern Tier Holdings' refinery is located in Minnesota. This proximity to Canada and Bakken permit a "location, location, location'' advantage. Canada and Bakken are two of the cheapest oil sources. This provides Northern Tier Energy a benefit on cheaper oil expenses and benefit by the higher refining revenues.
Risks
Refineries, historically, have a cyclical earnings' model. Northern Tier Energy has a unique risk. The partnership has one key refinery. On November 27th, there was a temporary shutdown as the refinery announced a potential problem.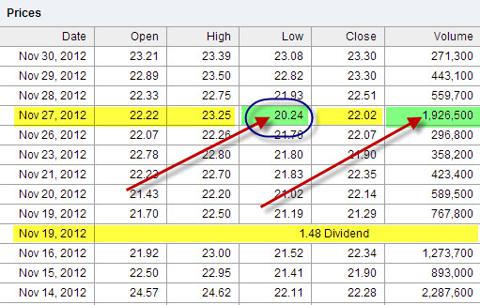 As the above NTI stock price indicates, volume was 5x the normal rate and the stock hit a $20.24 low as "worries" forced investors out of positions. This is why stop limit orders are ineffective in the world of high frequency traders. An investor must use options to prevent being shaken out of a position.
Substitute Refinery Idea
If you are not a hands-on investor or do not hedge positions, I would recommend consideration of larger refineries. These would include Phillips 66 (NYSE:PSX) or Valero Energy Corporation (NYSE:VLO). Both Phillips 66 and Valero Energy have multiple refineries across the country. They have various refinery profit margins based upon location, current refinery crack spreads, and current economic environment. They are not a one refinery business model.
Business Strategy
Northern Tier Energy has a three pronged strategy: i) optimizing crude oil purchases to reduce feedstock expenses and leverage St. Paul Park Refinery's refinery complexity and location advantage to process a variety of crude oil grades (light sweet, light sour, heavy) from surrounding oilfields in the US and Western Canada; ii) leveraging its SuperAmerica retail business to maximize sales of transportation fuels directly sourced from its refinery and expanding its SuperAmerica retail operations with new, profitable stores, and iii) selectively looking at synergistic acquisitions that boost the utilization of Northern Tier Energy's existing refinery and retail operations.
Northern Tier Energy's assets include these refining operations: i) a refinery in St. Paul, Minnesota, with capacity to process 74,000 barrels per day; ii) transportation and storage assets that include a loading river dock on the Mississippi River in Minnesota, a light products truck terminal, storage tanks, a heavy oil trick rack and rail loading facilities; iii) a 17% equity ownership position in the Minnesota Pipeline Company; and retail operations that include SuperAmerica branded convenience stores in Minnesota and Wisconsin.
Northern Tier Energy's Formation
Marathon Oil Corporation (NYSE:MRO) sold its rights to the St. Paul Park Refinery and other assets to Northern Tier Holdings LLC for $554 million. Northern Tier Energy was formed to own and operate this refinery. For tax purposes, Northern Tier Energy is officially classified as a MLP. The company is headquartered in Ridgefield, CT, and currently has 2,667 employees in its refining, retail and pipeline sectors. On July 26, 2012, Northern Tier Energy conducted its initial public offering (NYSEARCA:IPO) with 16.25 million units offered at a price of $14 each, well below the planned offering range of $19-$21 because of certain unwelcome statements in its SEC S-1 Registration Statement regarding the use of proceeds, its variable MLP structure and other covenants that caused its offering price to be reduced down substantially to the $14 range. Through the IPO, Northern Tier Energy raised $227.5 million with IPO expenses totaling $9 million.
St. Paul Park Refinery
Located in St. Paul Park, Minnesota, this refinery contributes the most to Northern Tier Energy's income. This refinery has a capacity of 74,000 barrels per day and has a Nelson complexity index of 11.5 which essentially gives it the ability to process a variety crude oils into highly refined products. Refineries in the US have an average Nelson complexity index of 9.5, so this is an above average refinery. Moreover, this is one of only a handful of refineries in the state of Minnesota and has preferred access to regional and Canadian crude for refining and distribution.
Minnesota Pipeline
In addition to the refinery, Northern Tier Holdings holds a 17% equity stake in the Minnesota Pipe Line Company LLC, which owns and operates the Minnesota Pipeline and transports roughly 455,000 bpd of crude oil.
Other Refinery Assets
Northern Tier Holdings also owns refined-product storage tanks, rail-car loading/unloading stations, and a dock on the Mississippi River. A large percentage of the company's gasoline and diesel transportation goes through these channels. Northern Tier Holdings' refined gasoline and diesel is sent to Marathon and SuperAmerica convenience stores.
SuperAmerica Convenience Stores
Northern Tier Holdings also owns and operates 233 SuperAmerica convenience stores in Minnesota, Wisconsin and South Dakota. These stores sell different grades of gasoline and diesel, tobacco products, beverages, beer, snacks and prepackaged items. Northern Tier Holdings recently started SuperMom's Bakery which sells baked goods and other prepared items.
Units
As of December 1st, 2012, Northern Tier Energy common units traded at $23.30, with a 52-week range of $13.00 - $25.80. Units trade at a price-to-earnings (P/E) ratio of 4.5x with a market capitalization of $2.14 billion.
Strong Refinery Spreads
The 3rd quarter 10Q filing highlights, the company's net income increased due to 42.6% higher refining margins in year over year comparisons.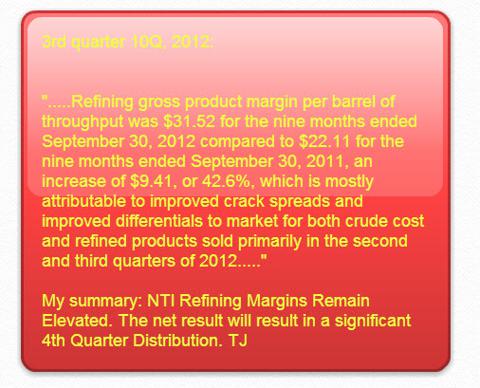 As the 2nd quarter vs. 3rd quarter data highlight, the 3rd quarter was a continuation of the strong refinery margins.

Northern Tier Energy released its 2nd quarter results, which showed solid improvements over the 2nd quarter, 2011. Northern Tier Holdings reported operating a revenue increase of 5.8%, to $1.15 billion, an 180% increase in operating income to $225.7 million and net income of $246.6 million, on a GAAP basis. This was a continuation of higher refining margins.

The 2nd quarter income gains were due to significantly improved refinery operating results from increased volumes and higher margins on refined products - up from $20.97 per barrel a year ago to $38.60 per barrel in the 2nd quarter 2012 due to an increase in benchmark spreads. The company experienced favorable pricing of refined products and favorable crude oil prices relative to the West Texas Intermediate (NYSE:WTI) benchmark. Total throughput, in the quarter, was 81,906 barrels per day (bpd), up substantially from 72,828 bpd in 2nd quarter 2011. As a result, sales volumes of refined products also rose to 88,773 bpd from 84,305 bpd a year ago.
Summary
Northern Tier Energy LP appears to be growing operating income and cash fairly well. The company's future prospects appear to be solid, albeit tied primarily to its refinery business. Due to refinery profit margins' cyclicality, the quarterly distributions that flow to the bottom line and to unit holders are up in the air. The company also has generous pay-in-kind (PIK) stock plans for management, along with other purchase commitments, that cloud the future of distributions in this variable MLP structure.
I believe Northern Tier Energy unit holders will receive an approximate 17% distribution yield based upon current refinery profit margins. I believe Northern Tier Holdings unit price will move towards $32/per unit. This would result in a 12.5% yield, assuming a $4.00 annual distribution. This move will occur after income investors accumulate Northern Tier Energy units and benefit by recognition of the current refinery crack spread profit margins.
Disclosure: I am long NTI, PSX, VLO. I wrote this article myself, and it expresses my own opinions. I am not receiving compensation for it (other than from Seeking Alpha). I have no business relationship with any company whose stock is mentioned in this article.
Additional disclosure: I have synthetic long positions in NTI, PSX, VOL - in addition to ownership in the common units/shares. TJ 12.01.12