India, with its storied history and a cradle of ancient civilization, an emerging market darling with 1.2 billion consumers, has always been a country of contrasts. While America's disparities in income and wealth have long been the topic of several media reports, to really understand wealth disparity, one must spend significant time in India. The disparity in the U.S. will pale in comparison. Today, it is no longer an unusual sight in the metros of India to see a Mercedes S Class sedan parked inside a palatial home, which is right next to a thatched roof one-room dwelling, out of which a frail lady emerges to glean firewood to cook the once-a-day meal with her dented and soot-black aluminum vessels. In India, such extremes in economic disparity are so glaringly obvious that one must be blind not to see at least one example of it in during a casual drive through most of its city neighborhoods.
The operating assumption behind investing in India are the people in the 'golden middle class' (everybody loves India's middle class), who form the bulk of the consuming class. A famous book by the late Prof. C.K. Prahalad (The Fortune at the Bottom of the Pyramid) cited impressive case studies of India's companies and institutions successfully innovating to bring incredibly low cost products and services to its consumers. The book makes a good case that it can indeed be profitable for companies to develop the right kinds of products and services to serve the needs of the people at the 'bottom of the pyramid', which is India's poorer equivalent to the West's 'other 99%', a phrase that recently entered the western media's vernacular. There may well be over a billion aspirants and dreamers in India (India has the youngest demographics among all BRIC countries, with one-third of its population below the age of 15) that need many products and services to elevate themselves to a standard of living that offers basic dignity and puts them on a path of economic growth. While India, as both a market and culturally-rich country, is exciting and vibrant, its capital markets are fraught with peril for investors who wish to benefit from India's growth in the future.
Investing in Indian Equities
There are structural restrictions in place that limit a retail investor's options to participate in India's growth story. As an individual residing outside India, you cannot directly invest into India's capital markets, unless you are part of what India calls 'Non-Resident Indians' (NRIs), Overseas Citizens of India (OCIs) or Persons of Indian Origin (PIOs). NRIs are Indian nationals living outside India, OCIs or PIOs may have had an Indian passport in the past before acquiring another citizenship or must be able to prove they have ancestral connections to India. NRIs can invest in India by having an Indian non-resident bank account first and then fund equity and bond market investments through that. Even for NRIs/PIOs/OCIs, their present country of citizenship and/or residency may impose regulatory requirements to disclose the earnings from investments in India for taxation purposes (consult your tax attorney or accountant).
For the 'foreign' individual investors, the options to invest in India are through emerging market funds, India-focused mutual funds and exchange-traded funds, which are generally actively managed. Even index fund fans will find that fund giants like Vanguard and Fidelity offer international index funds and emerging market index funds, which include a market-cap weighted allocation to India. Though not a concentrated allocation that an active investor may seek, a passive investor can get a low cost exposure to India through these index funds. In a later section, we will cover exchange-traded securities focused on India. All pooled investments through institutions (through mutual funds) are routed through the established investment channels that Indian regulations currently allow. The companies that can invest in India from outside are either called Foreign Institutional Investors (FIIs) or Overseas Corporate Bodies (OCBs). They can invest in Indian equity markets through participatory notes.
Growing Pains
While the routes to invest in India's capital markets are generally organized and regulated, the capital market itself is a maze with many pitfalls for the unsophisticated investor. Many investors (whether they reside in India or outside) are at a great disadvantage while navigating India's capital markets. In this article, I try to outline the areas that concern many investors. While India's market regulator Securities and Exchange Board of India (SEBI) is trying to improve transparency and fairness, India's equity markets are not nearly as 'equitable' as one would like. They favor the companies and their concentrated owner groups first, people with inside information and their confidants next, and if lucky, the mutual fund managers who have gained the trust of these companies and insiders over the years. Though there are public prosecutorial examples of insider trading, the process of justice takes years and the outcome barely a slap on the wrist (e.g., SEBI put a 2-year trading ban after 12 years of prosecution and a clear case of insider trading!).
There is widespread belief in India that for every case that comes to light, hundreds go undetected. After much wrangling, only now we learn that SEBI may get specific call-records, which are only circumstantial evidence, and wire-taps are not allowed. One Indian investor joked with me recently that if either Raj Rajaratnam or Rajat Gupta (who is a much-admired figure in India for his contributions and top level business connections) were Indian citizens and had this episode occurred in India, the insider trading case would: a) have never been detected by SEBI, or b) even if SEBI did, it would likely not become public, or c) even if it becomes public, they are unlikely to be found guilty, or d) even if they are found guilty, they would hardly feel a pinch - they will only be barred from trading for 2 years! Thanks to the relatively free press in India, one learns that even SEBI's actions are not always in favor of the small investor. In an attempt to improve liquidity and increase public ownership of its publicly-traded companies, SEBI has ruled that Indian companies that are publicly listed must have at least 25% of their shares outstanding available for the public, but the concentrated owner-groups are dragging their feet.
India's complicated politics with deep-rooted corruption
On the political front, Indian politics is highly fractured, with strong regional political parties (controlling high economic growth states like Gujarat, Karnataka and Tamil Nadu) who are increasingly defying the national government. After much public debate, the Indian Government enacted a law to allow foreign investments into its retail sector, but cleverly left the final decision for implementation to the states, many of which are opposed to its rollout. To draw an analogy, imagine after a bill passes both the U.S. House and the U.S. Senate and is signed into law by President Obama, the governors of Arizona, Michigan, Florida, Georgia and Iowa all publicly decry the law and decide not to follow it! What, then, is the legislative authority of a nationally elected Government and its elected House of Representatives (India's parliament)? Such is the fractious nature of India's politics.
The good news, as I write this article, is that the Indian equity market jumped 1.75% on November 29 to 19,170, a level not seen since the last 18 months, supposedly because of the clarity that the market finally saw in recent rush of market reforms announced by the Government. Still, given the complicated nature of India's electoral politics and governance, many quid pro quo deals are likely to be struck with strong regional powers, minority parties, ethnic influence groups. Therefore, it is quite likely that at least until the general elections in Spring 2014, India's market reform policies will vacillate between clarity and ambiguity, including possible withdrawal of some newly announced policies, until all the politically expedient concessions are made.
While India has world-class private sector companies, its public sector and political system are deeply mired in corruption. In 2011, India ranked 95th out of 178 countries in Transparency International, with many Indians accepting corruption as a 'way of life' in India in accessing public services, getting through the judicial and police system, and in all matters. Corporate India also had its share of scams, most egregious being Satyam, but by and large, the larger Indian companies are well run by professional management.
While the India's trends and economic growth story based on solid demographics, domestic consumption data and its well-run private companies remains intact, the practical realities of India throw many challenges to even a determined investor.
So, what should a global investor keen to invest in India do?
In this morass of investing environment prevailing in India, the uninformed investor (whether small or large) becomes the proverbial bakra ('goat' in Hindi) with many ways to get slaughtered. It does not matter if the small investor is a resident of India or someone with online trading access from across the world. Even managers of sizable global funds who don't understand the dynamics of investing in India are at risk. So, with all odds stacked up against the uninformed investors, how should one approach investing in India to benefit from its long-term 'growth story'?
On the accounting and financial standards side, there is some developing good news with India mandating the use of International Financial Reporting Standards (IFRS). This applies in phases, with the current phase covering all exchange-traded companies with a net worth (equity) exceeding INR 5 billion (~USD 91 million). From April 1, 2014, it is believed to apply to all of India's publicly traded companies. While the accounting statements of most Indian public companies (at least, those greater than USD 100 million net worth) may comply with a global standard (IFRS), the valuations, volatility and bid-ask spreads are an entirely different matter. Even today, India's retail investors are not allowed to place 'limit' orders beyond the trading day. The predominant mindset in India is to look at equity markets from a day trader's perspective rather than a long-term investor's.
International investors should note that the participation of India's retail investors into its capital markets is very low, at just 1.3% of the population. Compare this with U.S. retail investor participation at 28% and even China's at 10.5%. This means that almost all the Indian capital market monies are institutional, either foreign or domestic. India's equity market capitalization is about $1 trillion, but it bears mention that it is just about 2% of the world's market capitalization. So, any global investor having more than 2% exposure to India in their equity portfolio is clearly 'over-weight' India, with the expectation, perhaps, that the investor expects this portion to do better than other country allocations over the long term.
A U.S. investor can gain equity exposure to India through exchange-traded securities. The following ETFs and ETNs trading on U.S. stock exchanges focus on India (there are similar ones in other developed markets):
Symbol

Name

Price

Change

Assets ($000s)

Avg. Vol

YTD

WisdomTree India Earnings Fund

$17.97

0.22%

$1,056,690

35,04,923

15.19%

iPath MSCI India Index ETN

$56.47

0.36%

$444,323

75,558

21.13%

PowerShares India Portfolio

$17.64

0.28%

$401,508

7,37,766

8.22%

iShares S&P India Nifty 50 Index Fund

$23.67

0.42%

$334,552

1,82,000

19.85%

India Small-Cap Index ETF

$10.64

-0.09%

$72,243

1,25,527

21.88%

India Infrastructure ETF

$13.73

-0.15%

$55,320

10,402

18.36%

MSCI India Index Fund

$24.67

-0.16%

$24,670

23,365

n/a

Emerging Global Shares India Small Cap Exchange Traded Fund

$14.08

0.07%

$23,953

8,674

25.94%

Direxion Daily India Bull 3X Shares

$17.76

0.57%

$21,120

49,931

7.51%

MSCI India Small Cap Index Fund

$24.51

0.74%

$4,912

4,896

n/a

EG Shares India Consumer exchange-traded fund

$23.21

0.17%

$2,313

3,941

44.70%

* Data as of Nov. 27, 2012
The largest and most liquid is the WisdomTree India Earnings Fund (NYSEARCA:EPI), followed by iPath MSCI Index ETN (NYSEARCA:INP) and PowerShares India portfolio (NYSEARCA:PIN). The next one in terms of asset size (NASDAQ:INDY) is a fund that mimics the popular S&P India Nifty 50 Index. The Nifty 50 represents 50 of the largest companies in India that have substantial presence not only in India but have sizable international operations. This is India's answer to S&P 500 index, though in terms of relative prestige and size, it is probably closer to DJIA. The Nifty 50 companies are among the most marquee names in India, covering 22 essential sectors of the economy. In India, this index trades on the National Stock Exchange, which has 1652 companies listed, as of July 2012. From a global investor's perspective, the risk of investing in the remaining 1600 companies in India (beyond the top 50 companies) can be higher. The Nifty 50 companies offer the best scale, liquidity and transparency that one can reasonably expect in India. As of Sept. 28, 2012 data, the smallest company (Siemens' Indian arm) in Nifty 50 had a market cap of INR 603 billion (~$10.9 billion), and the largest (ITC Limited, consumer products to tobacco conglomerate) had a market cap of INR 14,781 billion (~$267 billion), with the average market cap at INR 3603 billion ($65.5 billion).
For any U.S. investor, a good place to start is the first 3 names in the above table of exchange-traded securities. With only 50 companies in the index and the fund using a 'sampling' approach to mimic the Nifty 50 index, there is always a risk of tracking error, but this ETF is worth looking. Though it has about a third of the asset size as EPI, I expect INDY to attract more investor attention in the future as it is a simple, indexed way to gain exposure to India's top companies in all major sectors of the economy.
Mitigating India-Specific Risks via Additional Metrics
Limiting to the really large caps of India and staying diversified in a fund like those mentioned above (EPI, INP, PIN, INDY) mitigates some of the risks mentioned earlier, but it is not, in my opinion, equivalent to investing in a broad-based comparable ETF in a U.S. stock market (like SPY or QQQ). The systemic risks in India are associated with factors like insider-driven market actions, weak regulatory enforcement and insignificant punitive actions, all of which should make a global investor beware of over-investing in India, who is perhaps influenced only by the headline figures from India's economy or impressive statistics on India's demographics and consumer sales data (e.g., India is on track to clock 326 million mobile phone sales this year alone, more than the entire U.S. population!).
While the likelihood of a massive scam on the scale of Satyam repeating in India may arguably be lower, the probability of investor value 'erosion' through the many ways in which significant owners (i.e. owner-CEOs or controlling families) and insiders (C-level executives and their confidants in the finance world) take advantage of their privileged position should worry any global investor. To a global investor seeking strong exposure to India, limiting to large cap index like Nifty 50 is a good place to start. In addition, valuation metrics (such as trailing P/E ratios) and historical trading ranges should be used as a reasonable guide to account for the potential for 'value leakage' while investing in India. It is my belief that India no longer deserves the prime valuations (P/E >20) that it once did due to various systemic and governmental factors in the current environment. However, if one applies the Market Cap/GDP ratio as a broad indicator of valuation relative to its economy, India today is trading near its 13-year average of 0.64 (Market Cap/GDP), which is about 40% lower than the peak in 2008. The lowest ratio was about 0.55, in early 2009, when the world was reeling from a deep recession. See chart from Trading Economics below on India's Market Cap/GDP ratio over the years.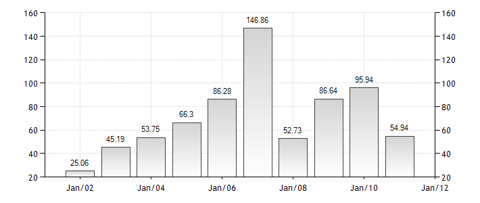 Combine this with an independent analysis of exchange rate history of India's currency, which at about INR 55 per US$ is in the lowest range from a historical perspective, giving a 'backward-tested' cushion for investors in U.S., assuming no further depreciation and the potential for a mean-revert to a long-term average in the range of INR mid-40's to a US$.
| | | | |
| --- | --- | --- | --- |
| Parameter | Recommended | Rationale | Recent Level |
| Market Cap/GDP Ratio | 0.6 or lower | Below long-term average, lower risk of market 'hype' and over-valuation. | 0.64 |
| P/E ratio (trailing) | 15 or less | Despite its challenges, India will remain a favored destination, so it is difficult to get really low P/E ratios for investors seeking an attractive entry point. | 17-18 |
| USD-INR exchange rate | 52 or higher | This is in the bottom quartile of historical exchange rates (past 12 years). Investing at these levels reduces downside risk while offering potential for future exchange rate gain when redeeming back in USD (overall assumption being India growth story is intact) | |
| Time for National Elections | <2 years, preferably <1 year | In a 5-year election cycle in India, the 'season' for massive posturing and populistic policies are in the last years leading up to the next election. This period will see populist government policies and hawkish comments on industry that undermine equity market valuations, so this metric is a qualitative 'guide' from an investor's perspective. Better to invest when the equity market sentiments are low. | Spring 2014 (<1.5 years from now) |
Conclusion
Whether you are a fund manager who does not have any 'privileged access' to India's investment opportunities or just a small investor, it would be to your advantage to consider the metrics table mentioned above to mitigate the country-specific risks that India has. I would not recommend individual stocks in India for direct investment unless you have a distinct advantage, say, as an industry expert who understands the business dynamics in India. If you are adventurous about individual stocks, limit yourself to companies with over $1 billion in market cap, and if you are interested in smaller caps, restrict to companies that have a stable history and at least $250 million in market capitalization. India offers great opportunities to discerning investors but caveat emptor.
Disclosure: I have no positions in any stocks mentioned, and no plans to initiate any positions within the next 72 hours. I wrote this article myself, and it expresses my own opinions. I am not receiving compensation for it (other than from Seeking Alpha). I have no business relationship with any company whose stock is mentioned in this article.