One mistake many investors make is that they get too emotionally involved with their investment. For example, if a stock they buy produces extraordinary returns, then it's the best stock in the world and the best company in the world and the best thing since sliced bread. And whenever someone criticizes their stock, raises questions about the company's products or performance, then they take it personally as if this criticism was targeted towards them.
And when investors get too emotionally involved with stocks, they lose sight of the real reason they invest in the first place. And that is to make money, either through yield or appreciation, both long and short-term.
As the saying goes, there is more than one way to skin a cat. By the same token, there is more than one way to make money in the market. All market participants irrespective of their time horizon use different techniques towards that goal. The end does justify the means as far as investing is concerned.
As a result, no one has the right to tell anybody else how to invest and no one has the exclusive right to define what investing means. As far as I'm concerned, all techniques and investment ideologies are fine as long as they produce yield and appreciation, whether long-term, short-term or anything in between.
Let's take Apple (NASDAQ:AAPL) for example. Apple without a doubt is a great company and one of the best companies ever and its stock has rewarded long-term investors far better than most people expected.
However, even Apple will at one point stop rewarding investors. There will come a time when someone else will come along and make a better gadget than Apple. I don't know when it will happen, but it will happen.
Will the new BB10 phone from Research In Motion (RIMM) be that new gadget that will replace the iPhone? I don't think so. However, the important thing to remember (as far as RIM's stock is concerned), is that it does not need to be for investors to make money in RIM.
All RIM needs to do is to gain some traction in the smartphone space and RIM stockholders can make a lot of money. Why you ask? Simply because RIM has been beaten down by so much, it won't take much for the stock to appreciate, if BB10 is only a partial success.
RIM does not have to go to $43 in twelve months from now to prove this point. Even if it goes to $20 it will produce extraordinary returns. You don't have to buy RIM because it's a better company than Apple or even because BB10 will be better than the iPhone.
And as far as RIM's stock is concerned, the only thing that has to concern investors is what kind of appreciation they can get if they buy RIM's stock at current levels.
The means currently has a lot to do with speculation, whether RIM will gain traction in the smartphone space or not and whether a big percentage of the company's 80 million user base will upgrade to BB10 or not. Whether you believe this or not is not the issue. The fact is that the market believes it, as the relative performance chart from September 7 proves, when I told you to sell Apple and buy RIM 3 days later.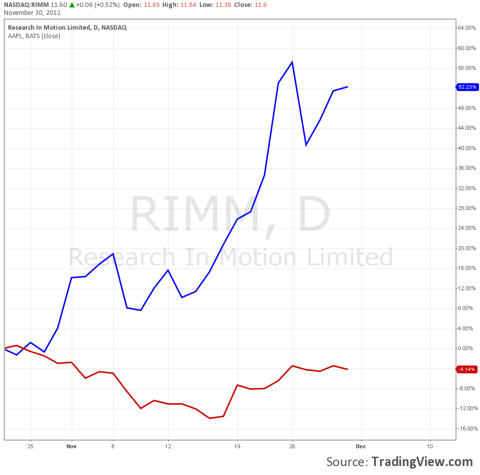 And while sometimes it pays to be a contrarian at the extremes, it's not so wise to go against the market when a trend has developed.
RIM will not outperform Apple forever, but I think it will continue to do so for the foreseeable future, because RIM is starting from a very low point and I think the company will indeed gain traction in the space.
Also, I think many of those 80 million users will indeed upgrade to the new BB10 phone. Finally, RIM does not need to sell as many phones as Apple, but only a relative few to reward investors.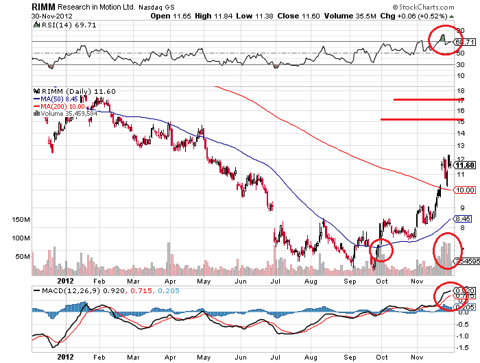 On a technical note:
RIM is above the 50 and 200 day average. As far as the 200 day average in concerned, it's an indication that we are in a long term uptrend. Also, for those (like me) who believe that most gaps will be filled, the recent correction served to fill a technical gap in the chart.
So technically speaking, we have an upward chart with relatively strong breakout volume. Resistance is probably in the $15 range and if the company's launch goes well, I consider a target price for the stock of $17-18 in 6-9 months to be reasonable.
Disclosure: I have no positions in any stocks mentioned, and no plans to initiate any positions within the next 72 hours. I wrote this article myself, and it expresses my own opinions. I am not receiving compensation for it (other than from Seeking Alpha). I have no business relationship with any company whose stock is mentioned in this article.