CNBC just recently published an interesting article titled "Why the Days of Stock Picking May Be Coming to an End." It was about the fact that this year only about 1 in 5 active managers are beating their benchmarks, the same ratio like 2011. They stated that a difficult political environment as well as high correlations make it much more difficult to have a diversified equity portfolio. While the political environment has always been a good excuse for underperformance, high correlation of stocks with their underlying index are in fact a though challenge for every active stock picker to generate constantly alpha.
Since most investors have been quite disappointed with the fee structure as well as with the performance of actively managed funds, investors have pulled hundreds of billions of dollars out of those vehicles and have started to invest in low-cost passive investments, a trend which has already going on for years now.
If we have a closer look at the rolling 40 weeks average correlation between the S&P 500 (NYSEARCA:IVV) and its underlying stocks (Chart 1), we can see that correlations across equities reached record high levels during the financial crisis 2008 and remain extremely elevated since then. The same is true if we have a look at the average correlation between the Russell 2000 (NYSEARCA:IWM) and its underlying small cap stocks (Chart 2).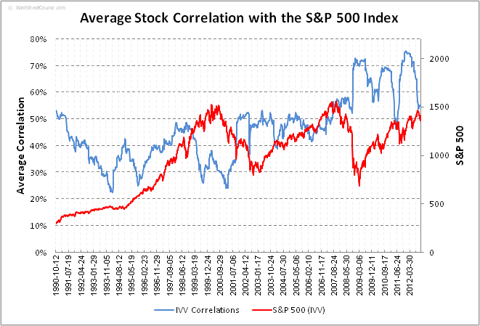 Chart 1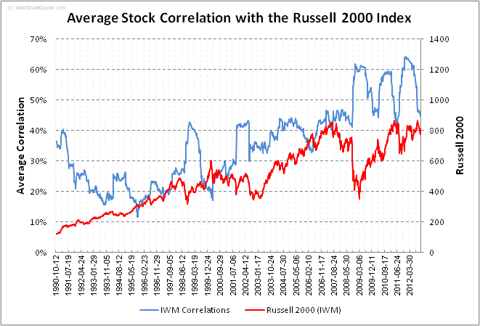 Chart 2
The bottom line: as long as those correlations are above average, risk-on/risk off-trades are dominating today's market, while company specific events have taken a backseat. Therefore, it might be a good advice not expecting too much outperformance from pure stock picking, since bottom-up research becomes quite negligible when nearly 75 percent of all stocks move in tandem.
Disclosure: I have no positions in any stocks mentioned, and no plans to initiate any positions within the next 72 hours. I wrote this article myself, and it expresses my own opinions. I am not receiving compensation for it. I have no business relationship with any company whose stock is mentioned in this article.