Introduction
No longer is General Electric Company (NYSE:GE) the powerful juggernaut it used to be when legendary Jack Welch was at the helm. This engineering, technology, infrastructure and finance giant is now just a shadow of its former self. During "Neutron Jack's" (dubbed so for his tendency to eliminate head-count while leaving buildings intact) reign, from 1981 to 2001, GE's value rose 4000%! Sadly, Jack Welch's successor, Jeffery Immelt, has not been able to electrify the company like his predecessor did. Since taking over, the company's stock has plummeted over 60%. The big question is: Will shareholders see a light at the end of the tunnel sometime soon?
Tracking Financials
Reviewing the Q3 2012 financials of GE, it appears that the company has provided encouraging results to its shareholders, delivering its 10th consecutive quarter of operating earnings growth, with Q3 2012 Operating Earnings coming in at $3.8bil, up 10% from Q3/2011 ($3.4bil). This translates to $0.36 per share, which is an impressive 50% above (discounting preferred share redemptions), from the same quarter last year.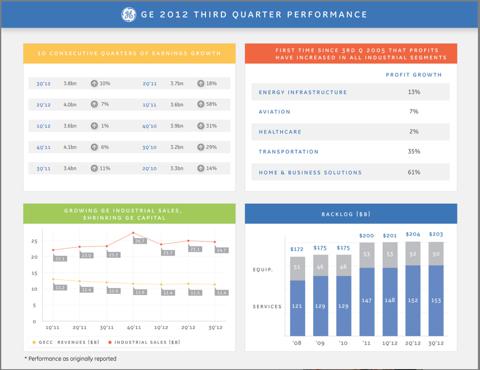 An interesting observation, using financial data from Morningstar, is derived when analyzing Revenues and Cost of Revenues of Q3 2012 with the previous quarter. Q3 revenue ($36,349mil) came approximately 0.42% under Q3 ($36,501mil). However, the cost for producing those slightly lower revenues (Q3/$18,509mil vs. Q2/$19,199mil) declined significantly by 3.59%. This could be an indication that the company's significant investment in simplification processes and global cost reduction might be paying off.
A point for shareholders to note is GE's cash generation from operating activities, which were up a staggering 63% in the first 3 quarters of 2012 compared to the same periods of 2011. However, GE's Industrial operations generated 20% less cash so far this year compared to the first three quarters of 2011.
The decline in cash flow is not just a GE phenomena. Joe Kaeser, CFO for competitor Siemens AG (SI), when reporting their Q3 results noted:
…our free cash flow for 2012 will be weak and significantly below prior years predominately due to the fact that we're lacking prepayments for large orders as we move along.
However, unlike GE, SI sounds more cautionary when looking at their order backlogs. In the words of Mr. Kaeser,
In terms of order intake, also we do see continued softness of merchants in our bookings….as the quality of the backlog obviously will be affected by that.
Looking at GE's competitive horizon, Gregory Hayes, SVP and CFO of rival United Technologies (NYSE:UTX) reported:
...third quarter earnings per share of $1.37, that's down 4% versus 2011.
While GE has reported a healthy backlog order book, UTX saw a Q3 2012 drop in orders of 2%, which compared drastically worse than Q3 2011, which saw orders up by 31%.
While global industrial growth is being impacted by the ongoing crises in Europe, fiscal issues in the US, and deteriorating global macroeconomic environment, a bright spark for GE is reflected in Mr. Immelt's forward looking forecast: "GE remains on track to deliver double digit earnings growth in the whole of 2012."
Stock Performance
Based on data from Morningstar on Dec. 1, 2012, GE has been trading in a 52-week range of $14.68-$23.18. Its current price ($21.24) is more than 5% higher than its 200-day Simple Moving Average of $20.06, where it found support on Nov. 15 2012. Since then, the stock has been rising steadily.
On a valuation basis, the stock is trading at a TTM P/E multiple of around 15.8 (industry average is 16.4), and a Price/Book valuation of 1.8 (2.4). It has a TTM Price/Sales valuation of 1.5 compared to its industry peers at 1.4. Even on a Forward P/E basis (11.9), GE presents great value to its shareholders when compared to its leading competitors United Technologies and Siemens at 12.7 and 10.0 respectively.
These metrics seem to indicate that, despite the impact of current economic conditions on the industry that GE operates in, shareholders believe that GE's stock is fairly priced on an industry basis.
The company is far ahead of its rivals in terms of profitability. GE's dividend yield of 3.22% is more attractive than both SI's and UTX's. However, these judgments would be incomplete without considering the other key financial indicators at hand.
The debt/equity ratio of GE is quite high compared to the industry average. If people were to look at this indicator alone, it might cause alarm. This is because a 1.9 ratio means that the company is quite aggressive when it comes to financing its business growth through the use of debt. Consequently, this will result in a relatively volatile level of earnings.
What Does the Future Hold?
To be fair to the current Board headed by Jeff Immelt has been presented with numerous challenges ever since the start of their term, which coincidentally occurred just a few days prior to 9/11. Since then, the company has had to weather the financial crises of 2009 and 2011, the US debt crisis, the financial storm brewing in Europe, the housing crisis in the US and more.
While it could be argued that everyone in the industry faced those crises together, GE's heavy exposure to financial and infrastructure operations has hit it particularly hard. In particular, GE's aircraft engines business suffered heavily as a direct result of 9/11, while globally declining government and private investments in infrastructure has also hit the company's bottom line.
In response however, management read the signs and have shed a number of their underperforming assets over the past several years, the most significant of which was GE Financials, heavily hit because of its leverage to the US housing and financial markets and the Lehman Brothers collapse. The company has also accelerated its focus on domestic and global energy and power infrastructure, while renewing its attention on healthcare and environmental technology and solutions. GE's recent alliance with Accenture (NYSE:ACN) is also an attempt at gaining a market leadership in the industrial data analytics segment.
In an attempt to reorganize itself and cull some of the drag on growth caused by internal bureaucracy, the company is now putting emphasis on what it calls the Global Growth Organization, which is a company structure that seeks to be more responsive to and support growth opportunities in emerging markets.
Make or Break For Investors?
The discounted earnings plus equity model, developed by EFS Investment Partners and applied to General Electric, suggests the following: currently stock of GE is fairly valued.
General Electric has gained almost 28% of its stock value since around this time last year, when it traded at around $15.36. Encouraging too, analysts will note that GE's stock price has almost tripled since closing at $6.66 in March 2009 - the lowest closing price it saw in 16 years. Given what's happening in Europe and the impending US fiscal cliff issues, investors should keenly watch the global macroeconomic environment to see what it holds for GE. Given the analysis, I would rate GE as a HOLD for now.
Disclosure: I have no positions in any stocks mentioned, and no plans to initiate any positions within the next 72 hours. I wrote this article myself, and it expresses my own opinions. I am not receiving compensation for it (other than from Seeking Alpha). I have no business relationship with any company whose stock is mentioned in this article.