Here is a recap of some of the major events that moved the biotech stocks mentioned below in the trading week of November 26-30th 2012. This should brief you on the most important events that the market had its eye on as they occurred throughout the week. Whether you have any positions in the stocks mentioned in the article, or whether you are just trying to keep up to date, and I hope this helps you!
We start off the recap by addressing the two enormous rallies that were seen in the biotech sector this week in ACADIA Pharmaceuticals (Nasdaq: ACAD) and Peregrine Pharmaceuticals (Nasdaq: PPHM).
Acadia is up 134% this week due to a 136% rally that was made on the morning of Tuesday, November 27th in reaction to the extremely favorable phase III results that were released for its flagship drug pimavanserin in the treatment of Parkinson's Disease Psychosis (PDP). The market has been waiting for these results for a very long time - as long as 3 years if you consider the people who were crushed by pimavanserin's failed phase III trial in 2009.
Acadia's rally was indeed enormous, although the stock did pull back a few pennies to end the week at $5.20/share. This slight downward pressure is probably the result of profit taking from investors who bought ACAD prior to November 27th, and possibly short-sellers. As measured on November 15th by Nasdaq, there were still roughly 2.4 million shares short prior to November 27th which does introduce some short squeeze potential into the equation.
Peregrine's 77% rally last week was particularly perplexing to virtually everyone, since the company did not issue any press releases since November 14th. The enormous jump in share price was directly caused by a surge in trading volume which saw the selling of shares greatly outweighed by the buying of shares (the ideal recipe for a massive rally in price-per-share). Below is a graph that displays the trend more clearly.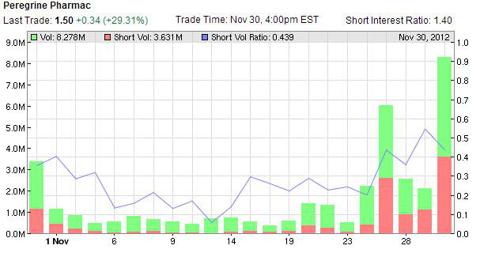 I attributed this unusual rise in trading interest on November 27th as a sudden reversal of the negativity that was brought onto the stock in September due to a phase II clinical trial mishap for its flagship drug bavituximab. There were no documented insider buys since March 2012 either, which makes the move very peculiar. Thinly traded biotech stocks are bound to see major volatility from time to time, and PPHM's price action last week was a good reminder.
The company's flagship drug, bavituximab, is a cancer drug that is far into phase II trials for non small-cell lung carcinoma (NSCLC) for both front-line and second-line treatment, as well as front-line treatment of pancreatic cancer. There is significant potential for bavituximab in these markets given that the drug can progress smoothly (the clinical trial data mishap, mentioned earlier, certainly didn't help their second-line NSCLC program). Investors cannot rely on the data that was presented for bavituximab in NSCLC on September 7th, 2012, but will hopefully see results in 2013. PPHM should be considered a longer-term stock for potential buyers, since it may take time to sort out bavituximab's data issues.
Amarin Corporation (Nasdaq: AMRN) continued its recovery rally, bringing the stock to $12.41/share (10.7% higher) after a big jump made at the end of Friday's trading. The market didn't get any press releases from Amarin other than news of its latest patent issuance (patent #8,318,715 for Vascepa) which brings the company's total number of issued or allowed patents to ten.
The market is concerned that Amarin will have to market its recently FDA-approved hypertriglyceridemia medication alone (since it has yet to be acquired by a larger pharmaceutical company). The market is also unhappy that Vascepa has yet to receive NCE (New Chemical Entity) designation from the FDA, which is frustrating.
Not only has the NCE designation contributed to the bearishness around AMRN stock in recent months, but it has apparently been interfering with M&A discussions between Amarin and other companies (as implied in the company's recent quarterly results conference, described here.) Amarin is actually quite confident that its patent protection on Vascepa will end up protecting the drug from generic competition all the way until 2030. Investors don't fully buy this argument judging by the stock's post-FDA-approval price action, but it's clear that each new patent issued on Vascepa is considered good news.
Most AMRN investors still want to see the company acquired by a larger company - like Teva (NYSE:TEVA) or AstraZeneca (NYSE:AZN) (two companies that are considering the deal). It's hard to say when, or if this would happen. If AMRN does gets acquired, many are expecting the price to be north of $20/share due to the sales figures posted by Amarin's future competitor Lovaza.
Celsion Corporation (Nasdaq: CLSN) has also had a very good week, posting gains of 12.6% in the last five trading sessions. The company has not issued any press releases since November 12th, although speculation has been building on the upcoming results of the phase III trial known as the "HEAT" study. This trial pits Celsion's flagship product ThermoDox against a placebo in the treatment of HCC patients that are unable to receive liver transplants.
Celsion's ThermoDox targets Hepatocellular Carcinoma (HCC), which is the most common form of liver cancer in the world. About 26,190 patients get diagnosed with this challenging and dangerous disease each year in the United States alone. HCC is notoriously difficult to treat, and incidence is increasing at a rate that suggests that it could become the most common type of cancer in less than a decade. Since HCC treatment often ends with a forced liver transplant, it's easy to say that there is enormous unmet demand in HCC treatment.
With ThermoDox, Celsion is offering a unique method of delivery of a chemotherapeutic agent known as doxorubicin, which uses radiofrequency thermal ablation (RFA) to "activate" ThermoDox exactly where patients' liver tumors are. Data from the phase III HEAT study will be collected by the end of 2012, and the company expects to present the results in January of 2013. Expect CLSN speculation to build in anticipation as it did last week.
Idenix Pharmaceuticals (Nasdaq: IDIX) was another company that saw major upside after the company was initiated as a "buy" on Wednesday, November 28th by Deutsche Bank with a price target of $7/share. I noticed the huge activity that followed the introduction of this new analyst coverage, and noted that the company jumped over 17% on this news alone.
This news extended the rally that IDIX saw throughout November, sparked by a company press release on November 10th that showed the clinical trial data that was presented at the 63rd Annual Meeting for the American Association for the Study of Liver Diseases (AASLD) in Boston. IDX719, one of the company's Hepatitis C Virus (HCV) treatments was shown to be quite effective in a proof-of-concept study. IDX184, another one of the company's HCV treatments (which works through a different mechanism) was in a phase IIb trial until it was put on clinical hold by the FDA due to the cardiac events observed in another company's drug that was very similar to IDX184.
IDIX is still down about 44% relative to its price six months ago because of the clinical hold on IDX184, although many are expecting the stock to recover once the situation is sorted out. This explains Deutsche Bank's $7 price target too.
Exelixis (Nasdaq: EXEL), an oncology drug discovery company that has been heavily followed in 2012, experienced a textbook example of a "sell the news" reaction to the FDA approval of its flagship drug cabozantinib. I explained earlier in the week that traders were bracing for the PDUFA action date of November 29th for cabozantinib's NDA for the treatment of medullary thyroid cancer (MTC) despite its low significance relative to the eventual NDA that will be submitted for cabozantinib in the treatment of metastatic castration-resistant prostate cancer (MCRPC.) This is only due to the sheer size of the prostate cancer drug market.
Exelixis announced the FDA (and EMA) approval after the bell on November 29th, as scheduled by the PDUFA. The stock reacted quite negatively the next day, dropping as low as $4.72/share and closing 6.87% lower at $4.88/share. As stated, this was a very clear example of a "sell the news" reaction and does not reflect anything negative about Exelixis that hadn't been known at an earlier date.
Exelixis' cabozantinib is being developed for a wide range of cancer types, and the company's recent financing efforts (from August 2012) show that the company is in a good position to continue clinical development. Biotech investors who are interested in Exelixis should definitely take note of the post-approval drop, since it is a meaningless move in the long run and presents a buying opportunity.
Disclosure: I am long AMRN. I wrote this article myself, and it expresses my own opinions. I am not receiving compensation for it (other than from Seeking Alpha). I have no business relationship with any company whose stock is mentioned in this article.