A lot has been said and written recently concerning the search for yield amid the uncertainty clouding our current economic climate. Most discussions seeking yield usually center around one of the six income generating classes listed below.
1. Traditional dividend paying common stocks
2. Preferred stocks
3. Bonds
4. Master Limited Partnerships (MLPs)
5. Business Development Companies (BDCs)
6. Real Estate Investment Trusts (REITs)
Each of the above has its own particular nuances, advantages and disadvantages, the discussion of which goes well beyond the scope of this article. There is one company worth a closer look whose hybrid nature makes it a little bit MLP, a little bit BDC, all wrapped up into a company called Compass Diversified Holdings (NYSE:CODI).
Trading around $14 and change, CODI pays an annual dividend of $1.44 which equates to a 10.2% yield at today's market price. CODI owns controlling interests in eight totally separate and diversified middle-market niche businesses:
Advanced Circuits is a market leading provider of prototype, quick-turn and volume printed circuit boards throughout North America.
American Furniture Manufacturing is a leading U.S. manufacturer of upholstered furniture.
Arnold Magnetic Technologies is a global manufacturer of engineered magnetic solutions for a wide range of specialty applications and end markets.
Camelbak is a premier designer, marketer and distributor of hydrations pack, reusable BPA-free water bottles, performance hydration accessories and specialized military gloves for outdoor, recreation and military use.
ERGObaby is a premier designer, marketer and distributor of babywearing products and accessories.
Fox is a leading designer, manufacturer and marketer of high end suspension products and mountain bikes, all-terrain vehicles, snowmobiles and other off-road vehicles.
Liberty Safe is the premier designer, manufacturer and marketer of home and gun safes in North America.
Tridien Medical is one of the nation's leading manufacturers of medical support surfaces designed to treat and prevent decubitus ulcers, or pressure ulcers typically found on immobile patients.
Consolidated Financial Results
The company recently announced their financial results for the nine months ending September 30, 2012 highlighting a 49% increase in revenue and a 7% increase in Cash Flow Available for Distribution, compared to the same period in 2011. Unlike an actual Business Development Company whose income distributions are mandated by regulation, CODI's distributions are at the discretion of the board and may include net income, interest income, and return of capital, much like a Master Limited Partnership.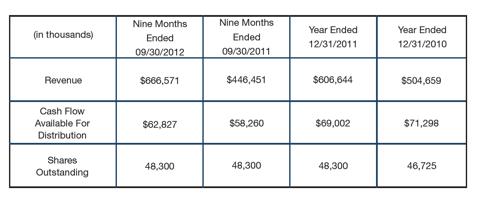 Deciphering their financial statements can be an arduous task especially when navigating between entries for controlling and non-controlling interests and their impacts on distributable cash flow. Although the company maintains a controlling interest in each subsidiary company, the actual controlling percentages vary, but generally are greater than 85%.
The publicly traded shares are actually shares in the Compass Diversified Holdings Trust. 84% of the Trust's shares are held by the public with the remaining 14% controlled by insiders. The managing company is Compass Group Diversified Holdings, LLC. Distributions to shareholders are reported on schedule K-1 and as noted earlier, contain a mix of income, interest, dividends, capital gains, and return of capital.
Because of the nature and complexity of partnership tax accounting where net income and tax liabilities flow directly to the partners, i.e., the shareholders in this instance, management must be adept at the allocation process of classifying distributions to minimize taxes to the shareholders. Where the subsidiary companies owned by CODI are typically corporations, bringing earned income and cash down to the parent company solely in the form of dividends is usually not the most tax efficient method. Recognizing this, a significant portion of the price paid to acquire the companies is often classified as loans and therefore results in cash repatriated back to CODI in the form of principal and interest repayments.
During the past twelve months, CODI sold off two subsidiaries; Halo Holding Corp., and Staffmark Holdings, Inc. for a collective gain of approximately $88 Million. The company currently has $269 Million available under its $290 Million revolving line of credit, $20 Million in cash, and net working capital of $168 Million with no material debt maturities until 2016.
Besides the organic growth opportunities in each subsidiary company, CODI plans on aggressively pursuing additional acquisitions. Target companies are filtered through the following criteria in order to be considered:
1. Is an established U.S. based company
2. Maintains a significant market share in a defensible industry niche
3. Has a solid and proven management team with meaningful incentives
4. Has low technological and/or product obsolescence risk
5. Maintains a diversified customer and supplier base
6. Generates minimum EBITDA of $8 Million.
This stock is not for everyone, but provides a unique opportunity to invest in an array of clearly defined middle-market niche businesses, heretofore only available to large private equity investors. Management seems to believe in the road forward as evidenced by more than 20 insider purchases during the past year without a reported sale. I would urge anyone seriously considering an investment in CODI to spend some time on their website which gets an A+ grade in my book for full disclosure of the risks and rewards.
P.S. Just after submitting this article to SA, I received a return call from CODI Investor Relations. I was asking about the status of their CEO, Joseph Massoud, who had taken a leave of absence in February of 2011 and was informed of a press release just issued today announcing the appointment of Alan Offenberg as the permanent CEO. He had been acting as interim CEO since Mr. Massoud's departure. That release can be viewed here. What timing!
Disclosure: I am long CODI. I wrote this article myself, and it expresses my own opinions. I am not receiving compensation for it (other than from Seeking Alpha). I have no business relationship with any company whose stock is mentioned in this article.