Over the past few months, I have written a series of articles comparing two or more candidates within the same sector to determine their viability as long-term investments. Readers seem to like this idea, particularly my comparisons of AT&T (NYSE:T) and Verizon (NYSE:VZ) and my Big Pharma comparison. Continuing with this theme, I want to compare another two companies that are very similar to assess which may be more appropriate for retirement investing. Today's candidates are two of my favorite financial stocks, JP Morgan (NYSE:JPM) and Goldman Sachs (NYSE:GS). This is an industry that has had a rough five years or so, and the simple fact that these companies are still standing speaks volumes about the caliber of management there.
From the 20 year period between 1992 and 2012, JP Morgan's share price has climbed from $12.91 to $41.08, which is over a 6.3% annualized gain in share price. Goldman Sachs went public in 1999, and has since increased from $76 to $117.79, which is only a 4% annualized gain. Admittedly, both of these had quite a roller coaster ride during the financial panic, with JPM and GS hitting March 2009 lows of $14.96 and $47.41, respectively. Once the proverbial dust settled, however, the market realized that these companies were indeed solid, and were in no danger of going the way of Bear Stearns. Although JPM's performance was a bit higher, both of these results are highly skewed by the period from 2008-2009, as you can easily see from the charts below. These two companies are the best-run investment banks on Wall Street, and Warren Buffet himself even referred to his own investments in Goldman Sachs as "a bet on brains." (For those who don't remember, Warren bought a massive amount of options to buy GS at $105 back when it was trading in the $70's. How right he was!)
JPM 20 Year Chart: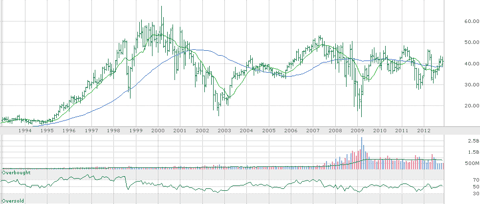 GS 20 Year Chart: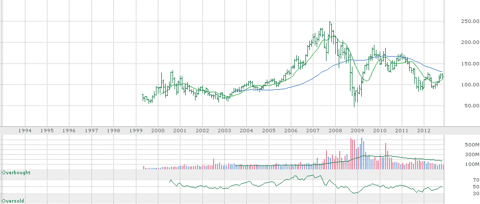 The combination of share price gains with adequate yield is the goal of most retirement portfolios, so let's see how these companies upheld their dividend payouts, particularly when it looked like the entire sector was a goner: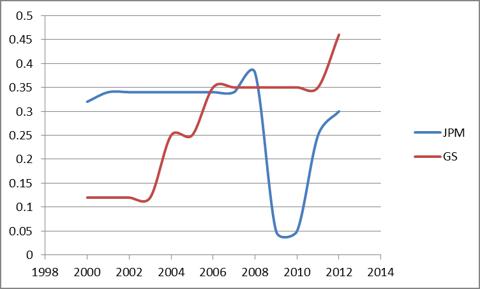 So, in the dividend arena, Goldman is the clear winner. During the crisis, they held strong, and never cut their dividend once. JPM, on the other hand, was forced to reduced their quarterly payouts to next to nothing (five cents a share), as a result of the government's intervention, it accepted at the time. Goldman did not participate in any bailout programs at all, and they are one of a select few in the entire financial sector who can make that claim.
However, JPM made some pretty savvy moves during this time period that may eventually make up for it. In May 2008, JPM acquired Bear Stearns in a stock-for-stock exchange, giving them the leading share in the global prime brokerage business. Later that year, in September, JPM purchased all of the assets (and some liabilities) of Washington Mutual from the FDIC, for $1.9 billion. Both of these acquisitions were relatively inexpensive compared to the market share the company added. Once the mortgage and foreclosure messes play out, and the sector can truly recover, JPM is in an excellent position to capitalize on being the leading global financial services company. The company currently has about $2.3 trillion in assets, and operates in over 50 countries.
Goldman flew below the radar during the crisis, however the company is unanimously considered "the smartest guys on Wall Street." Analysts expect both GS to grow by an annual rate of 11% for the next 3 years. JP Morgan currently trades at 8.1 times 2012 earnings, and 7.9 times forward earnings, while Goldman trades at a higher premium of 10.4 times current and 9.5 times forward earnings. Currently, Goldman pays a 1.7% dividend yield compared to 2.9% for JPM. Given that both companies are expected to grow at the same rate, and given the acquisitions they made for pennies on the dollar, JPM seems to be the institution best positioned to return shareholder value for the future.
Disclosure: I have no positions in any stocks mentioned, and no plans to initiate any positions within the next 72 hours. I wrote this article myself, and it expresses my own opinions. I am not receiving compensation for it (other than from Seeking Alpha). I have no business relationship with any company whose stock is mentioned in this article.