Toll Brothers (NYSE:TOL), the high-end homebuilder, reports their fiscal 4th quarter on Tuesday morning, December 4th, before the opening bell, with analyst consensus expecting $0.24 in earnings per share on $567 million in revenues for expected year-over-year growth of 167% in earnings and 32% in revenues.
Q4 '12 analyst estimates have been stable since the last earnings report.
The stock bottomed in early October 2011, at $13.73, ended 2011 at $20.42 and closed Friday, November 30th at $31.84, for an approximate year-to-date (YTD) return on the stock of 56%.
TOL peaked in July, 2005 at $58.67 per share.
There is no question, there is a full-blown housing recovery underway, both in terms of price (Case-Shiller data) and in units, and TOL is a prime beneficiary.
Operating at the high end of the market (TOL's average home delivery price was approximately $576,000 last quarter), the high-end of the homebuilder market actually performed somewhat admirably in what many think was the worst housing depression since the Great Depression.
Last quarter, TOL's new orders grew 57% and deliveries grew 39%, after the 2nd quarter's 47% growth in orders, the best since 2006. Overall gross margin was 23%, while the homebuilder gross margin was 20%, showing signs of stabilization.
However, that is now history, and investors concern themselves with what 2013 might hold for the sector and the stocks:
1.) The homebuilders start to lap tougher comparisons in 2013, as the real growth in orders,and deliveries began to accelerate sharply in early 2012;
2.) At least in the Midwest, we had a very warm winter in early 2012, which no doubt helped the late winter and early spring 2012 results for homebuilders;
3.) While current valuations look extended, the fact is the earnings and revenue rebound from so-very-depressed levels leaves p.e-to-growth ratio's in fact looking quite reasonable:
For TOL in particular, using current fiscal 2013 and fiscal 2014 earnings estimates, TOL is trading at 48(x) the full-year $0.66 estimate for 2013 and 30(x) the $1.08 fiscal 2013 estimate for expected growth this year and next of 175% and 64%.
Revenue and earnings estimate trends:
| | | | | | | |
| --- | --- | --- | --- | --- | --- | --- |
| Month end | fy '12 eps est | fy '13 eps est | y/y gro | fy '12 rev est ($'s bl) | fy '13 rev est ($'s bl) | Y/Y Gro |
| 11/12 | $0.66 | $1.08 | 64% | $1.82 | $2.45 | 35% |
| 10/12 | $0.66 | $1.09 | 65% | $1.82 | $2.45 | 35% |
| 7/12 | $0.47 | $0.96 | 104% | $1.76 | $2.3 | 28% |
| 4/12 | $0.33 | $0.76 | 130% | $1.73 | $2.1 | 22% |
| 2/12 | $0.33 | $0.74 | 124% | $1.72 | $2.1 | 23% |
| 1/12 | $0.33 | $0.70 | 112% | $1.66 | $1.99 | 20% |
| 10/11 | $0.36 | $0.74 | 106% | $1.67 | $1.99 | 19% |
* Source: ThomsonReuters
A reader can quickly see the progression in forward estimates by Wall Street analysts, and how one year ago, analysts were still cautious, but then turned more aggressive as we moved through the spring season of 2012. A reader can also see from the data that even though revenue estimates for fiscal '13 are still improving, the earnings growth rate has begun to temper as homebuilders get less gross margins and SG&A leverage.
4) As investors that spend a lot of time analyzing cash-flow, the homebuilders' cash-flow statements still look Frankenstinian at best. TOL's fiscal q3 did generate positive cash-from operations (CFO), but as of the 9-months ended July 31, '12, TOL's CFO was still a deficit of $234 ml, and free-cash-flow (FCF) was a deficit of $386 million. We would definitely like to see better cash-flow from TOL and the sector as the fundamentals improve.
5.) Despite #4, TOL's balance sheet is still widely-considered to be the best in the sector, with the only homebuilder rated investment-grade, albeit at the very low-end of the investment grade spectrum, at BBB- (by Morningstar). $TOL has $1.8 billion in term-debt outstanding, up from $1.5 billion as of 10/31/11, with $1 billion of cash on the balance sheet. TOL will likely see net-debt-to-capital rise into the 40% range, which is consistent with where they have been in past upturns.
Given homebuilders uber-cyclicality, it is very interesting to see how the stocks are valued on Wall Street. Our internal spreadsheet puts a fair value on TOL near $42, per share, while Morningstar has a $23 fair value on the stock, probably due to TOL's $15 book value, and conventional wisdom thinks the sector is thought to be fairly-valued at 1.5(x) tangible-book value. My own thought is that gives absolutely no weight to the severity of the last housing cycle, and the fact that TOL is the best balance sheet in the sector, and that we probably remain in the earlier stages of the housing recovery.
THAT being said, my own opinion is that the first major move in homebuilder stocks is done, with these total returns we've seen in 2012. If you look at the attached chart, TOL looks like it is in the earlier stages of consolidation, and as investors, we would prefer to add to the stock at lower risk entry points, which in TOL's case, would be near $27 - $28, and ultimately near $20, or the 200-week moving average.
TOL is the higher-end, quality balance sheet in an incredibly-cyclical sector. While fundamentals are likely to improve, we will be patient in waiting for lower prices before adding to the name in sizable amounts.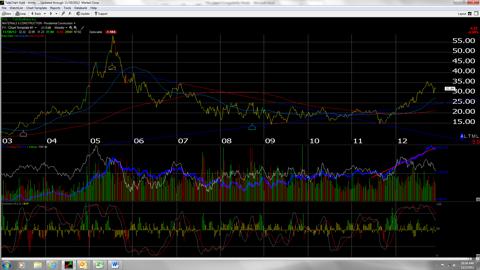 Disclosure: I am long TOL. I wrote this article myself, and it expresses my own opinions. I am not receiving compensation for it (other than from Seeking Alpha). I have no business relationship with any company whose stock is mentioned in this article.