The rally from oversold conditions in the S&P 500 (NYSEARCA:SPY) from the November lows has now nearly recovered post-election losses. On the way up, we got to see whether Black Friday would trigger another bullish signal. After a close call, the S&P 500 managed to cling to its Black Friday gains over the subsequent six calendar days. This milestone triggers a very bullish outlook: since 1950 only 4 out of 13 years accomplished a similar milestone only to lose all of Black Friday's gains in the next two weeks (for more details, see "Quantifying The Significance Of Black Friday Trading").
The S&P 500 has broken its recent downtrend as defined by a declining 20-day moving average (DMA) but now needs to overcome resistance at the declining 50DMA. If/once this happens, the index will reverse ALL its post-election losses and be in position for an extended rally that should eventually break through the triple-top pattern from September and October.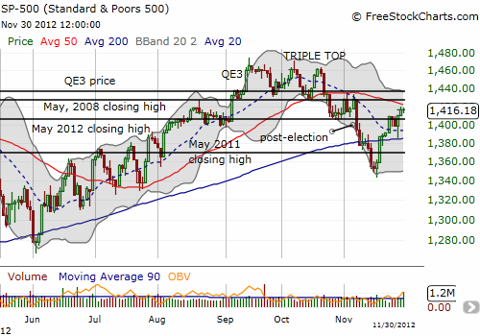 The S&P 500 may be poised for lift-off
The obvious wildcard in this bullish outlook is the wrangling over the Fiscal Cliff. The good thing about the current situation is that there are few surprises: the parameters of the problem are well-known, each political party has strong incentives to get a deal done (eventually), and even the potential downsides of failure are relatively well-understood. Under such circumstances, I find it less useful to worry about the negative "what ifs" and much more fruitful to consider what could happen if this Fiscal Cliff obstacle gets cleared. It seems to me a lot more of the potential of the U.S. economy will get unleashed on the other side of a positive resolution to the Fiscal Cliff.
I saw this possibility in a recent interview with Honeywell (NYSE:HON) CEO Dave Cote on Nightly Business Report. In this interview, Cote said he fully expects a tax hike as part of a resolution on the Fiscal Cliff. However, these increases, combined with entitlement reform, should generate a much healthier economy in the balance:
Well, at the end of the day, we all recognize that we need entitlement reform in the country. That's actually the big nut. That's the thing that needs to happen. The only way you're going to get that, though, is by having some kind of tax increase and we understand that. That's part of the deal, part of the grand bargain. In terms of the overall impact on Honeywell, yes, I fully expect that we will pay more in taxes. I would pay more in taxes. A lot of other people would also. But I believe because that would put the economy on a sounder footing when that's combined with the kind of entitlement reform that we need, that the economy will just grow better and we'll all do better than we are today.
As a member of the Simpson Bowles commission, Cotes decided two years ago that he needed to prepare his company for cuts in defense spending as a component of reducing the deficit. In addition, this year, worrying that Democrats and Republicans simply could not come to agreement on anything, he stopped external hiring. He claims other companies have implemented similar actions: "And that's the sort of thing that helps to contribute to a troubled economy because none of us can count on what these guys are going to do."
We can only assume that a resolution and compromise on the Fiscal Cliff will free up a lot of decision-making and increase utilization of slack resources in the economy. This incremental boost in economic activity will support a bullish year for 2013, especially for domestic industries with little dependence on foreign demand (like housing and defense).
In the meantime, I sold the last of my positions in ProShares Ultra S&P 500 (NYSEARCA:SSO) and ProShares QQQ Trust (NASDAQ:QQQ) just to lock in profits. I fully anticipate headline risks are going to create fresh buying opportunities in the coming days and weeks.
Be careful out there!
Disclosure: I have no positions in any stocks mentioned, but may initiate a long position in SSO over the next 72 hours. I wrote this article myself, and it expresses my own opinions. I am not receiving compensation for it (other than from Seeking Alpha). I have no business relationship with any company whose stock is mentioned in this article.