Analyst consensus anticipates a rate cut at the next meeting of the Reserve Bank of Australia (RBA). I forgive you for being surprised if you have been keeping your eye on the value of the Australian dollar (NYSEARCA:FXA). In particular, the Australian dollar has remained quite resilient against the U.S. dollar all year. The currency (AUD/USD) has been at current levels in January, March, April, August, September, and November. While the Australian dollar has weakened ever so slightly over the past week, it remains well above June lows and lows in September and October.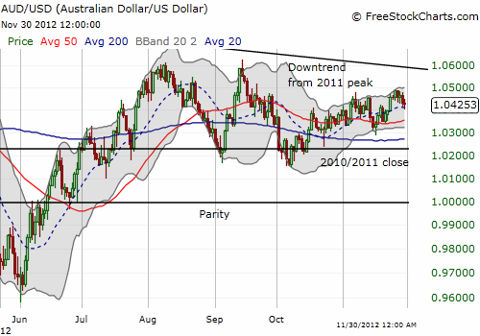 The resilient Australian dollar
Source: FreeStockCharts.com
On December 2nd (the 3rd in Australia), the Australia Bureau of Statistics reported disappointing October retail sales. Consensus forecast was for 0.4% growth but the actuals came out flat. Clothing, footwear and personal accessory retailing led the weakness while food retailing was the strongest. The reaction in currency markets was instant but slight. However, this weakness provides a flash reminder of the RBA's bias toward cutting rates. While the weak retail sales could provide cover for an RBA cut, I still think any imminent cuts will be more motivated by a desire to weaken the currency than anything else.
For example, overall growth of retail sales in Australia remains as healthy as ever over the last 4+ years.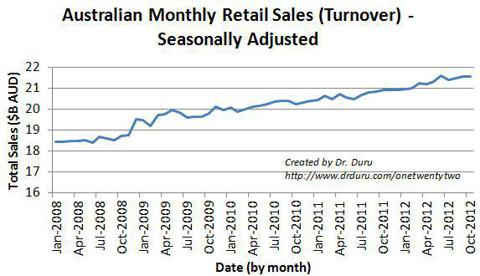 Australian Monthly Retail Sales (Turnover) - Seasonally Adjusted
Source: Australia Bureau of Statistics, 8501.0 - Retail Trade, Australia, Oct 2012, Downloads
Be careful out there!
Disclosure: I have no positions in any stocks mentioned, and no plans to initiate any positions within the next 72 hours. I wrote this article myself, and it expresses my own opinions. I am not receiving compensation for it (other than from Seeking Alpha). I have no business relationship with any company whose stock is mentioned in this article.
Additional disclosure: In forex, I am net short the Australian dollar.