Introduction
Jeffery Immelt and Peter Loscher have led General Electric (NYSE:GE) and Siemens (SI) through stormy seas over the past few years. With restructuring, acquisitions, layoffs and spin offs the two companies have experienced the meaning of being too large to fail, but too large to provide accelerated gains. After a lot of changes, dividend cuts, management reshuffles and economic difficulties, the two giants finally seem to be running on all cylinders. So, from an investor's point of view, which company is more profitable for your money? Let's take a look at the two conglomerate giants.
In the following analysis, I will be taking into account only the financial and future standing of the two companies in order to derive an effect on their stock performance.
Financial and Stock Performance
First and foremost, evaluation of the companies' profitability for sustainability and investors needs to be looked at.
| | | |
| --- | --- | --- |
| | General Electric | Siemens |
| Current Price | $21.14 | $103.32 |
| Market Cap | $221.6 bil | $89.3 bil |
| Price/Earnings | 15.8 | 14 |
| Price/Book | 1.8 | 2.2 |
| Earnings Growth | -11.6 | 30.3 |
| Dividend Yield | 3.22% | 2.75% |
| Debt/Equity | 1.9 | 0.5 |
| Return on Equity | 10.8 | 14.3 |
Data as of December 2, 2012
General Electric is a considerably cheaper buy when compared to Siemens, but all the metrics suggest unfavorable reasons being responsible for the cheaper price. While the two companies have very similar P/E ratios, it is only made possible by the large contrast in the fortunes of the two companies. EPS growth, as a measure of three-year average, is -11.6 for General Electric, which cut its EPS by more than half in the years 2008 and 2009. While the company's most recent annual EPS value stood at $1.23, continued increments are not assured due to its patchy history. Siemens, on the other hand, has doubled and maintained its EPS after taking a restructuring hit in 2009 that forced the company to cut the value by more than 50%. Since then, however, the company has shown tremendous strength in rewarding its investors yet again and getting back onto the path towards recovery.
The dividend yields of the two companies provide an interesting insight. Empirically speaking, GE's 3.22% dividend yield still has some potential to rise further, fuelled either by an increased dividend payout or a reduced share price. The former scenario is something investors must be looking forward to, as the company must aim to achieve the payout levels that were present before the collapse of 2009. Siemens' dividend yield of 2.75% should be considered evidence that the stock is overpriced, and after taking into account the redeeming stock performance, that future dividends might be higher still.
Return on equity allows investors to analyze the success of management in generating a profit for direct shareholders, and Siemens outperforms General Electric yet again in this metric by showing more potential to produce a profit from the products and services being provided. More importantly, Siemens can choose to expand on its competitive advantage by borrowing more, as its debt-to-equity ratio is in the safe zone. With a debt-to-equity ratio of 1.9, new General Electric product roll outs and financing activities will be much more difficult due to the large amount of debt on their cash flows.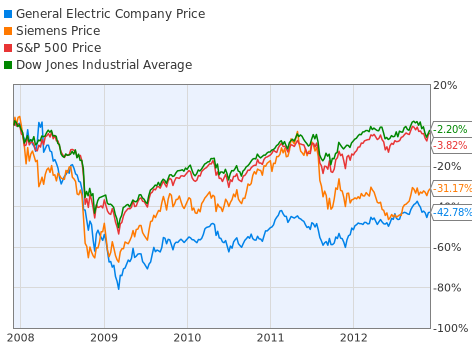 For 2012, while both the conglomerates have been underperforming when compared to the S&P 500 and the Dow Jones Industrial Average market indexes, Siemens' mid-year dip in price is what immediately catches the eye. This was due to the company's exposure and reliance on the European market, which has experienced a slow down amidst uncertainty about the European Union. Since then, Siemens has recovered fairly well and is currently priced 11% higher than General Electric on the stock market. Meanwhile, General Electric has been trailing its peer since 2009 and is maintaining its underperformance with regards to the major indices.
What Does the Future Hold for These Giants in 2013?
General Electric is taking a different route for the future than many would have expected. Its recent announcement of $1 billion being invested in what they call the "Industrial Internet" has made it clear that the company is expanding its technological segment by venturing into the digital world. Furthermore, it is said that the company has set aside as much as $100 million for investments in its new research center in San Ramon. Meanwhile, Siemens has announced "Siemens 2014", a company-wide program aimed at increasing the company's profit margin to a minimum of 12%.
Siemens' promising Q4 2012 results have set high expectations from the investor viewpoint for a steady increase in dividend. The company is on a cost-reduction spree, which also involves a job reduction of up to 10,000 employees. Furthermore, it is also looking to spin off some of its divisions such as the solar thermal energy, photovoltaic and its Osram lighting division. The sole purpose of cost cutting is to increase shareholder profitability. Contrary to GE's direction, Siemens has agreed to buy the rail signaling business of the British Invensys for $2.9 billion.
Siemens and General Electric have problems to contend with, as well. Reports are emerging that Siemens won't be able to deliver its high-speed trains on time in Germany. It was earlier revealed that the company is also facing losses of up to €500 million as a result of facing difficulties at electrical substations on platforms in the North Sea. These developments can only have a negative impact on the stock's performance, and perhaps it would be better to hold off a buying spree of Siemens stock for a little while.
General Electric, on the other hand, might be doing well with its partnership with Ford, the $60 million investment for research and development in India and the wind turbine supplies to Turkey, but the company is knee-deep in debt and needs to improve cash flow from its products. However, while SI has so far been managing to outperform GE in key metrics, its rein in the sun will be neither long enough nor profitable enough to lure investors away from GE. Due to uncertainty in product delivery, GE is a safer option when compared to SI, and is also priced more reasonably.
Final Verdict
Out of five Analysts at Morningstar handling General Electric, all prefer a "Buy" rating. For Siemens, three recommend "Hold", while only one suggests "Sell". Their preferences are in line with my expectations for the two companies' future results, and further underline the potential of General Electric.
Siemens is heavily dependent on Europe, as witnessed earlier in the year, and failure to meet its recent deadlines is disconcerting for investors. While its high share price was already unattractive, General Electric's slow but steady return has provided investors with a reasonable alternative to the German giant.
Disclosure: I have no positions in any stocks mentioned, and no plans to initiate any positions within the next 72 hours. I wrote this article myself, and it expresses my own opinions. I am not receiving compensation for it (other than from Seeking Alpha). I have no business relationship with any company whose stock is mentioned in this article.